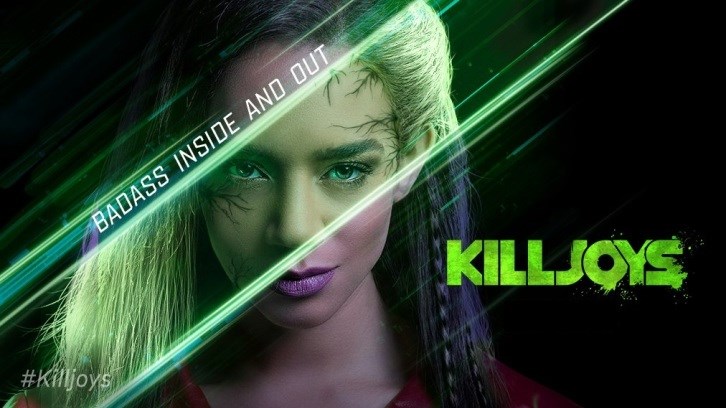 It's time to play catch up with our favorite Killjoys! My profound apologies for abandoning the team – trust me, my summer could be an entire season for the show! But let's catch up now and buckle in for the end (SOB!) of this show.
There have been some ups and downs for our team as they've finally come back together and regained their personal and family balance. The show continues to delight with some of the best episode titles on television. The show has also maintained its own balance of witty one-liners and humor – along with some really terrific fight scenes. I really enjoyed the super-max storyline, but I'm happy to see us back to basics – though with two new team members: Calvert played by Anastasia Phillips – who does crazy really well. Rachel Ancheril (from Star Trek: Discovery) is also a terrific addition as the Warden. Personally, I'd love to see her be John's (Aaron Ashmore) new love interest!
While I enjoyed Thom Allison's (Pree) new look, I was happy to see him back to gorgeous in "Cherchez La Bitch." Also, did you notice at the beginning of that episode that Zeph (Kelly McCormack) had a Killjoys backpack?!!?!?!? Don't you totally want one? I was a bit sadder to see Turin (Patrick Garrow) gradually return to his old look – I really liked the longer hair and beard! I was happy to see Pree and Gared (Gavin Fox) get over their misunderstanding relatively quickly.
A quick word about one of the best episodes: "Three Mutineers" written by Adam Barken and directed by James Genn. This was really a tour de force for Hannah John Kamen as she played Dutch and Aneela in the episode as well as Dutch impersonating the Warden! There were some really good scenes between Aneela and Kendry (Mayko Nguyen) spend much of the episode at odds, but finally realize at the end that Kendry thought Aneela was looking down on her because she's human now when Aneela was worried that Kendry would think she was a monster because she's still Hullen. The two realize that they are still in love, and after hiding Jaq (Jaeden Noel) in Aneela's cube, they head off to join the fight.
Meanwhile, this episode ends with a really terrific scene between Dutch and John in which they face the cracks left in their relationship by the memory wipe. John admits that he may want more out of life than being a Killjoy, and they agree to him taking a one year sabbatical after the current fight is over. Ashmore and John-Kamen are both terrific in this scene.
In the interest of catching up as quickly as possible, I won't try for a detailed response to all the previous episodes, but will concentrate on the most recent one: "Don't Stop Beweaving" directed by Paolo Barzman and written by Julian Doucet. This episode begins with a terrific sequence with Ashmore as John is transported with joy to have Lucy (Tamsen McDonough) restored to him. Lucy is the real love of his life, so I have to wonder if he'll still want to take that sabbatical? There are some hilarious moment in the episode as D'Av (Luke Macfarlane) tries to be a good wingman and assess both the Warden and Calvert's interest in John. I loved Calvert thinking D'Av wanted a threesome with her and Dutch – priceless!
Turin sacrifices himself for Zeph to get away and ends up as Khlyen's (Rob Stewart) prisoner. When Khlyen returns to the Lady (Alanna Bale) he finds that she's killed everyone in a fit of rage over Fancy (Sean Baek) escaping with Lucy. Bale is really good in this episode. The Lady's human host is dying, and Khlyen has several opportunities to do as Turin urges him – do everyone a favor, sacrifice himself and kill the Lady. It turns out that the Lady has a soft spot for Khlyen – maybe this is simply a factor of her human host – but she tells him that she likes him because he's the only one who isn't afraid of her.
Most of the episode is backstory for Zeph – who has never been my favorite character – and that hasn't changed. It's a nice episode for girl-bonding between Zeph and Dutch – but again, the chemistry just hasn't ever really been there for me – though their matchy t-shirts at the end – "brain" for Zeph and "braun" for Dutch are pretty cute. We learn that Zeph had a difficult childhood and meet her family who are part of an agricultural culture who have eschewed all technology because of past disasters from their advancements. In order to stop the Lady's clone babies, the two manage to steal the "ancient tapestries" of the culture – which happen to be digital files.
I loved when Zeph is trying to explain about the tapestry and Fancy jumps in to explain that it is a history of the galaxy and would contain why the Lady's people went extinct. When Zeph and Dutch look at him in surprise, he explains that he read about it – and that he likes reading history!
John and D'Av try to get the prisoners to come together as a team to fight as an army. They are almost defeated by the Dr (Paulino Nunes) who has apparently lost it. It's pretty funny when Calvert wins the game of take the flag by killing the Dr with it! In the end, the prisoners do come together.
Khylen helps the Lady and as she's impatiently regaining her strength, he tells her a story – her own story with her as a "star" in in. He considers killing her – but doesn't. In the end she accuses him of still missing his daughters. He tells her that they were the stars that he followed. The Lady promises him that she can give him more – a whole galaxy. It seems that Khylen is falling for her… in a fatherly way at any rate. Bale is terrific as it's impossible to tell if she's simply manipulating Khylen or really does feels something for him.
Once everyone returns to Lucy, they have a gigantic feast, and once again there's a big surprise – Fancy cooked it all! Dutch tells the assembled that this is how they defeat the Lady. They have each other, they have family, but the Lady has no one – except maybe Dutch's father… It would seem that everyone is paired off at the table – There is Mace (Richard Chevolleau), Calvert, The Warden (my choice for John!), John, Dutch, D'Avin, Zeph – and Fancy. Could Fancy be the new love interest for Zeph? The feast did have the feel of a last supper, however, as we head into the final two epiosdes….
How have you been liking the season? Do you have a new favorite character? Should John stay as a Killjoy or try the quiet life? Who do you think is going to make it through? Let me know your thoughts in the comments below!