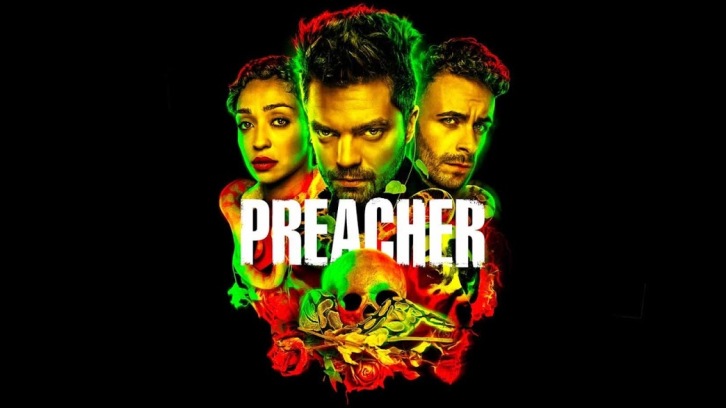 Preacher cooled off the breakneck pacing for a third episode that wasn't without its fair share of action. Once again, Jesse, Tulip and Cassidy's paths remained largely seperate and there was more than enough content to justify keeping them apart. We spent the most time that we have yet with The Saint of Killers and Eugene than we had for the last two episodes, as both continued to hit the road in search of The Preacher but to no avail. Episode 5 has Eugene reuniting with Jesse in what is no doubt going to be a brilliantly tragic reunion, but until then the duo of Eugene and The Saint is more than entertaining enough, even if the streak of bad luck following Eugene everywhere isn't quite as fun as it should be.

The episode itself was one that moved every character to where they need to be, and it very much felt like a stage setter, and a calm before the storm. Naturally, in Preacher fashion, a calm before the storm means an epic Daredevil-esque extended hallway fight with him easily making light work of the likes of Jesus DeSade's goons in a masterful display of the one-take action scene that's one of the best fight scenes on television since, well, the last time Preacher pulled off an epic fight scene. If anything that we've seen from both of them is that they're very much at their peak when it comes to combat and the fight between Jesse and The Saint is going to be epic when it eventually comes down to it. Whilst there were a few things that felt a bit too gratuitous, even for Preacher, this episode, this encounter wasn't one of them and it did a good job at getting us inside God's head and showing why he wants to do what he wants to do, and that behind the scenes he's still a master chess player. As much as the Jesse/Saint confrontation is going to be a blockbuster, the showdown between him and God is going to be just as important. And it's hard to see The Preacher coming out on top in both scenarios without the help of his friends.

That would require Jesse to put aside his self-centred suicide mission for a second and it's clear that's not going to happen anytime soon. But at least Tulip knows what she's doing, bringing back the wig to match the hair of her comics counterpart so she can break in and join the Grail incognito. If there's a reunion that's as eagerly anticipated as The Saint of Killers/Jesse and Eugene/Jesse, it's Tulip/Cassidy, and it'll be interesting to see what happens with Jesse seemingly out of the picture for now. That said, the scenes in the infirmary were among the weaker parts of the episode stretching Tulip's plan to the limits of its credibility. But it did put Tulip where she needs to be.

As cool as the extended action sequence was the Jesse flashbacks weren't really needed too inside the De Sade party, as it almost worked to kill the momentum that the series had in its first three episodes. The fact that we got to see this fight scene regardless when we didn't need to shows that there are a few dangers when it comes to the cast and crew having a bit too much fun with their work, but the perspective changes and camera work (the pan so we could see the whole hallway to be fair, was worth the admission price alone), but Jesse is no further forward to going where he needs to be going than when he was in episode two which is kind of unfortunate especially when you consider how rapidly Tulip's storyline is advancing.

Even Cassidy's storyline suffered a bit this week. The origin story was good and felt very appropriate to Cassidy's character, but there's only so much material you can do with Joseph Gilgun when you keep him in a locked room and are torturing his character before it becomes repetitive and boring. Hopefully we'll get to see things spiced up soon, but for the moment, Deviant almost feels like Preacher running on autopilot. Very good autopilot - but still, autopilot. Jesse's conversation with Hitler in Deviant created a potentially interesting new dynamic too, even if Hitler himself still feels like at this point, one character addition too many.

It's still early on in the season though and despite the fact that Deviant was largely a misfire, it had plenty of things to write home about it and the action sequence was a highlight despite my issues with the flashback structure itself (maybe episodes two and three could have been split up better and we could have had the De Sade fight scene in episode two?). There's more than enough reasons to be excited about tonight's fourth episode - Search and Rescue.