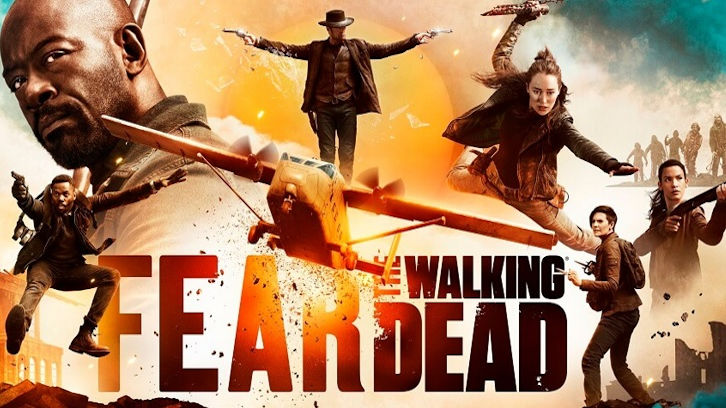 While its run time feels longer than it is and it reiterates some old information one time too many, "Channel 4" actually gives the season a nice shove forward. You just have to set aside little questions such as "How are they editing this footage?" and "Are they oversharing and compromising their safety as a result?" Some of the events playing out on camera within the screen would have had more emotional heft otherwise, but I commend the episode for hitting reset very thoroughly. Multiple episodes worth of exposition flies by in casual recorded conversations. The crew ditched Logan, they found the oil fields/Tanktown, and Wendell stayed behind with the people there and all the miscellaneous children. In the months since, the crew has helped many survivors, forming a convoy and stocking outposts along the way for others to find. (They don't know Logan and his rude brood are tailing them very slowly.)

"Channel 4" is full of nice little character vignettes that showcase the cast. (A side effect is that it reminds us most of them have been underused this season). There's some fun banter among Daniel, Sarah, and Dwight about how the latter needs a haircut. Dwight and Charlie agree that Sarah's trucking music is something else. And Grace gently smiles into the camera, cracking jokes about it taking the end of the world to get her to finally make a recipe she was saving on her fridge. Karen David maximizes every second we see of Grace, and it feels like we have spent way more time with her than has actually passed. Grace reminds us yet again that her days are numbered. She wakes up every morning wondering if it will be the beginning of the end. Even though her death hasn't happened yet, it already feels like a loss, a subtle reminder of the harsh nature of the world. Then of course Garret Dillahunt's John Dorie continues to sparkle like the living diamond in the rough he is. His on-camera segments feel the most authentic, with his wise musings on how people flush with money can't help the world and how his latest expression came from his father who worked in a delicatessen. Some of the cast seemed challenged by this episode's format change, but Dillahunt is unfazed.
The central action in the episode resulted from Morgan trying to help a woman and her son. While it seemed repetitive to revisit Morgan's past trauma, the actual scenario was engaging enough. A woman named Tess was trapped inside her home with her son. They were trapped not only because they were afraid to leave, but also because the woman's husband had surrounded the house with landmines to keep them safe while he was gone. It is a little silly though that Luciana and Al would keep filming while the exploding mines were drawing more and more of the dead. Also one can't help but imagine what a stranger would think watching this video and not knowing these characters as we do. They wouldn't know why this situation is significant to Morgan or why people care about John and June having a wedding or why Grace is talking about getting sick. Of course, the purpose of the video is to inspire others to join them making a difference. It doesn't seem to impress one person we see watching it, a character named Wes (Colby Hollman) who finds one of their outposts. He helps himself to some supplies and gas but doesn't reach out on the radio right away. Getting robbed by Logan and his crew, who blast Wes's awesome motorcyle to bits, will change that. Logan tells Wes to tell Morgan's people that they're making more enemies than friends, but that really seems more true of Logan's bunch who are clearly the worst. They don't come across as too much of a threat though. And the jury's out on whether the second half of the season will need that momentum.
Other Thoughts:
Alicia has gone full zen. She isn't about that killing the dead-mood anymore. She finds a mystery in some inspirational writing and art on a tree. It's primitive Pinterest, and our girl is about it. She also mentions her mom again, which is something that keeps happening way too often this season. I'm 50/50 on if it's too awkward at this point or not. Also, Alicia needs to bond with someone other than Morgan. You can't have an actress like Debnam-Carey and not be bouncing her energy off other cast members.
Unlike the Madison pronouns, I do think that Morgan's reflections on his family are building to some change for him, possibly a love story. He needs something.
I hope we haven't seen the last of Wes, but it's interesting that the show now has a second setting offscreen that it can exile characters too without killing them off.