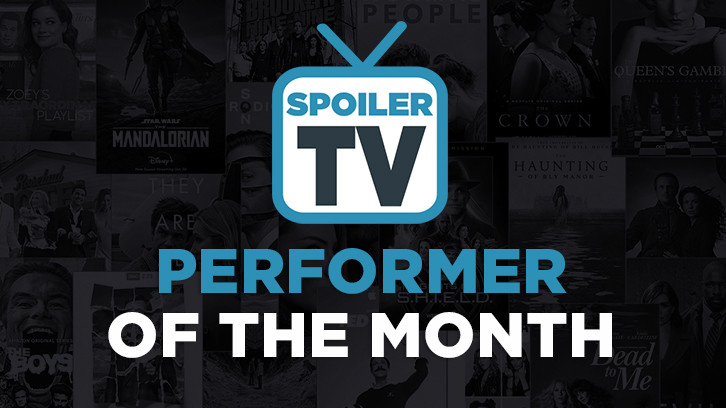 Results:

This was an interesting month of voting. In the case of the Readers' winner, this person shot out to the lead from the very start and was never again within striking range of anyone else nominated. The Staff Choice was a lot more interesting with the top spot shifting hands a few times before the ultimate winner settled into the spot and held the spot to the end.


Fear The Walking Dead
has continued to reinvent itself in season five, but one of its primary strengths has been there from the very beginning of the show. Viewers continue to be transfixed by Alicia Clark's evolution. In the seventh episode this season, Alicia is
Still Standing
but places her life on the line to help a group of survivors. Alycia Debnam-Carey can always be counted on to elevate the suspense and emotional weight of any episode, and few artists so fully inhabit their characters the way she does. This episode also stands out because of the connections she has built with her castmates, which make the life-or-death stakes here feel too close for comfort. Her performance is equal parts hush and fury, and, for it, our readers voted her July's Outstanding Performer of the Month.
Celeste Wright is called many things by different people in the season finale of
Big Little Lies
. In
I Want To Know
, she finally gets to define herself for others and for her own peace of mind. Nicole Kidman has depicted Celeste's uphill battle to regain control of her own life with empathetic dignity. Her performance is so wonderfully multi-faceted that even the smallest ways that Celeste gains ground resonate as meaningful victories. Her mesmerizing work in this episode was voted by the SpoilerTV Staff as July's Outstanding Performer of the Month.
The winner articles for Alycia Debnam-Carey and Nicole Kidman will be published before the end of the month. In the meantime please feel free to use the comment section to discuss these two very worthy winners and their brilliant fellow nominees.
Original:
Thanks to all of your nominations we have an outstanding list of nominees. These 10 outstanding performers will now battle it out for the title of SpoilerTV's Readers' Choice Performer of July.
2018 Staff's Choice Performer of the Year: Sandra Oh
2018 Reader's Choice Performer of the Year: Alycia Debnam-Carey
January Winners:
Readers' Choice: Jared Padalecki (Sam Winchester) - Supernatural
Staff Choice: Andre Braugher (Captain Raymond Holt) - Brooklyn Nine-Nine
February Winners:
Readers' Choice: Jensen Ackles (Dean Winchester) - Supernatural
Staff Choice: Hale Appleman (Eliot/The Monster) - The Magicians
March Winner:
Readers' and Staff Choice: Camilla Luddington (Dr. Jo Karev) - Grey's Anatomy
April Winners:
Readers' Choice: Matthew Daddario (Alec Lightwood) - Shadowhunters
Staff Choice: Jodie Comer (Villanelle) - Killing Eve
May Winners:
Readers' Choice: Tom Ellis (Lucifer Morningstar) - Lucifer
Staff Choice: Chyler Leigh (Alex Danvers) - Supergirl
June Winners:
Readers' Choice: Suranne Jones (Anne Lister) - Gentleman Jack
Staff Choice: Jared Harris (Valery Legasov) - Chernobyl
Please remember that a performer can only win once in 2019. After that win, they will be ineligible to win again in 2019, but they will secure a spot in our year-end Performer of the Year contest.
Now comes the hard part where you can
only vote for 1 performer
. The poll will be live until
Sunday, August 11th at 6 pm ET
. After you vote be sure to make a pitch in the comments section for what the performer you voted for most deserves to win.