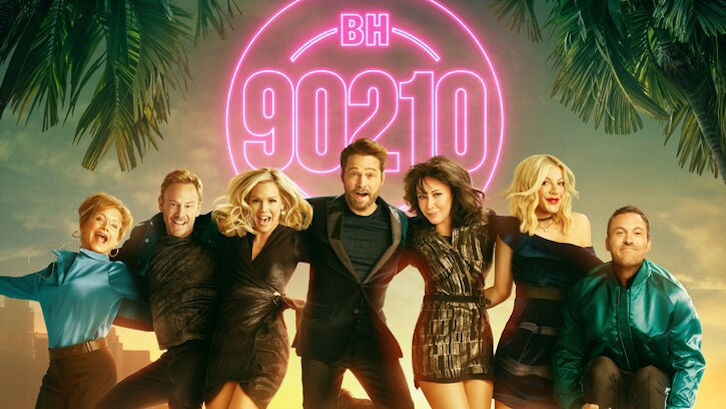 If you were of a certain age in the 90's there's a strong chance you watched Beverly Hills 90210. Following the lives of the Walsh twins as they arrived in the famous zip code and made friends. First airing in 1990 the original Beverly Hills 90210 became a smash hit tackling some hard-hitting topics and paving the way for future teenage dramas.
The show ran for 10 seasons between 1990-2000, making the cast household names, they couldn't go anywhere without being mobbed by fans it was a worldwide hit. Over the ten years of its run cast members left, some returned but most will remember the core who started it all. These were, The Walsh twins Brenda (Shannen Doherty) and Brandon (Jason Priestley), popular high school kids Kelly Taylor (Jennie Garth) and Steve Saunders (Ian Ziering). Young Steve Saunders wannabe David Silver (Brian Austin Green) and Kelly's best friend Donna Martin (Tori Spelling) completing the cast you had all-round bad boy and rebel without a cause type Dylan McKay (Luke Perry).
In 2003 some of the cast were reunited for a tv special and shared some of the fun moments and not so fun moments on set. One thing we did learn they all shared a special bond and affection for their experiences together on the show.

In 2008 a reboot called 90210 aired for 5 seasons, this show featured new characters as well as some of the original characters and cast.

With one reboot already done what could the new reboot possibly give fans, the original characters were the rumor, but it seemed to stall and not all the cast seemed on board.
It finally gained fruition thanks to the efforts and ideas of the two of the show's original stars Jennie Garth and Tori Spelling.

It's called BH 90210 and it's a reality show with a twist for want of a better title with all the actors playing heightened versions of themselves in real life. A novel concept that works so well if you know anything at all about the cast's lives off-camera. Some might find the lines blurring, I will stress these are over the top versions of the actors literally playing themselves.

It starts with the gang minus Shannen Doherty and sadly Luke Perry (who died earlier this year) going to Las Vegas for the 3O year 90210 reunion. Yes, it has been that long since the show's first episode aired.
At the Beverly Hills 90210 convention, we get a brief glimpse into their lives as they all meet up for what we are told the first time since the show ended 19 years ago. Shannen who famously left under a cloud and it was rumored there were on set arguments and difficulties is not a surprising absence, in fact, the whole casts first meeting isn't all hugs and warm but somewhat awkward and frosty between some members.
Again, fans used to eat up the tabloid's stories about relationships and on-set rivalries, so they certainly play up to that as their larger than life selves. In fact, they all blame the show for when things went wrong.
Things get revealed during the convention that shows no one's life is perfect.

Shannen in a cowboy hat and saving the tigers does a video chat which the fans eat up and she steals the show without even being there much to the other cast members annoyance. Again, sending up themselves.
Facts we also learn in this pilot episode are Tori Spelling is broke, Jennie Garth is heading for divorce number three, Ian Ziering believes he has the perfect young wife and marriage but sadly it's revealed she is cheating on him, Jason Priestley has anger management issues after punching a cast member he was directing. Brian Austin Green has little interest in him but more for his famous wife. He is a stay at home Dad. The only one who seems content and has just become a Grandma is Gabrielle Carteris however after revealing to an attractive bartender what we all knew … Andrea Zuckerman was gay, but it was the '90s the studio would not go for it!! She kisses the girl.

No surprise after the con they all need a drink and get up to some drunken shenanigans in Las Vegas each wondering what life would have been like without the show. I did like the touching little nods to their departed castmate without getting too overly emotional. There are plenty of little in-jokes and I couldn't help but laugh.
The stealing of Donna's old spring break dance dress is hilarious and the spank comment as Tori got into Donna's dress to make it fit is something, unfortunately, we ladies know all too well after a certain age. Stealing the dress does get them arrested though and we get BH 90210 cast members mug shots.

Sparks do fly when these larger than life personalities get together and maybe an old flame or two could be reignited.

After the con, it's back to reality but Tori gets the idea to reboot BH90210, what could possibly go wrong? To move forward you need to go back. As we see Jennie and Tori watch an old episode of Beverly Hills 90210, we see Luke and Jason in a scene and it simply says 'For our friend Luke Perry 1966-2019' I found myself wiping a tear.

The show certainly grabbed me with its novel concept and not taking itself or themselves too seriously while touching on real issues. You know, like them you are going to be looking back on your own lives in a similar fashion as is the norm if you are of a certain age. I can't wait for all the cast to get together and see what other faces appear.

BH90210 Wednesday 8/7 Fox

Did you like the concept?

Who would you like to see return?

Please post in the comments below.