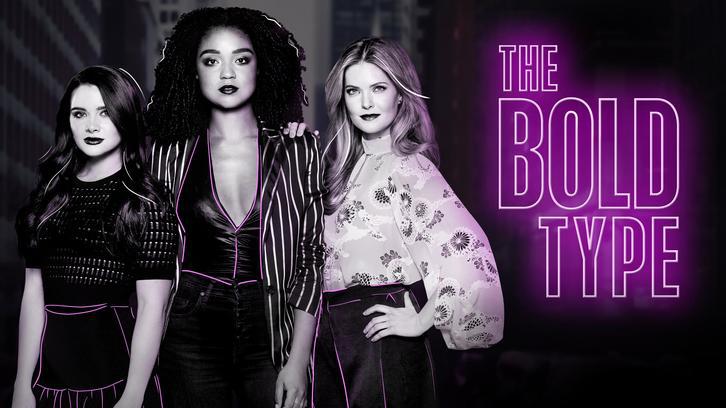 This week on The Bold Type, Jane is still angry at Ryan, who is desperately trying to make up for what happened. She forgives him in the end. Kat and Adena get together. She feels like she's forced to choose between Adena and Tia but ends up choosing herself. Adena tells her she was hired by Scarlet. Kat also struggled at work after losing the election but ended up using some of her ideas for the city in an ad campaign. Sutton's fashion show is a success and she even gets a big assignment but realizes that styling is her passion, not designing. She also tells Richard to take the job in San Francisco. Jacqueline completely reworks the fall issue, wanting it to showcase real women. Jane, Kat, and Sutton go into work to find the entire office boxed up and Jacqueline gone.

The right choice: If you'd told Kat at the beginning of the season that she'd have to choose between 2 amazing women, she would've told you that you were crazy. And yet here we are. All in all, I think Kat made the right decision. She's been through a lot in these past months and she just dealt with a huge blow, losing the elections. She shouldn't jump into a relationship for the wrong reasons. But I do think that she intends to move forward with Adena. Her conversation with Tia seemed like a break up while the one with Adena only seemed like a "not now". Of course, things will get a bit awkward with Adena now working at Scarlet. Though I guess a few things will need to be re-evaluated at work.

Called it: I told you Jane would forgive Ryan. I get that she wanted to stay mad, in her place I'd be the same way. But when you look at it from a logical point of view, her decision makes sense. Sure, he has his history against him. But I do really believe he's no longer a player. If he'd slept with someone, this would be a whole different discussion. You don't accidentally sleep with someone. But a kiss… it all depends on the context, doesn't it? But we didn't see it so we can't know the context. We don't know who instigated, how long it lasted. Was it a 3-second bad judgment call? All we know is that Ryan feels horrible. He went straight home, fessed up and didn't try to make excuses for himself. But Jane is also right to set boundaries. If it ever happens again, their relationship is over. Ryan, we're counting on you to not screw this up.
You can change your mind: I thought Sutton's storyline this week was very important. It showed that it's okay to change your mind. She though designing was her passion so she went for it. Only by doing so did she realize it wasn't designing but styling that was her passion. But if she hadn't tried it, she may have always wondered "what if". And I know a lot of people would be afraid to speak up in her place, especially after so many people helped her achieve this designing internship. That's why I was so proud that she owned up to it. And Oliver knows it takes trying a few things to really find what you're passionate about. And Sutton wasn't just bold in her professional life but also in her love life. As I suspected, she urged Richard to take the job in San Francisco. How else will he ever find out if it's his passion? I guess they'll do the long distance thing for now and then see how it goes. But what happens when Richard loves his job there and Sutton's career takes off in New York? Long distance works for a while but it's not ideal for long term.
Thank you for not canceling it: There seemed to be a minor time jump at the end of the episode, with Ryan already off on his book tour again. So I wonder if Richard has already resigned for his position at the magazine or at least took a step back. Because he would've known if the board was going to take drastic measures against Jacqueline and he would've warned Sutton. I'm so glad that we're getting a fourth season. Could you imagine if this had been the end of the show? That would've been horrible. It seems they were finally able to not only fire Jacqueline but also shut down the magazine. And I think Jacqueline knew it was coming. The "no matter what happens" in her toast seemed to indicate as much. I sure hope we get to see the girls, and the rest of Scarlet, fight to bring her back next season.
Best quotes: Jane: "Underneath all of that sweet boyfriend crap he's just Pinstripe. And a Pinstripe never changes his ..." All three: "...Pinstripes."
Sutton: "Oh wow, who was it? Tia or Adena?" Kat: "How do you always know?" Sutton: "We all have our superpowers."
Sutton: "Well, if it isn't green energy's Steve Jobs and… the other guy that nobody remembers."
Sutton: "I love you." Jane: "I know you're talking to the coffee but I love you too." Kat: "Me three."
That's it for this season. Let me know in the comments what you thought of this week's episode.
Please be respectful in the comments, any unnecessary rudeness isn't welcome.