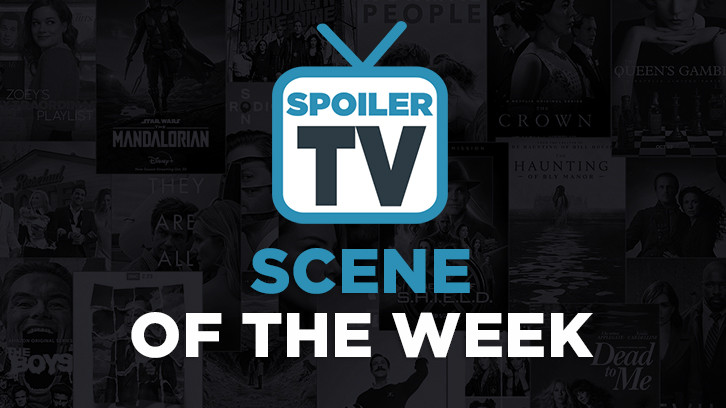 A weekly feature in which we're trying to find the most compelling, best acted, written, directed and just generally great, memorable scenes that we've seen in past seven days on TV.

AGENTS OF SHIELD, "The Other Thing", June 14, 2019, Actors: Clark Gregg, Ming-Na Wen, The Scene: May's fight with Sarge
Justyna: I couldn't quite decide which moment to highlight in the article. Between Enoch's betrayal, Jemma's emotional goodbye and May's interactions with Sarge, there were quite a few memorable scenes that I'd be happy to include in this SOTW. However, in the end I couldn't help but select the part that hit me the most - May's fight against Sarge intertwined with her memory of Coulson's final moments. Coulson's been dead for a while now, but it didn't make watching him slowly slip away any easier. He's been the soul of SHIELD for so long it's still difficult to see it without him. Sarge's appearance makes it both easier and harder to accept this huge loss. The way he looks is a constant reminder of a beloved character, not allowing the others to properly mourn his absence. The fight itself is very well done, especially for such a tight space, but it's the editing and Ming-Na Wen's performance that make it so memorable to me. With every punch directed at Sarge, May is forced to remember the man she loved until he finally drifts off... They both do. May finds strength in her pain, she carries on and she takes down her target. Such a powerful, incredible character. One more thing to mention here, I'm very interested to see where the story is going with all the little similarities between Sarge and Coulson. From Sarge's first appearance he always seemed like a completely separate character to me and yet... "The other thing." "Every dream is someone else's nightmare." "The tick of the clock is only getting louder." Can't wait to see what's next. Kudos!

BIG LITTLE LIES, "What Have They Done?", June 9, 2019, Actors: Nicole Kidman, Reese Witherspoon, Meryl Streep and more, The Scenes: Madeline and Mary Louise meet at the café & Celeste visits her therapist & The family dinner
Lip: Months after her husband/abuser's death, Celeste sees her old therapist because she keeps having unsettling nightmares about her husband, in which their roles are reversed and she's the one violent towards him. The therapist suggests that her husband's message is living on in her subconsciousness: Celeste was always the one to blame for everything and she still feels that way. I picked this scene out of all the good scenes in the premiere because it just shows one of the reasons why this show deserved a second season. Big Little Lies tackled the important theme of domestic violence in season one, and the recovery of Celeste is equally worth telling.
Giulia: I'm just going to say that it will be very hard for me to choose just one scene from BLL. The level of outstanding writing, directing and acting makes it impossible to do it. I am also probably going to put BLL every week, so I apologize for that. The scene that really stood out for me was the one at the café, when Madeline says hi to Mary Louise, who doesn't waste time insulting Celeste's friend. She's so mean and yet she tries to be kind about it, possibly making it worse. Meryl's delivery of her lines is just proof of why she is the best; "you're so short" became a declaration of war between the two and I am so here for it. On one side, you have a mother, who's grieving the loss of her son and trying to find answers and who doesn't trust anyone around her; on the other there is someone who knows the entire truth and doesn't have any intention to let anyone find out what happened. In that scene, Madeline pretends nothing has happened, and that's an aspect that really troubles me. I'm sure she will eventually come to terms with what she's done.
Claire: Mary Louise dresses down Madeline until all that's left of Madeline Martha Mackenzie are her designer pumps. Mary Louise wastes no time revealing who she really is and it is gloriously terrifying, uncomfortable and funny all at the same time. But she did raise a wife-beating rapist for a son so I wasn't expecting Donna Reed. Meryl Streep can not give a bad performance.
Laura B: Mary Louise has a scream during the middle of dinner. I wasn't too sold on Meryl Streep coming on board this next chapter to play Perry's mother, but she's proven in a very short period of time that she can be quite the character actress and not so easily recognizable compared to many other roles she has played. Her character is throwing so much eerie deep-seated shade onto the other characters bringing a subtle, but noticeable new accosting tone to the series. This scene in particular was just such a bizarre juxtaposition of being with family at the dinner table to completely cutting loose with a blood curdling scream, making viewers wonder just how much of a role did she play in making Perry the monster viewers saw he became?

BLACK MIRROR, "Rachel, Jack and Ashley Too", June 5, 2019, Actors: Miley Cyrus, Angourie Rice, Madison Davenport, The Scene: Ashley confronts her Aunt Manager
Marko: A marvelous emotional performance from Miley Cyrus. Such a versatile artist with a face full of different expressions and emotions. She brought all of her into this scene. Her pain, her strength and her fear.

ELEMENTARY, "Red Light, Green Light", June 13, 2019, Actors: Jonny Lee Miller, Aidan Quinn, The Scene: Gregson and Sherlock reconcile
Dahne: While the scene earlier of Sherlock speaking his mind to a comatose Gregson was powerful, it was heartwarming to see the other side too. From the opening smile from Sherlock, assuring that he has indeed moved on, to Gregson trying to apologize, the scene brimmed with the emotions of a hard-won friendship. The two have been through a lot and I expected there to be lasting consequences to Gregson's betrayal. Instead, to my delight, they agreed to put the past in the past and pick up their friendship again.

GROWN-ISH, "You Decide", June 12, 2019, Actors: Marcus Scribner, Yara Shahidi
The Scene: Junior makes Zoey realize she can do better
Luana: Zoey can be tiresome in her selfishness so it was great for someone to finally call her out on it, and who better than her family to do that.

IN THE DARK, "I Woke Up Like This", June 13, 2019, Actors: Perry Mattfeld, Casey Deidrick
The Scene: Max and Murphy reunite
Marko: The intimacy between these characters is simply impeccable. They are so close and it transfers to the screen perfectly. The way she was looking for him with her face and body and not her eyes, waiting for the sensation of his voice and touch to find her was executed tremendously. Their hug with a lingering smirk appearing on her face told more than a thousand words could ever do. Also picked by Beth

JANE THE VIRGIN, "Chapter Ninety-Three", June 12, 2019, Actors: Gina Rodriguez, Justin Baldoni and more, The Scene: The ending
Tyler: Even though I'm pretty over Jane and Rafael as a couple and think this season has highlighted Rafael as the worst, there's no denying the end of this week's episode was Jane the Virgin at its finest. Using a musical moment to explain big emotions as a running theme in the episode and then ending their declaration of love with a musical number featuring the entire cast? Just great television.

JESSICA JONES, "AKA You're Welcome", June 14, 2019, Actors: Rachael Taylor and more
The Scene: The costume montage
Popcultureguy: Trish goes to a costume store and tries out various disguises in a fun montage. And the scene ends with her donning a costume almost identical to the one Hellcat wears in the comics and her going, "Hell no."

NOS4A2, "The Graveyard of What Might Be", June 9, 2019, Actors: Ashleigh Cummings, Jahkara J. Smith, The Scene: Vic McQueen meets Maggie Leigh
Claire: Vic McQueen meets Maggie Leigh for the first time after making another trip over the Shorter Way bridge. Maggie reveals to Vic what is happening to her and how Vic is the chosen one to save the children from Christmasland. Vic is scared and wants no part of it, but you can see the sparks of a real friendship between these two 'special' people. And you just know they are going to eventually make an invincible team.

POSE, "Acting Up", June 11, 2019, Actors: Indya Moore, Dominique Jackson, Billy Porter and more, The Scenes: Angel goes to the casting call for models & Elektra walks the runway as Marie Antoinette
Giulia: It was a great first episode. I really loved when Angel went to the casting call for models. I am loving how the writers have put Indya's personal rise in the modeling industry into the show. She's absolutely stunning and she deserves the recognition she's getting. Angel's audition made me cry. She wanted to prove that she could do it. I loved how she showed the casting lady that she could vogue, how proud she was of that. I was feeling very proud of her, as if I knew her personally. Her heart and her kindness know no bounds. I just really love her as a character and that scene made me love her even more. And Indya was outstanding, as always.
William: In a deliciously campy scene, Elektra graces the runway as Marie Antoinette for a category that embodies a look from the French Revolution. Dominique completely devours the sheer theatrics of that moment from her poise alone, going as far as to reenact the figure's famous beheading for a scene that was both comical and enticing. What made the scene even more of a standout was the heated confrontation between her and Pray Tell as he scolds her for prioritizing the ball over the ACT UP protest. "You want to know why they want us dead? Because we're BLACK and we're BROWN and we're QUEER... WAKE UP!" Billy delivered that monologue with such conviction. It was only fitting that he was the one that went toe to toe with one of the most intimidating personalities on the show.

THE 100, "Memento Mori", June 11, 2019, Actors: Bob Morley, Eliza Taylor, Richard Harmon, Lola Flanery and more, The Scenes: Bellamy tells Madi about Clarke's death & Josephine and Murphy's plan succeeds & The ending
Justyna: This was such an emotional episode. All of Bellamy's scenes were heartbreaking to watch - everything from his first instinct to fight until his painful surrender and a promise to do better, to survive and honor the dead. Bob Morley did a wonderful job with each of these moments. Kudos! The part that got me the most was the quiet mourning near the end of the hour. Our main characters learn the truth, one by one, until there's only Madi left. The second she enters the room it's clear how difficult it is to tell her. Bellamy is already struggling with his own grief but he does his best to stay strong for Clarke's kid. I'm glad we only get to see this exchange from a distance. It's a good choice in terms of writing and direction and the fact we never hear a word doesn't make this any less impactful. Madi's reaction to Bellamy's news says it all. She holds on to him as her heart is breaking. I remain hopeful that both Madi and Bellamy will get to reunite with Clarke soon but for now it's a truly memorable part, to see everyone trying to say goodbye and process such a tremendous loss.
Marko: Josephine and John's plan of confronting Bellamy & Russell works. What a phenomenal play between the two snakes to take control. John knew how to get to Bellamy: push him to the edge and have the choice not to be a monster. Make Clarke proud and do what she would do, give them a chance to survive even though it is a deal with the devil.
Luana: The ending. I knew Clarke was going to be back one way or another but I'm looking forward to seeing the battle for her own body, I think it could prove a great arc for Eliza as she has been killing it this season. I have been enjoying Josephine but I can't wait for the people who love Clarke to realize she's still in there somewhere. Especially Madi and Bellamy.

THE BOLD TYPE, "Breaking Through the Noise", June 11, 2019, Actors: Melora Hardin and more, The Scene: Jacqueline asks for a small miracle
Luana: There's nothing like someone at the top who's able to hear criticism and grow from it, and though it might cost her her job, this is what makes Jacqueline one of the best characters in TV history, she's wise and bold, and a role model anyone would be lucky to have. She heard Pamela's criticism and instead of getting defensive she took a long look at Scarlet and decided they could do better, be better at choosing the standard of beauty they put forward in their platform, and hold themselves accountable the same way they do others.

THE HANDMAID'S TALE, "God Bless the Child", June 12, 2019, Actors: Elisabeth Moss, Ann Dowd, Alexis Bledel and more, The Scenes: Emily reunites with Sylvia and Oliver in Canada & June shelters Janine from Aunt Lydia
Claire: Emily reunites with Sylvia and Oliver in Canada. It is this storyline that interests me the most at the moment; to see Emily struggling to acclimate back to a normal life and the feelings and thoughts she must be dealing with. Though it is nice after two seasons to see a light at the end of the tunnel. It is heart-wrenching and Alexis Bledel is phenomenal also with Clea DuVall.
Laura B: June shelters Janine from Aunt Lydia. I didn't find the whole episode this week very compelling, but perhaps it was its unique religious juxtaposing narrative counter by a party that at first seemed far too casual for Gilead's standard practices that made the escalation with Janine and Aunt Lydia so brutal and showing the slippery slope between good intent vs using something to justify violence or how violence corrupts and can beget more violence.

YOUNGER, "Big Day", June 12, 2019, Actors: Sutton Foster, Miriam Shor, Hilary Duff
The Scene: Liza, Diana and Kelsey sing 9-5
Beth: This classic working woman's anthem came to life in the best way and fits the show perfectly. Having these three actresses finally show their musical roots together was such a treat.