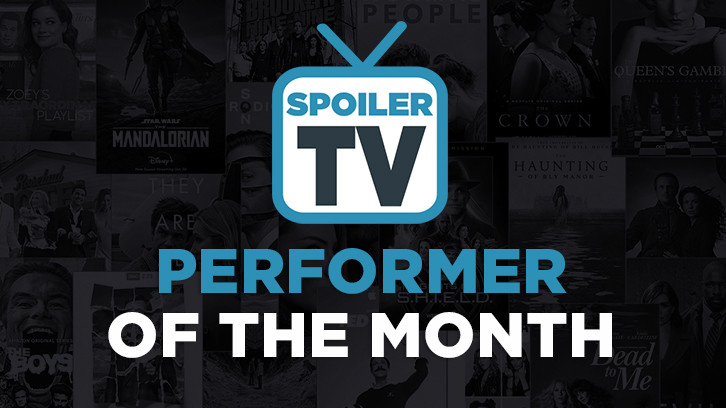 Results

This was another interesting month of voting. Early on in the voting on the Readers' side, it looked like it could be quite a fierce battle. Then about halfway through the ultimate winner surged ahead and was never again caught. The Staff side was once again close right to the very end.


Tom Ellis brought some of his sharpest, sauciest performances yet to the fourth season of
Lucifer
. As the titular character of the show, he carries the show so effortlessly, it's as if he has wings.
Who's da New King of Hell?
, the Season 4 finale, showcased Ellis's talents in all their glory. Viewers were treated to everything they love about the character Lucifer in one episode. From a fiendishly charming opening number to the mighty thunderclap of the climax, Ellis brought a sense of powerful triumph to every scene. Not one to leave anything on the table, he stripped down emotionally for a quiet farewell. The pure honesty that Ellis imbues his devil's heroic sacrifice left viewers simultaneously grief-stricken and hopeful. For his work in this episode, our readers voted him SpoilerTV's May Readers' Choice Outstanding Performer of the Month.
In the second half of Season Four,
Supergirl
writers and producers undertook their riskiest storyline yet. The Alex Danvers mind-wipe storyline featured two of the show's strongest performers in an arc that rattled the foundation of and will ultimately strengthen the show's most important relationship, the Danvers sisters. The storyline is brought to a powerful conclusion in one of the penultimate episodes of the season,
Red Dawn
(4x21). In
Red Dawn
, Alex Danvers regains her memories of her sister as
Supergirl
and fights to save her life. Chyler Leigh, as Alex gives an emotionally charged and heart-wrenching virtuoso performance that brought many to tears more than once when it aired and has rightfully earned her the honor of SpoilerTV's Staff Choice Performer of the Month for May.
Look for the winner articles for Tom Ellis and Chyler Leigh to release later this month. In the meantime, feel free to use the comments section below to discuss these two incredible winners and their powerhouse fellow nominees.
Original Post:
Thanks to all of your nominations we have an outstanding list of nominees. These 10 outstanding performers will now battle it out for the title of SpoilerTV's Readers' Choice Performer of May.
2018 Staff's Choice Performer of the Year: Sandra Oh
2018 Reader's Choice Performer of the Year: Alycia Debnam-Carey
January Winners:
Readers' Choice: Jared Padalecki (Sam Winchester) - Supernatural
Staff Choice: Andre Braugher (Captain Raymond Holt) - Brooklyn Nine-Nine
February Winners:
Readers' Choice: Jensen Ackles (Dean Winchester) - Supernatural
Staff Choice: Hale Appleman (Eliot/The Monster) - The Magicians
March Winner:
Readers' and Staff Choice: Camilla Luddington (Dr. Jo Karev) - Grey's Anatomy
April Winners:
Readers' Choice: Matthew Daddario (Alec Lightwood) - Shadowhunters
Staff Choice: Jodie Comer (Villanelle) - Killing Eve
Please remember that a performer can only win once in 2019. After that win, they will be ineligible to win again in 2019, but they will secure a spot in our year-end Performer of the Year contest.
Now comes the hard part where you can
only vote for 1 performer
. The poll will be live until
Tuesday, June 11th at 6 pm ET
. After you vote be sure to make a pitch in the comments section for what the performer you voted for most deserves to win.