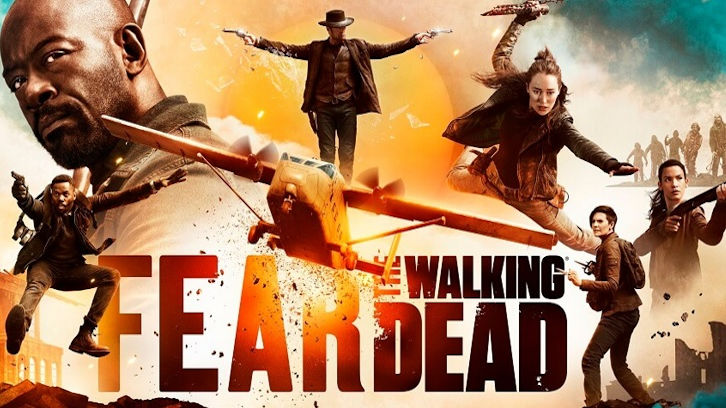 SPOILERS BELOW
Fear the Walking Dead opens its fifth season with an episode that is both intense and frustrating. It directly picks up where the ideas of last season left off. Can its characters do the right thing and be smart about it? Does doing the right thing doom you to be taken advantage of? What really made the show so good this past season was its focus on how people survive vs. how evil people become when let off the leash of civilization. The characters had truly complicated obstacles to overcome, within themselves and their connections to other people. And while people still held the power to hurt each other or lose their minds, there was a sense of hope that they could truly make a positive difference. So my initial reaction to this season starting with the crew being manipulated (offscreen) into giving up their location to a stranger is a disappointment. It's much too similar to what happened in the last quarter of the previous season, the weakest quarter by the way. Without that mostly offscreen Logan business, this would have been a completely thrilling edge-of-your seat episode. It is still a strong premiere for the show that very efficiently sets the table.
Hopefully, Logan's actions just mean the whole crew has to take a long road trip (hopefully any direction but East). The episode otherwise is full of great stuff. The introduction scene with the adorable children Max (Ethan Suess)and Dylan (Cooper Dodson) hunting in the forest that folds into the plane crash is spectacular. Bonus points for Alicia Clark rolling through that wall of smoke. Some great tension from the struggle to escape the wreck as a horde of growlers are drawn to the fire. Luciana's injury slows down their evacuation, and there's a plethora of fantastic moments here. An unconscious June's face being clawed at by one of the dead. Alicia fighting off growlers with a piece of the wrecked plane, wounding her hands in the process. John passing his gun to June so she can shoot the dead hanging on to his legs. It's a whole lot of great stuff. The sequence also introduces new mysteries both promising and disturbing.
The group is rescued by Annie (Bailey Gavulic), the older sister of the two children hunting. This trio of siblings aren't the usual juveniles encountered on these shows. They're not out of their minds with angst or some other madness. They are hardened realists. When the siblings hear that Alicia, Morgan, and company are off to help some stranger they don't know, Annie about makes them get out and walk. They cannot handle the foolishness and, of course, aren't aware of our protagonists' reasons for sticking their necks out. A quick drive by a tree full of growler heads tied to the trees by their hair reminds us just how nasty this world can be. (Now who climbed out onto all those thin branches to hang those heads?). There's also a chain of growlers with their entrails wrapped around their necks blocking the road in the same place. No surprise that the children bail immediately once they realize the group was manipulated.
After a little teamwork on Luciana's emergency surgery, every one of them processes this failure differently. Alicia angrily seeks out some growlers to kill. Morgan addresses her, and they vent their frustration by shouting about how they have to try harder to get people to accept help. The way John Dorie expresses his disappointment is much more devastating. He sounds broken when he wonders aloud to June if maybe they got all the luck in the world. If maybe there's no one else left to share it with. Garret Dillahunt brings so much pain to his delivery of these lines that, in a good way, it's easily the most terrible moment of the episode. Losing hope is deadly in these times, so it's a relief when June grabs him and reminds him that she didn't think anyone could help her before she met him.
The most frightening thing the show could do to us this season is make us watch John Dorie slowly give up. I also think that would be a mistake, so let's hope they don't take us there, but him having to fight the erosion of his hope and optimism has the potential to be very compelling material.
The premiere introduces two big question marks. At the plane crash, Al fights off a man wearing a strange protective suit. She can't shake the sight, especially since there didn't seem to be any injury on him that would explain why he was dead. Because Al needs an interesting story like a vampire needs blood, she later returns to the crash site alone in the middle of a rainstorm. She inspects the body, finds a zipped pouch with some ominous diagrams, discovers the suit has wires inside it, and gets tasered by someone wearing an identical suit. Hold your beer because there's another cliffhanger. Strand, Charlie, Sarah, and Wendell are on their way to rescue the crew. Al radioed that Strand would find another plane by watching one of her tapes. The man on the tape is Daniel Salazar (Rubén Blades).
Stuff and Thangs
Those cliffhangers were extremely effective.
You better believe that I took note of Alicia calling the shots during the plane crash fight.
"I'll take the lead" indeed.
#ImWithHer
It was really sad when Dylan asked Luciana about the toy truck and was confused why anyone would think kids needed toys. It was also sensible in a bittersweet way, so points for realism and for these kids being self-sufficient and probably awesome already.
The plane crashed in an area with HIGH RADIATION signs. I'm sure that's a throwaway detail and will definitely not be a thing to worry about.
If you're counting, we're already at seven antagonists: rude Logan and his people, mysterious electric suit people, Daniel Salazar (presumably), the hanging heads people, the dead, the radiation, and hopelessness. Buckle up.