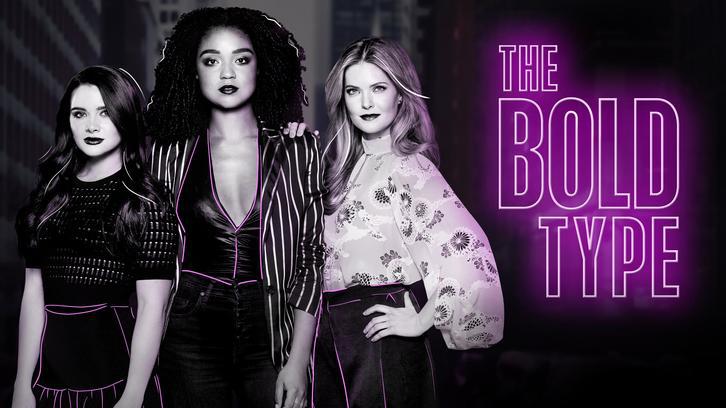 This week on The Bold Type, Jane and Jacqueline organize a photo shoot for the models who will go on the record about Pamela's abuse and Adena is the photographer. Kat has a run in with her at the office and things are a bit awkward. It becomes clear that neither Kat or Adena is truly over the other. They meet up to talk. Richard buys Sutton an expensive sewing machine which brings up issues of money. Sutton is worried about becoming dependent on Richard, the way her mother was on men, but she eventually realizes that it takes more than just presents to be truly dependent on someone.

I told you: Last week I said money would still be an issue between Sutton and Richard. It took only a week for it to resurface. I understand not wanting to be dependent on someone, especially after seeing how it messed up your mother. But it doesn't have to be all or nothing. Letting your boyfriend buy you a present every now and then or letting him occasionally pay for dinner does not make you dependent on him. The couple seemed to have found their compromise by the end of the episode. I'm glad Richard never really pushed things onto Sutton. He let her figure stuff out on her own, which was exactly what she needed.

Career maker or breaker? Jane has been working on this big story for a while now and the stakes keep getting higher. Not only her career, but Jacqueline's and those models' careers are riding on this story. And now that Pamela knows about it, thanks to those emails, things will only get more difficult. I wouldn't be surprised if Pamela starts a smear campaign about Jane and Scarlet next week to try and discredit her. They've already established that Pamela enjoys intimidating and controlling people so Jane will face one hell of a fight. It's a good thing she has Jacqueline in her corner, who also has a lot riding on this. Jane mentioned that this article could solidify Jacqueline's position at the company, but if the story fails it almost certainly means Jacqueline will be pushed out. But despite all of that, it's not the reason she's so invested in this story. I loved the speech she gave about suffering abuse. Jacqueline truly cares about getting this story out there and preventing more abuse from happening. Have I mentioned how much I love this woman?
Closure (?): Things got a little awkward for Kat this week when she saw Adena again for the first time since their break-up. Kat may have stated that she's moved on, but it was very obvious that she's not over Adena. Which makes sense, their break-up was confusing, she never really got closure. And on top of that, first love is always a bit harder to shake. I wish we'd gotten to see more of Adena this season because it's hard to figure out where she stands in all of this. She says she regretted what happened in Paris, but she never tried to get back together with Kat either. But maybe they needed a break. Things were really messy last season between them. Maybe they need that fresh start. The question is, does Kat still want that? Or is she really ready to move on with Tia? I'm sure we'll find out next season.
We go high: Aside from the romantic drama, Kat is also nearly finished campaigning for City Council. The election is nearly upon us so like any true politician, Kat's opponent tried to make her look bad. He did a pretty bad job of it, though. That video wasn't all that bad. In fact, I think it made her more relatable. Kat has never shied away from her flaws. I was so proud to see her take the high road. She never really let that video get to her which shows how much she's grown over the past years. There was a time where she couldn't help respond to haters. Please let her win.
Best quotes: Sutton: "It's fine. I enjoy being the underfunded underdog. That is why I like the Phillies." Richard: "Yeah, I've been meaning to have a word with you about that. See, you live in Manhattan now and we're Yankees fans." Sutton: "You are, I'm not."
Kat: "Oh my god, this sucks. You see, this is why I didn't do relationships for so long. Screwing around is so much easier." Sutton: "Yeah, it's a really, really good option."
Jacqueline: "Ladies, I can empathize. I was also the victim of abuse. The circumstances were different. But like all of you, I lived with my secret. I thought by keeping it, I was in control. But then I realized that what I was actually doing, was surrendering my power. My power to help other women. You ladies are all so much more powerful than you realize. Don't let Pamela Dolan or anyone take that from you."
That's it for this week. Check in again next week for an all-new review and let me know in the comments what you thought of this week's episode.
Please be respectful in the comments, any unnecessary rudeness isn't welcome.