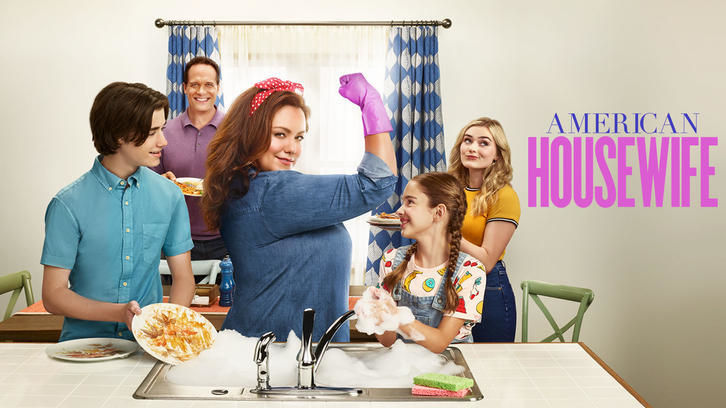 Yep, the Otto family is voicing their musical talents in the season finale of American Housewife, as Katie finally decides to join the rest of the Westport moms and do nothing.

Katie is, per usual, overwhelmed by her many responsibilities and not getting any help. She's trying to finalize the plans for the Westport Founder's Day Parade. Oliver thinks she ironed his shirt wrong. Taylor wants Katie to use her job to score her and her troublemaker friends free tickets to the festivities. Anna-Kat won't put socks on. And Greg's so obsessed with reenacting the Founder's Day first speech that he's oblivious to all her trouble. So, Katie voices her concerns in a spectacular song and dance routine, asking "Where's My Parade?"

At the historical museum, Greg sees the original Westport flag, that was held by the founder as he made the first speech some 200 odd years ago. Wanting to "feel the history in his hands," Greg asks if he can hold the original Westport flag as he reenacts the speech. And (rather stupidly) the museum manager sends him home with it!


At "Second Breakfast" with Angela and Doris, Katie bemoans her lack of help in all her responsibilities. Angela and Doris encourage her to do what the rest of the moms in town do, hire help to do all the hard stuff and just focus on themselves. Katie thinks that's stupid, but Angela and Doris aren't about to give up just yet. They perform another song and dance, trying to convince Katie to go "Full Westport." And by the end, Katie's in! She goes home and tells the kids that from now on, the nanny, the cleaner, and the driver will be doing everything. And who are the nanny, the cleaner, and the driver - Oliver, Anna-Kat, and Taylor, respectively.

At first, the kids aren't too thrilled with the new arrangement. Suddenly they're having to do all the things Katie did for them before. But then Cooper steps in. He explains that as a kid whose parents are almost never around, there are actually quite a few benefits - which he explains through another performance. With no parents around, there aren't any rules - "You Can Do You!" Taylor, Oliver, and Anna-Kat have seen the light, and they decide that pitching in to take care of each other is worth it if they get to live by their own rules.

Katie's pretty floored to see the kids doing fine on their own, but Greg tells her it's not so bad. She can actually do whatever she wants. He changes his tune though when he goes to look for his historical flag. A newly responsible Taylor found it, decided it needed a good cleaning (it has been in a glass case for 200 years) and sent it through the laundry. She even patched the holes in it! Oh, and the George Washington signature on it - she thought that said "Wash a ton," which she did ("like seven times!").

As the days go on, the kids continue to do well on their own, while Greg continues to stress about the flag. He even goes as far as to try and make it look old and dirty again. He succeeds, but accidentally cuts himself on the finger, burns his hand, and crushes his feet with horseshoes in the process! Fortunately, no one is the wiser about the flag going through the wash on Founder's Day and Greg successfully reenacts the Founder's Day Speech.

On Founder's Day, Katie's beginning to think she really isn't needed. Greg assures her he needs her. After all, look how many ways he injured himself when she wasn't around. And as it turns out, the kids might just need her sometimes too. Anna-Kat's freezing cold because she's wearing sandals without socks until Katie gives her a pair. Oliver's got mustard on his shirt, but Katie whips out her Tide Pen and fixes it. And Taylor? She and her three idiot friends (all of whom are named Josh) are about to throw hot cheese-balls at people coming out of the port-a-johns until she thinks back to Katie's advice - "The best way to not do something stupid is to NOT do something stupid." She stops them, and just in time apparently - the people currently exiting the port-a-johns? A couple of police officers!


Katie finally realizes she's appreciated and preforms one last song - singing about those wonderful "Two Little Words" (Thank you!) that every mom wants to hear. As Founder's Day winds down, Katie gathers her family and happily heads home.

Random Thoughts:
-The bloopers at the end were too funny!

-Most hilarious line goes to Angela when she and Doris are singing about "going "Full Westport," - "When life gives you Lululemons, have some Lulu-lemonade." A-plus pun game, Angela!

Were you surprised that Katie finally tried to embrace the Westport life? Let me know below! It's been a blast reviewing American Housewife this season, and I'll see ya'll again in the fall. Have a great summer!