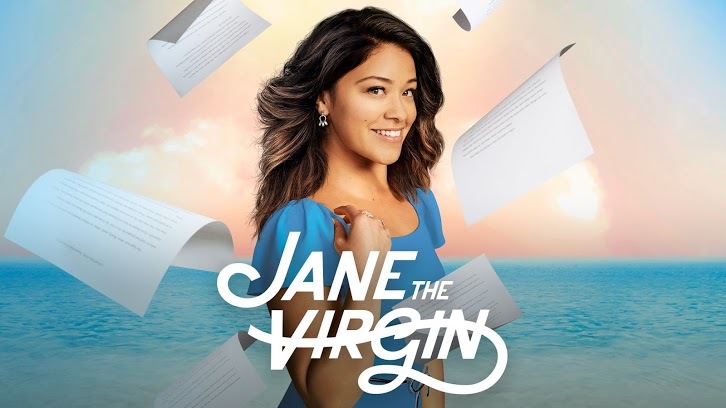 Jane the Virgin
"Chapter Ninety" was written by Chantelle M Wells and was directed once again by Gina Rodriguez (Jane)! As usual, Rodriguez does a terrific job. The episode really emphasizes the importance of family and features the "real" wedding of Alba (Ivonne Coll) and Jorge (Alfonso DiLuca). The episode also featured the cool gimmick of a little cartoon so that we didn't have to watch the #Jorgasm!
The flashback to begin the episode emphasizes again that Jane grew up without her father – it was lovely seeing the flashbacks to their relationship throughout the series. We find out that when she was 11, Jane (Cali DiCapo) entered – and won! – and essay contest, hoping to get her picture in the paper so that her father would see her. She didn't care about the contest at all.
In the present day, Jane and Rogelio (Jaime Camil) pitch This is Mars to the studio execs. The pitch itself is hilarious – I loved Rogelio insisting they wear space helmets! When they get home, the come in like they've failed – and then do a special victory dance – also hilarious! – for Xo (Andrea Navedo), Alba, and Jorge who have been waiting for news.
Jorge takes the opportunity to propose to Alba in front of the whole family – and this time she accepts! Xo then takes over the wedding planning details and throws herself into them completely. She gets the first wedding mass she can – three months away. This turns out to be too long…. She also arranges for a special Venezuelan orchid for the bridal bouquet, so that Alba will have something from home to walk down the aisle with her.
Meanwhile, Luisa (Yara Martinez) is trying to expand her own family and reconnect with Rafael (Justin Baldoni). I loved her smudging his apartment and using crystals – so Luisa! He thanks her for helping him through the bad time he's been having since losing Jane, and finally agrees to ask Petra (Yael Grobglas) and Jane if Luisa can meet the kids.
Petra is also trying to blend/expand her family and the girls seem to be finally warming up to JR (Rosario Dawson). They decide that it's time for JR to try some time alone with the twins and Petra suggests ice cream. JR also learns from her mentor that she's not getting her license back to practice law. The ice cream date goes equally badly when the twins act like complete brats and JR ends up yelling at them.
Jane and Rogelio still have to get River (Brooke Shields) on board with the new concept. She love it, but doesn't want Jane to write it! She is sure that it's just nepotism on Rogelio's part and that Jane can't do a professional job. Interestingly, Jane doesn't take offence and is ok handing the job over to someone else because she's a novelist not a television writer. Rogelio insists, however, and gives Jane a bunch of old Pilot scripts to help her.
Jorge and Alba have an engagement party at the Mirabella, and Rafael congratulates them. He also takes the opportunity to ask Jane for a favor. Her heart glows the entire time he's talking to her until he asks if Luisa can meet Mateo (Elias Janssen). Rafael tells Jane that she's his only family and it's really important to him. She asks for 24 hours to think about it and we see her heart glow and then crack…
Jane talks to Xo and Alba about it. She's not sure that Luisa has really changed and is reluctant to let Mateo meet her, but she's also feeling like she wants to say yes just because Rafael will be so grateful that he might fall back in love with her. Xo and Alba both tell her to put Mateo first. In the end, she agrees – because family is important.
Jane learns two things from the pilot scripts that Rogelio gives her. The first is one of the show's traditionally great gimmicks – a list! She learns the five key elements of a telenovela – which are then applied to this episode.
1. Drive
2. Obstacle
3. Complication
4. Resolution
5. Cliffhanger
Loved it! But Jane also finds her publisher's number on the back of one of the scripts.
Rogelio has lots of notes for Jane on the script – but of course, they are all about how he's described! I loved that he had no issue about having a tail and that he should be just as handsome with it. It's all about getting more close ups! He's totally fine with the plot. Rogelio dodges the question of the phone number, saying he just wanted to send flowers after the book signing.
When she calls Jeremy (Even Todd), he won't tell her why Rogelio had his number. Jane fakes out Rogelio to learn that Rogelio agreed to buy any of the 10,000 copies of Jane's novel that didn't sell! Jane is devastated and this causes a rift between her and Rogelio.
Jane's fake out is a nice parallel to how Petra finds out about JR blowing up at the twins – by accident by starting a conversation with "Why didn't you tell me?" Petra's talking about JR spilling wine on her jacket, but JR thinks that Jane – who saw the blow up – told on her. She didn't. And more surprisingly, neither did the twins! Petra and JR fight over JR's right/place to discipline the twins.
Petra is furious with Jane for not telling her about JR and the twins. Jane tells her that she didn't think it was her place to tell. It's hilarious that the one time Jane doesn't meddle, Petra still gets mad at her! Jane gives her good advice though in telling her to talk to JR about her role in disciplining the twins.
Jorge and Alba's public displays of "affection" end up making Xo and Jane super uncomfortable- which is also hilarious. I loved the throwback to the very first episode when Jane presents Alba with the framed flower – and tells her to think about it when she has "urges!" It's even funnier when Jorge and Alba are making out, and Alba stops it when she sees a petal fall from the flower! It turns out that the problem with 3 months is that it's too long to wait to have sex!
River ends up loving the script and apologizes to Jane. She's happy for her to write for the show. But Jane sees a way to get back at Rogelio. She tells River that she thinks that Brenda is underserved and she's giving her more monologues – and another lover because Steve will be horribly disfigured and lose his genitals!!!
Jane and Rogelio are both downcast when they return from the meeting, and Xo and Alba think they are faking again. Jane tells them that River loved the script – and then what Rogelio did. Neither of them knew and are mad on Jane's behalf. More devastating, however, is what this news does to Jane's entire concept of self. She's gotten through all the hard times with the accomplishment of being a published author and now that's a lie. It affects her so badly that it creates writer's block!
There's a terrific scene between Coll and Rodriguez, when Alba goes to check on Jane – who can't write – and she breaks down crying. Alba encourages her to keep writing and not throw away a great opportunity just because she's mad at Rogelio.
Petra goes to JR and the two discuss how to move ahead. Both have different views on discipline based on their own childhoods. JR thinks they are too entitles – she's not wrong! And Petra explains that they are spoiled because of her own childhood having nothing. The two agree to try to come up with a way they are both comfortable with.
Meanwhile, Alba announces that she and Jorge are getting married – right away – that afternoon! Xo and Jane are surprised but immediately say that they are on board if that is what Alba wants. Alba says that all that they want is a "quick" nice family dinner afterwards with just the immediate family. She tells Jane that she doesn't have to invite Rafael – it's quite a sweet moment between the two. When Rafael drops Mateo off right then, however, Jane invites him anyway. Alba asks why, and Jane explains that it's about family, not about her.
This theme of family is taken up when Xo breaks down when she can't get the special flowers for Alba. She tells Alba that she wanted to do one big special thing to really thank Alba for all she's done all her life, but especially helping her through the last year. Alba tells her that you never stop wanting to do whatever you can for your child – and it's at that moment that Rogelio sticks his head in – Jorge's getting nervous that Alba will change her mind again!
Camil does the beaten dog look so well! He immediately leaves when Jane gives him the stink eye – but Alba's words resonate with her – and Alba and Xo remind her of them… Jane goes after Rogelio and forgives him. The two make up and Rogelio tells her that River signed on – proving what Rogelio already knew – that Jane is a wonderful writer.
Jorge and Alba are married. And in another terrific throwback – this time the choir tells Alba to go and have sex. Rogelio, Rafael, Jane, and Xo join in – and it's hysterical. Do we have time to have a musical episode???? If any show should do it… these actors can all sing and dance for Heaven's sake!
Xo gets some great photos of the wedding on her phone and decides to put together a wedding album for Alba – something she's never had. Jane admits that it was ok to have Rafael there. It helps that no matter what, they are still family.
We get to the "Resolution" part of the episode. Rogelio shows Jane that she's famous – she has her picture in the paper again – but this time it's WITH her father. We also get – or almost – the consummation of Alba and Jorge's marriage – but tastefully – and hysterically – cut to a cartoon! I actually like that we get almost as much of a "sex" scene with the older cast as with the younger. Jane is also inspired to write – but now it's the story of her and Rogelio.
Two "resolutions" end in the final element of "cliffhanger." JR and Petra are clearly doing better working as a team with the twins. JR gets them to put on their "basic" shoes by threatening to take away the iPad – Petra's favorite ploy. Then JR gets another call from her mentor. There's a job offer – in the legal field, though not practicing – but the complication is that it's in Houston!
Luisa finally meets Mateo. She wants to go to the beach with him. Rafael had planned for them to stay in, but agrees to go to the beach instead. Meanwhile, Dennis (Christopher Allen) calls to say that he thinks Luisa is still working with Rose (Bridget Reagan) because of a financial connection they found. At the same time, Bobby (Tommy Dorfman) texts Luisa to see how it's going. She tells him perfect – and we see him breaking into Rafael's apartment! Has Bobby simply convinced Luisa to take Mateo to the beach or is she really in on it? I suspect that Luisa is as much in the dark as everyone else – what do you think?
This was a satisfying episode. We start to see some of our character storylines wrap up as we move into the final push toward the finale. Will danger to Mateo once again unite Jane and Rafael? What is Rose really up to? Will Jane find success as a novelist or is she destined to be a famous telenovela writer? What did you think of the episode? Let me know your thoughts in the comments below!