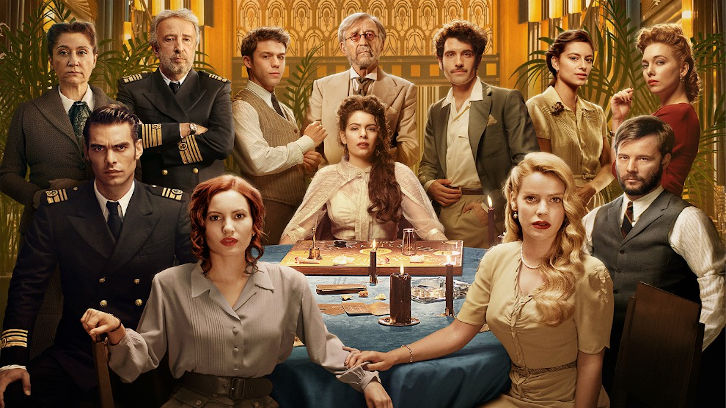 No smooth sailing here. Spoilers for the first five episodes of Alta Mar follow.
Please keep discussion in the comments limited to those episodes.
The ocean is never calm. These High Seas become increasingly treacherous and thrilling, as secrets and agendas collide, and no one is safe. Awful Brother-In-Law has been the worst part of the show, but we are finally spared any more of his gross mustache twirling. It's something of a mixed blessing that Natalia was poisoning him, mixed because her role in the first five episodes has just been his object of abuse. Now we'll have to spend the next three episodes wondering if either she or her rescuer Clara will take the fall for his awfulness. The women's sole purpose in the story seems to be limited to their interactions with Awful Brother-In-Law. Unless they end up pushing somebody else overboard as part of covering up Awful's death, they are extremely isolated from everything else happening in the story. That being said, it was satisfying to see Clara fight back against Awful and eventually come to Natalia's aid.
Then there's the whole Mystery of Sofia. "Change of Destination" begins with Carolina being politely held captive by Luisa/Sofia and her uncle. Sofia tells Carolina that she's there to find proof that Carlos Villaneuva was murdered, because he told her a few days before he died in a car accident that such proof existed. She also straight up spills to Carolina that Uncle Pedro and Doctor Rojas were responsible. It's basically everything that we've suspected since the first episode, and, even as Carolina rationally decides to not reject the idea outright, the truth seems to be inching its way forward. Everything lines up neatly. The body that went overboard was Mystery Man in the Hat, Dr. Rojas's missing assistant whom Detective Varela has decided to search for. He entered the cabin and threatened Sofia with a knife, so her uncle killed him defensively. When Eva stumbles onto Sofia and Carolina meeting, they take her into the investigation. Her necklace doesn't contain the microfilm, so they set a trap for Uncle Pedro to see if he has it or not. He doesn't have it, though he cryptically talks to Doctor Rojas about how they could be executed if their secret was exposed. After the storm, Sofia finds the microfilm in Eva's typewriter and conceals it from Carolina. To an extent, it makes sense she wouldn't really trust the Villaneuva sisters, but that casts doubt on her motives. And it backfires on her, when Doctor Rojas's paranoia pays off and leads him to her.
The show is seemingly offering up answers left and right, but the secrets of Fernando remain under lock and key. His own mystery associate has a rendezvous to get to in four days' time or else....something. That's only one reason to be concerned about the Captain turning the ship around. Other areas of concern are the fact that he yells at Nicolás to get out of the bridge and threatens him with a gun. He also sings to himself while staring at the storm he's driving the ship towards. The passengers don their life jackets and hang on for dear life. As if that wasn't enough suspense, and maybe it wasn't, Awful Brother-In-Law's laughable decision to shoot the Captain gets Nicolás shot instead. Right after Nicolás shared an adorable moment on the stairs with Eva too. As the storm rages, Eva and Carolina wind up assisting Doctor Rojas with operating on Nicolás. For all this blustering about sinking the ship or setting it on fire, Rojas is actually a decent doctor. Nicolás survives and wakes up for another precious scene with Eva, who gave him a transfusion, which prompts a super cute bit of dialogue. He goes to visit the very remorseful Captain who has been locked in his cabin. Nicolás will be the acting captain now.
Back on course, the
Bárbara de Braganza
is no less dangerous than before. Dimas's obsession with Veronica, whom Sebastian seems genuinely interested in, is getting a little creepy. Uncle Pedro visits Francisca to make sure she's carrying her secrets to the grave, other than her blueberry pie recipe of course. (But I thought cakes were her thing!) She assures him she will. If her secret doesn't involve Carlos, does it have to do with Veronica's parentage, 'cause what else is there? Dr. Rojas capturing Sofia is quite the cliffhanger too. He has the microfilm and there's almost nothing stopping him from whopping her on the head and getting away free as a bird. Needless to say, these two middle episodes were rather exciting.
Let's Put On Our Detective Cloaks.
"That means we're compatible."
"I already suspected it."
Swoon.
"It wasn't you. It was the ship."
Nicolás and Eva are approaching defcon levels of that sweet, sweet sizzle....which I suppose is why we got that possible wedding photo dumped on us like a bucket of melted iceberg.
Did Sofia kill Manuel? She's basically the only person who could have fit through that heating vent, right?
Can we trust Sofia? She doesn't strike me as the kind of person who would risk her life and limbs to get justice for someone else's murdered father.
What is on the microfilm? Selfies with Mussolini? And what is Fernando's angle in all of this?
Carolina is rather good at this detective stuff. But that maid missing that her keys were missing was a little too easy. That scene where Carolina was waiting outside the jewelry shop to get Eva's necklace back came dangerously close to revealing her hand though....I think Uncle Pedro suspects.