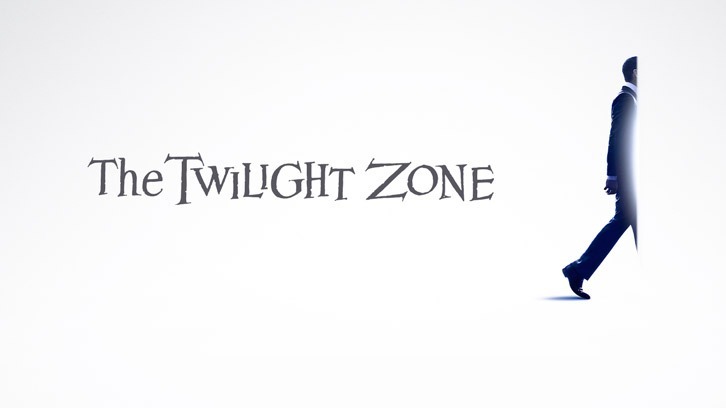 The Twilight Zone airs on CBS All Access on Thursdays. With the most premiere-day views on April 1, CBS All Access has renewed The Twilight Zone for a second season.

We're halfway through Jordan Peele's version of The Twilight Zone, so I thought I'd do a quick overview of the series, so far...

We start with Episode 1 The Comedian. This one was a BIG miss! I couldn't even eek out a review because my mother always taught me if I don't have anything nice to say to not say anything at all. But in defiance of mom, here it goes...

It was bad and I'm glad that I watched episode 2 first or I might have gotten too discouraged to continue on. Starring Tracy Morgan and Kumail Nanjiani, The Comedian has a great premise, but a lousy and problematic follow-through and actors who seem somewhat uninterested.

The episode follows Nanjiani's Samir Wassan, a truly awful stand-up comedian, who is 'gifted' a mysterious power by a shadowy and famous comedian J.C. Wheeler (Morgan). If Samir would be willing to share more of his personal life while on-stage and stop talking about the Second Amendment, he will be rewarded with laughs and adoration. But, the catch is that everything or everyone he shares about...disappears.

See that's a great premise, but the episode slogs along with little regard for the disappearance of a beloved dog and nephew. And Samir is supposed to be our 'good guy.' Maybe if the episode had only gone on for 25 minutes instead of 55, it would have been more palatable. It just didn't warrant almost an hour of air time. I was most disappointed in Nanjiani's performance. He seemed 'checked out' to me.

Episode 2 is Nightmare At 30,000 Feet. This one was a hit with a lot of great throwbacks to the original 1963 Nightmare At 20,00 Feet starring William Shatner. Adam Scott does a great job filling Shatner's shoes and I covered it in full in a previous post.

Episode 3 is Replay. Again a hit, a BIG hit! Starring Sanaa Lathan and Damson Idris as mother and son, Nina and Dorian Harrison, Replay is a gripping, heart-racing, edge of your seat 45 minute episode that felt like 10 minutes.

Nina is a strong willed, independent single mom taking her son to his first day at college and along the way they meet a racist, Virginia patrolman named Lasky, played so scarily by Glenn Fleshler.

The episode starts out in a diner which is reminiscent of 1960's Nick Of Time with William Shatner again and we see a flash of the bobbing devil figure that adorned the fortune spewing machine that became a young couple's obsession.

In Replay, Nina is able to control time with the help of a 1990's camcorder from her late father that she's brought along, but each time Lasky finds them and Dorian is shot and killed.

I loved the scenes where Nina's estranged brother, Neil, helps the duo escape to Dorian's college via an 'underground railroad' type of paths and short cuts patched together.

But yet again Lasky finds them. And it is only when all of the fellow students and their families hold up their phones and shine a light onto this dark and evil 'thing' that Lasky finally relents.

Though Nina knows she's only won the battle and not the war. Brilliant acting and writing, near perfection.

Episode 4 is A Traveler. This one is somewhere between a hit and a miss. Starring Greg Kinnear and Steven Yeun (The Walking Dead) as a mysterious 'visitor' (he's fantastic) to a jailhouse on the outskirts of Alaska on Christmas Eve.

Again, great premise, cast and I love creepy Christmas shows. But it seemed to slog along a lot like The Comedian.

I can hardly remember what the episode was about, but Yeun's creepy reveal as a slug-like alien creature at the end was the best part. It seemed all over the place; like it was trying to accomplish more than was in the script.

I loved the throw backs to Will The Real Martian Please Stand Up? and The Monsters Are Due On Maple Street with the extra terrestrial hat-wearing references and the realization that fear can make you quickly turn on your neighbors and friends.

This episode might have worked for me if it was shorter in length, but even with the original Twilight Zone I preferred the half-hour episodes to the hour long ones.

This season 1 seems to be struggling to keep the writing and story telling to a tight pace. And except for The Comedian, the acting, camera angles and creepy feeling of all of the episodes have been on-point.

Episode 5 is The Wunderkind and like The Traveler it is somewhere in-between, but more interesting. Starring Jacob Tremblay, John Cho and Alison Tolman, it is very reminiscent of 1961's It's A Good Life, staring Billy Mumy and Cloris Leachman. It is one of my favorite episodes.

I absolutely loved (and had goosebumps) when the camera panned across a gleaming field of corn in reference to Mumy's Anthony Freemont who would send people he deemed unlikeable or merely boring to the cornfield; where they were never heard from again...

The Wunderkind's 2019 version of the spoiled brat is Oliver Foley who with the help of Chos's Raff Hanks (a failed campaign manager) finds himself the first ever 10 year old POTUS. There are a lot of trumpian references, maybe too many. And we see way too little of the wonderful John Larroquette as a trump-like president only to watch Oliver become a mini-trump (even playing golf on an indoor putting green).

It is quite chilling when a military leader accuses Raff of being treasonous for questioning Oliver's ridiculous decisions (such as a new puppy everyday and free video games for everyone), it feels so true to life...

The kind-of letdown of a twist at the end is that Raff, after being shot by Secret Service, is set to be operated on by a child. Oliver has outlawed old doctors because he fears them. There are too many implausibilities in this episode and the story is missing real follow through. Though it is well acted and that makes up for a lot of the problems with the script.

But a great quote from Wunderkind: "Razzle and dazzle people with the right lies and eventually they'll go blind to the madness right in front of their faces."

I want this show to succeed, but I think maybe they're trying too hard; to accomplish too much. If they keep to the simple things; a solid, creepy premise or story and maybe make it 30 minutes instead of pushing the hour mark in every episode. It feels like Mr. Peele and his team are trying to produce stand alone, lesson teaching mini movies each week; a daunting task.

Mr. Serling's original work felt seamless, subtle and less preachy. The OG taught us lessons some weeks on history, bigotry and fear and sometimes it was just plain, old entertaining and fun. Every episode does not have to be a moral narrative on trumpism or the other horrible events haunting our current headlines. Sometimes it's nice to escape that...

I do love Mr. Peele's take on Rod Serling's narrator. He is superb. And the call backs to the original are always a wonderful and welcome sight.

I'm surprised yet optimistic to see that CBS All Access has renewed the series for a season 2! There is a lot of good stuff in the first half of season 1 to build on.

So, to sum up: we have 2 hits in Nightmare and Replay, an almost hit in Wunderkind, a complete miss in Comedian and an almost miss in Traveler.