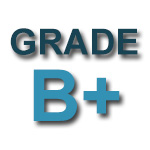 Everyone's favorite fan-fiction trope gets put to use on the latest
Whiskey Cavalier
. (Though if you were hoping they'd share a bed, Frankie's gun says otherwise.) Frankie and Will must go undercover as a married couple to stop a Romanian general from using nerve gas to massacre his own people.
Jai and Standish will also accompany them on the mission as the bartender and bar-back, respectively. Poor Susan is left behind to do profiling and be the earpiece for all involved. She takes being left out of this mission pretty hard. Why? Because she was constantly left out at home from her sisters who found her strange given her profiling techniques.
Photo Credit: Larry D. Horricks/ABC
Ray becomes Susan's temporary shoulder to cry on, sort of. He doesn't actually want to hear about Susan's grievances since she's beloved by the team and he's still firmly on the outs due to his indiscretion with Will's former fiance.
The team heads to the South of France to crash a wedding between the general's daughter, Iona, and one of their own Interpol agents, who has been deep undercover for several years.
Enter Frankie and Will as Dan and Mary Fleming, a married couple who are friends of the groom. They have very different opinions of what their marriage should look like. Frankie doesn't want anything to do with emotions or feelings and Will is caught up in the romantic fantasy of the chateaux and faux-married life.
Before the wedding festivities can even begin, Will's cover is blown by a hired assassin who Will had a run-in with in Berlin a few years back. Even a steamy kiss between our main couple isn't enough to throw her off Will's scent, though it certainly rattles both Will and Frankie.
Photo Credit: Larry D. Horricks/ABC
Following Michelle to the women's locker room, she and Frankie immediately get into a brawl as we realize for certain that she does, indeed, remember who Will is (though she liked him better with his goatee). Once Will joins the fight, it doesn't take long to get Michelle permanently out of the picture.
The hunt for the general is back on. Lounging together in the picturesque gardens, Frankie and Will actually seem to be getting along for once. Frankie even opens up about her past trip to Europe where she biked from country to country. There is a loaded moment where they almost kiss again but she leaves before that can happen. From hanging out with Will, Frankie jumps right into the arms of a tattooed criminal she had been flirting with earlier.
Photo Credit: Larry D. Horricks/ABC
Will witnesses the two canoodling in the hallway and is deeply upset by the visual. He's clearly jealous about it and in denial over his budding feelings for Frankie.
In the mean time, their intel suggests there is something going on with the general since he won't leave his room for any of the family gatherings. With some help from Standish, Will and Frankie discover the "general" they've been glimpsing in his room is actually a body double. Before they can leave and go to Romania, where they think he could be holed up, Susan stops them. She's smart enough to know what the general's next move will be and assures them he's still at the wedding, likely hiding in plain sight.
Come the day of the event and indeed, they spot the general in the crowd. The groom pulls out a gun, sending the guests into a panicked frenzy and the general frees with Iona in tow.
Frankie, Will, and the agent are forced to chase down the general's plane in a beat-up old car, they barely make it in time to stop them. Then they have Iona to contend with, but it turns out the agent really
is
in love with her and convinces her to turn on her father. Another mission accomplished!
Back at the bar later, things are icy between Frankie and Will after everything that happened at the wedding. For once, Frankie is the one left out in the cold as she tries to offer Will an apology beer, a gesture of good will that they can move forward from, and he brushes her off with cool indifference.
New episodes of Whiskey Cavalier air Wednesday nights on ABC.