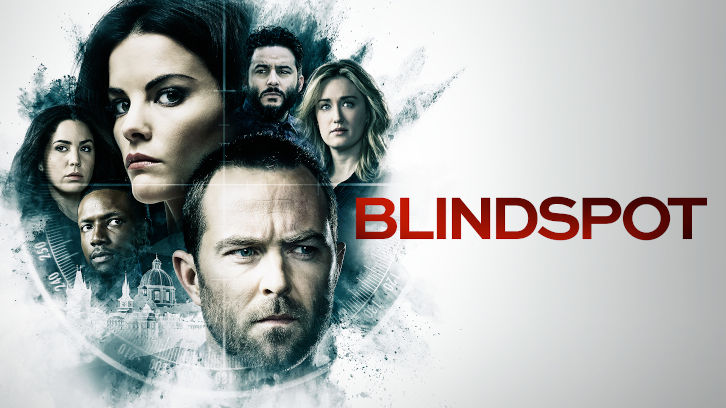 This week's Blindspot was the high paced show I have come to enjoy. While the team raced against the clock to catch Madeleine before she'd be out of their grips forever, Jane was trying to come to grip with who she really is. The episode balanced the action and the emotional aspect of its premise beautifully.

As the episode begins, Jane is out of commission. I felt like I had missed something, somewhere. Last episode, Jane wasn't at her best, but she wasn't as bad as we find her in this episode. The bunker full of mementos seemed to really have caused havoc on her brain. She can't find the strength to go to work, can hardly find the strength to get out of the apartment. She's a very long way from being well, having a hard time coming to terms with what Remi did. When Kurt lets her know that maybe she should go see a therapist Jane agrees, she needs help. It's not so easy to find the right fit though. Her situation is, to say the least, complicated.

While Jane is dealing with personal issues, the team is hot on the trail of Madeleine. The last few episodes happened in the span of only a few days, including the drone attack ordered by Weitz. It's hard to believe the whole ordeal with Tasha, Boston and the plane only happened 6 weeks ago in Blindspot time. Only 4 days ago did Tasha get beat up in the bathroom in Zurich. Her wounds from the attack have already healed, which makes the timeline that is set up quite unrealistic, in my opinion. Weitz did not have any part in this episode, but with Dominic and Madeleine holding him by the balls as it was set up a few episodes ago, it's fairly probably that he will come into play in the next one.


"I love us." -Rich
Reade and Tasha find themselves in Madeleine's old headquarters when they get shot at. They suspect the Cortez cartel is after them because Tasha blew up their hacker. Since she was not alone during that event, and fearing for Boston's safety, the team agrees to bring him in for protection, much to Rich's enchantment. I have to say, I like Boston, but I like Rich better when Boston is out of the picture. He's just too much when Boston is there, and I find it to be quite annoying. Both characters are interesting, but I don't enjoy their complicity when paired together. Their dynamic is better in smaller doses.
There is only one therapist in the world that knew both Jane and Remi. There is only one therapist that can understand what she's been through. Borden is her only option, and it led to a brilliant exchange between the two characters. At first Borden doesn't want to help, but she asks him to listen, so he does. Borden is painfully honest. Why wouldn't he be? He painfully makes her understand that she and Remi are the same person. She needed to hear it; she needed to be told.
It was a great therapy session, overflowing with emotion. Both parties acted their part brilliantly. The pain, the doubt, the guilt, everything could be felt. It really brought out the complexity of what Jane was feeling, the complexity of the life she's led. It also put more layers on Borden's character, and on their relationship pre-Sandstorm, when they were both different.
"It feels good to be needed, doesn't it?" -Borden
After speaking with Borden, who really helps her breakthrough, Jane comes back to work. I felt really bad for Borden in this episode, a sentiment that was shared by Jane, who finally apologized for what she did to him. They brought him in the episode really organically, even acknowledging Patterson's feeling in all this. I would have loved to see Jane's journey with Borden to be more than one episode arc though, it somehow felt rushed. One can only hope that Jane will be regularly having appointments with Borden in jail.
As the episode progressed, many high level Crawford Industry executives turned out dead. Madeleine had been using the fact that the cartel was torturing and killing anyone that could lead them to her to her advantage. One can applaud her devilish brilliance, as she is one step ahead of the FBI, using JD to create a diversion. In the end, it's Boston that uncovers the con, thus foiling her escape plans. The team has become more and more dependent on Rich and Boston.
Jane gets to the bureau just as the team is heading out to catch Madeleine, and she joins them. Jane is back with a vengeance. It's not an easy path to the helipad, but Tasha manages to do so. Madeleine trying to run away in her long coat and fur hat made me laugh, it wasn't a great outfit for a swift escape.
"Madeleine Burke, you're under arrest." -Tasha
It was poetic that Tasha was the one to make the arrest, but well deserved. She put her life on hold for this arrest. As Madeleine turns around in defeat, her smile indicates she has more tricks in her sleeve. She still has Weitz under her grip, and now, Dominic also has Jane as bargaining chip.
The next episode promises to be equally entertaining.