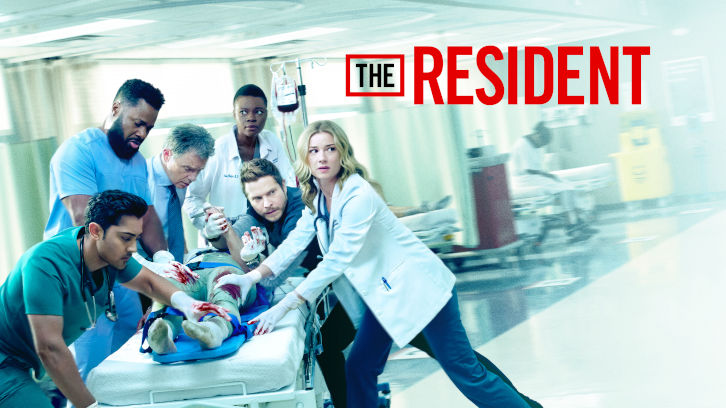 Emergency Contact was pretty packed, as all the characters had their own storyline. The episode explored how the characters evolved now that Quovadis has been taken down. The two most affected by this are Julian, who is out of hiding, and Marshall, who has a new sense of purpose. The others, while happy Quovadis is no more, are getting on with their lives as usual. Mina is still avoiding commitment, Alex still won't take a hint, and all of them are hard at work saving lives.

Julian is still alive, to the surprise of no one, except Devon. She comes back for an M & M at Chastain and it's not long before sparks fly again between them. The failed wedding seems a thousand years ago. The episode rushed through their romance, but it felt right, even if it has been difficult to get behind their relationship. It's like they were only a blimp in each other's lives; they both have more meaningful things to do.


"No need for an update, we killed it." -Mina

Marshall also has more meaningful things to do. He is ready to leave Chastain, he has resigned from the board. The saga with Quovadis has made him realise he wants to help reform the medical industry. It's noble, but that doesn't mean Conrad isn't hurt by that. Marshall, at first, had come to Atlanta to reconnect with his son, and as portrayed in last week's episode, he was successful. When first learning that his father was leaving, Conrad feels abandoned again, but he comes to terms with it, even if his father is far geographically, they will still have a relationship.
As one fatherly relationship stands mended, another is installed. There was nothing known about Nic's father, not much known about her family dynamics except that her mother was dead. Right off the bat, the audience can see what type of person Kyle is as he picks Jessi up from the rehab center. He is all over the place. The baggage between Nic and her father transpires when she comes meet them at the hospital. She acknowledges her father. She is there for her sister that is it. He is unreliable, she is not letting herself get roped in. While Jessi is quick to let him back in, Nic remains closed off.
"Look, Jessi needs stability. If that's not you, just leave." -Nic
Nic's father also wants to reform the medical industry, he is designing an app, or pretending like he is, to revolutionise the way medical professionals communicate, but he doesn't have the means to bring this project to term. As Nic puts it, this is a recurring theme for him. Speaking with Marshall about it is actually the reason he came. He wants him to invest in his idea, which Marshall has to politely decline. It's an asshole move, and it's easy to see why his daughter despises him. Still, when given an out, he decides to stay by Jessi's side. The way he speaks, he seems like an upstanding guy, like he wants to change. We'll just have to wait and see.
Speaking of ways to revolutionize the medical industry: speed dating with your doctor?
Please someone American tell me they made that up.
Conrad and Alex work together on a gymnast, and despite their disagreements, it's surprisingly civilised. They have different ways of dealing with issues, but they respect each other. They, of common accord, decide it's best though, not to repeat this experience. There won't be a bromance anytime soon despite the possibility of beer probably because Alex keeps putting moves on Nic despite knowing she is with Conrad.
"I know who I am. Question is, who are you?" -Conrad

Alex continues his quest for her, even if she's clear about what she wants. Nic is never at the clinic when he's there, she is avoiding him, and not even being subtle about it. If, like me, Alex was waiting for her to tell him that she loves Conrad, she finally did. He still didn't seem to want to back off. Nic and Conrad's relationship had its ups and downs recently, and it was nice to get the record straight. Nic and Conrad seem to be in a good place, they're there for each other. Alex doesn't seem to care about any of it though, he's just asking for the audience to hate him.
It's like Alex needs to be hated now that Bell is on a redemption arc. He's growing as a person. I felt bad for Bell in this episode as he had to see Kit with her ex-husband. Kit's first husband is admitted to the hospital and it's not looking good. He's there to support her, to help her. He's there when Kit needs him, but he wasn't seen, like the forgotten friend in the background. Clearly, they aren't at the same place in their relationship.
"Nothing is more important than you." -Bell
In the end, Mina finally takes a decision about Micah after watching Kit and her first husband. If Micah had accepted her back, I probably would have respected him less for it. I really enjoy Mina as a character and I understand not being able to give an answer right away, but going AWOL for weeks is not okay. It's not how you should treat people. I didn't particularly see the spark between the two of them anyways, I believe Micah took the right decision.
I quite enjoyed this episode, while it was incredibly packed, it didn't feel like it. I'm sad to see Marshall go, but excited we'll get to explore more of Nic's family dynamics. I just feel that the timing of Kyle arriving as Marshall is leaving is a little bit obvious. Still, the episode was good. I give it an 8/10.