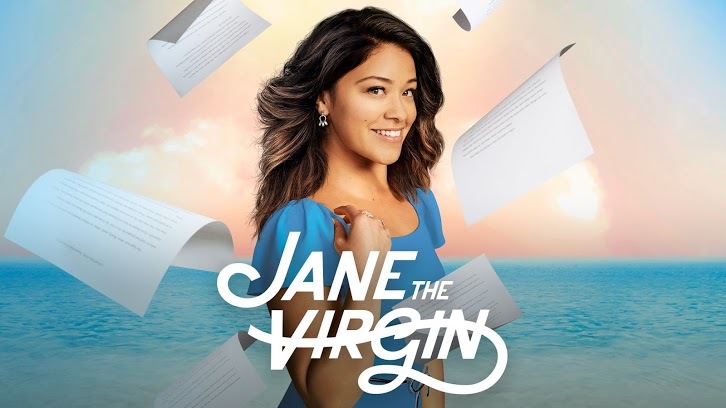 Jane the Virgin
finally returns today after almost a full year hiatus, so I thought it would be a good idea to take a quick look at what happened in "Chapter Eighty-One." The episode was written by Jennie Snyder Urman and Paul Sciarrotta and was directed by Gina Lamar. The first episode back is directed by Gina Rodriguez (Jane) and written by showrunner Snyder Urman. The title card for "Chapter Eighty-One" was
Jane the Virgin….. Surprise
!!! And boy! Were there a lot of surprises in that episode!
As the episode opens, Rafael (Justin Baldoni) has put his dreams on hold to take a real estate job to allow Jane to focus on her dream as she works on her novel. The first big surprise of the episode happens when Jane goes to help Rafael with an open house, and it turns out the open house is for them – he's managed to lease the property for them so they can move in together as a family!
It turns out that Rafael is also planning to surprise Jane with a proposal – but that surprise keeps getting sidetracked when Rose (Bridget Regan) convinces Rafael to come and see her in prison and tells him something – that will change all their lives…. And that's the big reveal at the end of the episode. Jane goes to Rafael's apartment, planning on proposing if he doesn't. However, when Rafael finally lets her in, she finds Michael (Brett Dier) there!
Another surprise is that River (Brooke Shields) is living with Xo (Andrea Navedo) and Rogelio (Jaime Camil) to prepare for them to play the married co-Presidents on their telenovela. It seems that Xo has somewhat befriended River – surprise! – and certainly saved the telenovela by getting River to fall in love with the genre. However, when River tries to negates Rogelio's love for his family – when he freaks out about River misspelling Abla on Alba'a (Ivonne Coll) cake, Xo re-dons her fierce mama-bear costume and sets her straight. Surprise! River can actually act like a real human. Kudos to Shields for playing River as such a selfish, thoughtless narcissist! And even bigger kudos to Navedo for unflinchingly portraying the uglier side of cancer and its treatment.
The cake, of course, is part of the big surprise that Jane's been working on the entire episode to celebrate Alba's citizenship ceremony. I loved that after going to such great lengths, Jane herself has to spill the beans about the secret in order to get Alba to come back to the house rather than going to Jorge's (Alfonso DiLuca).
Jorge and Alba finally get a chance to talk at the party. He tells her that his mother is dying in Mexico. He can't go to visit her because he's undocumented, so if he leaves the country, he'll never be able to come back. And Surprise! Alba offers to marry Jorge to protect him, so he can visit his mother. She characterizes it as purely a business arrangement, but of course, she confesses to Xo and Jane that she's actually still in love with Jorge and hopes that he will learn to love her.
Finally, JR (Rosario Dawson) surprises Petra (Yael Grobglas) by telling her she loves her – and the two decide to move in together. Petra's heart even glows as she tells JR that she loves her too! Unfortunately, JR discovers that Magda (Priscilla Barnes) was telling the truth about Petra's heel breaking when she pushed her sister out the window. Petra tells her that her sister threatened the twins, but JR can't seem to forgive her. JR has given up her career for nothing – but Petra can never be tried for the murder! It seems to be the end of their relationship.
However, in another big surprise, Krishna (Shelly Bhalla) turns herself in. As JR storms off after learning the truth, Krishna calls her and tells her that she was blackmailed to confess and that Petra is in danger. JR rushes back to the apartment and rushes in to see someone about to shoot Petra. JR tackles them and shoots them! Giving us the classic hashtag - #JRShotWho!!!
Now, no doubt, our wonderful narrator (Anthony Mendez) will also catch us up on this tonight – and I can't wait! I'm so looking forward to the humor, drama, magic realism, and outstanding acting that this show has consistently delivered. What question are you most looking forward to being answered?? Are you as excited as I am? Let me know your thoughts in the comments below!