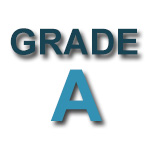 Need a refresher? Read the recap of last week's episode here.
No one in the family is taking JJ's possible move to New York well. But JJ wants to give it a try! Think maybe he should have thought of this a little earlier though and not the
night before
the application is due?
The good news is, he already has a film in mind for his entry. "Wheelchair Planet" is a
Twilight Zone
type story where everyone is in a wheelchair and the one person who can walk is the outcast.
They've got nine hours to shoot this thing which means all hands on deck. Dylan is in charge and they have two cameras now since apparently the teddy bear in the living room has been an HD nanny cam all this time, much to the chagrin of Kenneth and Ray. They form an alliance to try and get to the bear and delete footage before their family can see it. Apparently both of them have done things they don't want anyone else knowing about.
Richard Cartwright/ABC
Jimmy gets cast as the lead role in the film and tries to smooth things over with Maya, unfortunately, he mistakes Izzy for Maya and winds up giving her an awkward massage. The moment freaks him out and puts him on edge, afraid to misstep again. Maya isn't of much help since she wants the whole thing shut down anyways.
Before filming begins, Izzy poses a sensitivity question: "When is it okay for a person without a disability to portray a person with a disability?" To which Dylan replies, "never". A nice jab towards Hollywood who frequently does this. But right as the cameras begin rolling, Maya interrupts with a vacuum cleaner, then turns the television on, it's not going to be easy to do this if she's constantly trying to sabotage the shoot.
Jimmy accidentally messes up with Izzy again, vowing for a no-touching rule for the rest of the night.
Richard Cartwright/ABC
As for Maya, even though she wants to scare JJ away from New York but JJ needs her help, demonstrated by her ease in making Jimmy cry for a close-up scene and advice on locations for movie scenes. JJ proposes a deal that for every piece of help she gives him he'll listen to one of her terrifying arguments.
With Maya's assistance, they're able to get into the school and get the film shooting. In the midst of exposition shots, Kenneth finds time to steal the bear but Ray discovers the footage isn't housed in the camera, it's uploaded to the cloud automatically. When they get to a computer, Kenneth whispers his horrifying secret to Ray and Ray divulges his secret is that he's been making out with the hottest girl in school and doesn't want his family to ruin it. But before they can delete either video, Dylan catches them and unplugs the computer. Back to work.
The school principal arrives and Maya plans to let her ruin the movie, but instead she teaches Maya a valuable lesson about letting go of JJ. She's taught him well, he'll figure things out. Even though it might not feel like a reward, the fact she's given him the tools to prosper on his own in New York is a triumph.
This changes Maya's mind and she recruits a "sea" of people in wheelchairs to shoot the final and most challenging scene in JJ's film. Jimmy also tries to trick Izzy into massaging him thinking he's JJ, though she catches him in the act.
Richard Cartwright/ABC
They accomplish the feat with a fantastic montage and hilarious shot of Dylan being hoisted up by ropes to get the finishing shot. Also hilarious? The students arrive for school and don't even seem phased by the craziness in the hallways, "Every year they get less curious."
Filing back into their living room, the DiMeos prepare to watch the final scene together but the footage is missing. Turns out, Dylan is the one who sabotaged it since Maya went soft. She doesn't want JJ to go to New York either. But Maya has some (familiar) words of wisdom about how this is how life goes, but they'll always come back to each other no matter where they go, "Parenting is the only love story that ends with goodbye." Dylan apologizes to JJ for ruining his movie and he forgives her.
In the end, JJ finds a better movie. Not one about being disabled, but one about being a DiMeo which is a movie only he can make.
Oh and the footage Kenneth was trying to hide? Turns out it was a choreographed dance with a top hat and cane, similar to Fred Astaire. He performs it again when he sees Ray, JJ, and Dylan watching it only to break a vase and awkwardly walk away. Poor Kenneth.
Richard Cartwright/ABC
Favorite Lines
Maya
: I hate that him sidling up means you sidling up too.
Ray
: Who said "Supreme Ruler"?
Dylan
: [Beep] keep my name out of your mouth.
Ray
: The bears watching us.
Kenneth
: Mhm, keep smiling so it doesn't suspect.
Kenneth
: Wasn't that suspicious? How weird are we normally?
Maya
: The fact is, I think New York is going to have to get ready for you.
Maya
: Maybe I blacked out like the time I graffiti'd "Ray's mom is hot" on my own car.
Dylan
: I'm sorry that I ruined your movie JJ.
JJ
: I'd do the same thing to keep you.
A new episode of Speechless titled "S-P-- SPECIAL B-- BOY T-I-- TIME" premieres March 8th on ABC.