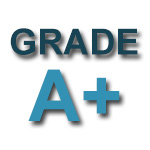 Need a refresher? Read the recap of the previous episode here.
Wow, what an excellent episode of Speechless! Not that they aren't usually but this one had some really lovely, sweet moments between Ray/Maya, Dylan/Jimmy, and Kenneth/JJ.
We start with an embarrassing faux pas on Kenneth's part as his split-focus results in him mistakenly telling Izzy that JJ loves her when in reality, JJ was trying to say "I love your car." As she's being driven around by her friend. Luckily, they're able to catch up with them in time and clear things up so nothing is left unbearably awkward but JJ is frustrated by the fact Kenneth has been so distracted lately. He takes it up with one of his friends who explains he needs to experience other aides.
ABC/Rick Rowell
JJ takes Randy for a test drive to see how it feels to be with a new aide (since he'll have to eventually when he goes to college). It doesn't go as planned. Randy is dull and not interested in any of JJ's typical schemes and hijinks. He doesn't even enjoy caper movies! But at the theater, JJ runs into Kenneth who is fully immersed in the movie and JJ realizes he's the person he'd rather be spending his day with. They send Randy packing.
All scenarios JJ had envisioned doing with Randy, he's able to do with Kenneth, who comes up with the same idea JJ had about chasing down Izzy's friend's car to throw a card in it about the previous "I love you" mistake. Both of them fully realize how difficult it's going to be for them to go their separate ways when they can't even get through one day without each other. But Kenneth promises that he won't leave him high and dry, they'll ease him into the transition and find him the best aide out there. "Well, second best."
ABC/Rick Rowell
Maya and Ray also get to catch up on some bonding time this week when Ray tries to scam Maya into getting him a private SAT tutor by recalling a time when he was a kid where Maya promised him "special boy time" at a waterpark. A promise she never fulfilled. But Maya has grown wise to Ray's plan, as its one he pulls on her every year to get stuff he wants. She plans to beat him at his own game by volunteering to
actually
take him to a water park. Not wanting to back down, Ray acts like he wants nothing more.
The mother/son duo arrive at Great Wolf Lodge (which is a giant hotel/indoor water park for anyone who hasn't heard of it) and they end up having a blast together despite their initial bickering and trepidation. At least, until Maya takes a business call right before Ray goes down the terrifying "Wolf Tail" ride.
ABC/Rick Rowell
After, he explains to Maya he was appreciative of getting her attention, as normally JJ is the one who gets her focus and he's worried that when JJ goes to college, her business will become her new JJ. Maya assures him that isn't true, not only does she love Ray, but she genuinely enjoys hanging out with him. He just needs to stop playing games and actually talk to her in a straightforward, and direct manner about what he wants. The two reconcile and Maya even (forcefully) orchestrates an impromptu dance party with a set of animatronics for the two of them.
Back at the house, Dylan is thrilled at the prospect of a cute boy coming over, a "bad boy" who was kicked out of a former school. But she's worried about Jimmy ruining everything as he tries to "threaten" Kai away from his daughter (by using a vacuum and a banana + spoon). At first, Jimmy does make things terribly awkward. Then he and Kai actually bond over their shared guitar playing skills. Dylan finds both things to be a disaster! She doesn't want her dad to embarrass her but she doesn't want Kai to like Jimmy more than her either.
Finally she decides Jimmy should get to know Kai more and then tell her what she needs to know to impress him. This doesn't work either, as Dylan's intentions aren't exactly sweet. She only wanted to be with Kai when she thought he was a hot idiot who help her reputation but in reality he's a sweet, intelligent, and tender-hearted boy (according to Jimmy). They argue about what they want from Kai, who is unknowingly standing in the doorway listening. "I think I'm gonna peace." Yeah, can't say I blame the kid.
Jimmy offers to take Dylan driving so they can track Kai down and explain the situation to him, but Dylan decides she'd rather go for milkshakes instead. She apologizes for acting crazy, but she's entering a new period in her life where she's not sure what she wants. The growing pains are a confusing time in her life. Jimmy tells her he understands that, they'll navigate the changes together. Even if he doesn't always understand, he'll always be there for her. One thing he does understand? Milkshakes. Except Dylan really just wants to visit a cute boy who works at the milkshake place. She asks Jimmy not to ruin it, acknowledging that he will and Jimmy tells her sure, but the exciting part is finding out
how
he'll ruin it.
ABC/Rick Rowell
Favorite Lines
Maya
: Thanks so much for your help with my bank loan application. I sent it in with some creative interpretation of collateral. I'm talking to you Banksy original.
Ray
: In a sense there were waterslides that day. Ray's cheeks: must be this sad to ride.
JJ
: What are you not sensitive about?
Kenneth
: Is this about me being sensitive with everything? You know I'm sensitive about that.
Kenneth
: Did you talk to my second wife? You're starting to sound a lot like her and you don't have the ass to pull it off.
Maya
: I'm looking forward to it.
Ray
: I'm looking five-word to it.
Maya
: I'm looking five-word... two it.
Jimmy
: You bring a bad boy into the house I'm going to show him my vacuum.
JJ
: I love you.
Kenneth
: I love...your car.
A new episode of Speechless titled "S-e-Seoul B-r-Brothers" premieres March 15th on ABC.