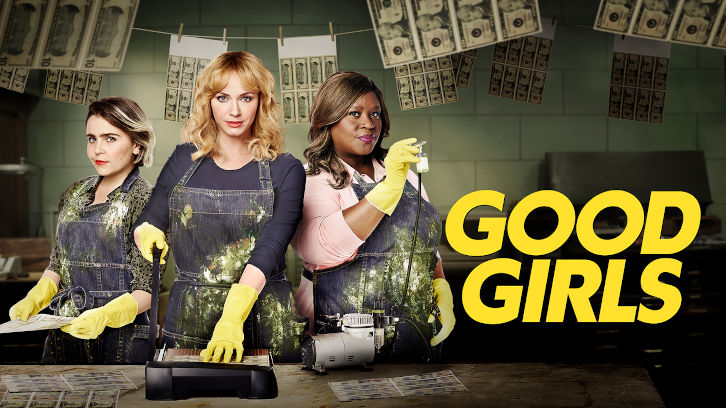 If this episode was a drink order it would be rose with a bourbon chaser because it tried to start light but ended heavy and rich with a hangover of consequences to deal with. Let's discuss.

Boss bitch or Good Person?

Once again Beth is stuck between the life of making sandwich art and being the hustler who washes cash. This is the juxtaposition of this character, who she tries to be and who she gravitas towards being. Rio saying he is out of the game and leaving her a storage locker full of fake bills had Beth's palms itching to turn it into real capital especially when it was revealed that Dean had once again gotten them into financial dire straights. I am not a fan of Beth only looping in the girls once her back is against the wall, so I don't blame Annie for being a bit miffed. Having said that, Beth shows her prowess by finding a way to wash the cash when other means fail..... Using the Boland lot to clean the cash through car sales.
Seeing Beth relate to women looking for vehicles was watershed moment in the episode because she really can do it all, Dean just doesn't seem to pay attention to what he has. He continues to belittle her position in the hierarchy of the family and pigeonholes her as a stay at home mom worried about carpool and lunch boxes, when it fact she can do his job and more with two kids on her hip and a mini-van vacuum in her hand. This is why Dean continues to be the worst, if we look at Stan who treats Ruby like the equal she is in their marriage, and then Dean who seems to be stuck in the 1950s dinner-on-the-table-slippers-on-my-feet-when-I-get-home version of his marriage, it is obvious why Beth and Dean's marriage is on life support and Ruby and Stan's seems to endure. It would be one thing if Dean could actually take care of the lot, but he can't, he constantly squanders the business and forces Beth to step up and take care of things. The idea to wash cash through the dealership is smart and when Rio gets wind of it, he wants in and forces the Bolands' hands. Now we have the unholy union of three people involved in a professional and personal triangle.... this should be fun for us as viewers!
They'll Just Be Eyebrows
Annie illustrated all the things I love about her this episode. Her guilt over Marion now being alone because Leslie, or parts of him, are headed to the dump led to her to take care of the old lady. I saw a lot about feeling bad about Leslie's death because he seemed to care about Marion, but once again we were proven wrong by the human filth that was Leslie. Turns out he didn't care at all, he was using his grandmother as a personal piggy bank. Is anyone shocked by this? It was always fishy that a man who would rape and belittle women actually cared about his grandmother. So while murder is never cool, karma is and maybe that finally caught up with Leslie. I loved that Annie got Marion back on her feet and Marion figured out her grandson soaked her out of a lot of money. Annie also woke up and realized Gregg was after the old days and you cannot turn back time. She finally told him that their affair had to end because eventually the infatuation would wear off and they would still be the same two people. This was a long time coming and the best thing for all involved.
Odds and Ends
* It was quiet on the Ruby front this week sans for that epic scene in the payday loan place. I cheered because it was awesome.
* Cloud 9 figured out the girls' con.... I am surprised store banishment was the only thing that happened and not a visit from the cops, they really are a heavenly place.
* I loved seeing Annie and Beth bond after their fight and the line 'because he's a man' when Beth was asking why she kept wanting Dean to have the answer was really poignant.
* Taking emotion out of it, why wouldn't Dean want someone like Beth to work his lot? She sold more in one day than his top salesman!
* Mary Pat may be a bit screwed thanks to her popsicle loving son.
So that is it for me....... Wait, I think, yeah I left something BIG out:
Hot and Heavy:
It happened....... After a season and a half of boiling sexual tension, Rio and Beth hooked up. This relationship is unlike anything on TV right now. Do you root for it because of the danger and the tension? Do you hate it because of that very reason? These are swampy waters and this is the space the dynamic lives in. Do I think that Beth and Rio can have a meaningful relationship with him blending in and sipping coffee with her on a back deck? Absolutely not, but the sign of good writing is having the viewer question exactly why, given all their principles are they excited that these two finally sealed the deal? I am not suggesting that everyone is going to be happy this happened and that of course deserves its own validation. It is messy and makes me squirm but a part of me is happy the show cashed in on the chips of what these two have been building towards. If this ship has a name it might as well be the
SS Titanic
because they are headed straight for that ice berg. The question is who will be on the life raft and who will slowly be floating to the bottom? Something tells me it won't be who we think as I see Rio being on the losing end of this. We will see.
Okay, this is really it for me! Let me know in the comments, there's a lot to chew on folks!