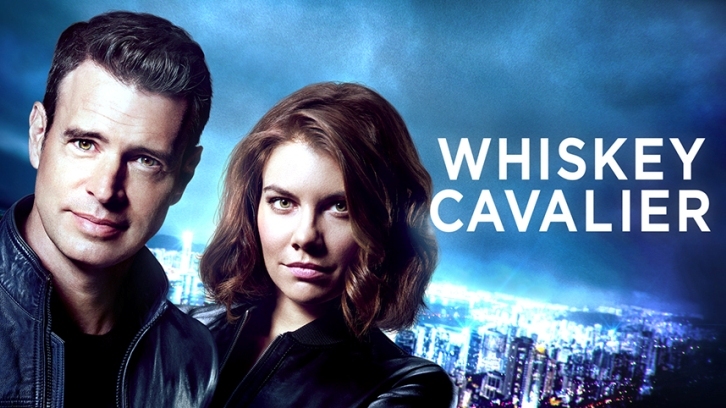 "Following an emotional breakup, tough but tender FBI super-agent Will Chase (code name: "Whiskey Cavalier") is assigned to work with badass CIA operative Frankie Trowbridge (code name: "Fiery Tribune"). Together, they must lead an inter-agency team of flawed, funny and heroic spies who periodically save the world - and each other - while navigating the rocky roads of friendship, romance and office politics."

"Agent, do not empathize!"
Will Chase is apparently a hell of an agent and his sensitivity has proven to be an asset, but it's getting in the way of his job after a recent heartbreak, hopefully they'll explore this a bit more since wee need these characters to net be caricatures. Scott Foley (Scandal) is not the best of actors in my opinion but he's perfectly functional here as this mix between 007 and a Rob Schneider character, and when he crosses paths with Frankie, played by the always awesome Lauren Cohan (The Walking Dead) the fun really begins, let's just say playing badass women suits her.

The rest of the cast is also great, Ana Ortiz (Devious Maids) plays Susan Samnson, an awesome mindhunter at the FBI, and certainly seems like the life of the party and Josh Hopkins (True Detective, Quantico, Cougar Town) who was probably promoted from guest star to series regular because he's always awesome, but he plays Ray here, Whiskey's former partner who's a bit of a douche so I hope he comes around.


I will say with this show sometimes you just don't know what they'll come at you with, it's filled with action, but when they go with comedy it's no a simple comedic relief, a release from the tension, they go all in and it's a full part of the story, it can jump from one mood to the next in a matter of seconds, so some times I have to say I felt like the actors weren't absolutely sure how top handle this and it makes for some awkwardness, but I really hope they find their groove fast because this just might be the show wee need right now.
As always with these kind of shows, the case is not the most important thing, I'm sure we'll get some good ones in the future but for now I'm okay with using these plots to help us get to know the characters better, which is a lot more important for the future of the show. It feels like it can only get better from here as the actors settle into their roles and embark on new adventures together, this certainly has the potential to be one of the best and funniest crime-fighting teams currently on TV and I'll sure be watching.
"How about you?"

Whiskey Cavalier will air a special preview after The Oscars Sunday, Feb. 24, and then it premieres officially Wednesday, Feb. 27 (10:00-11:00 p.m. EST) on ABC.