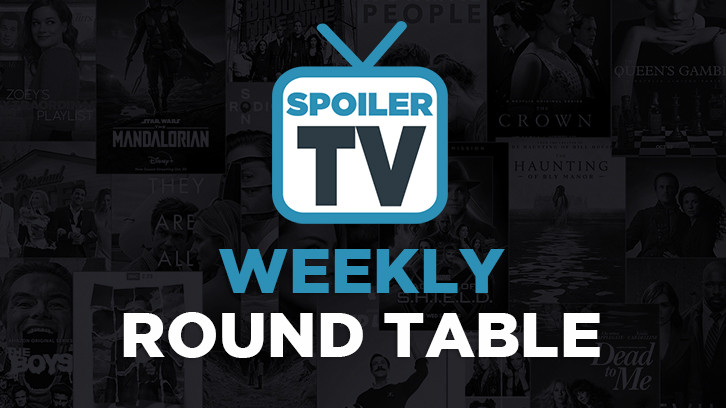 Hello and Welcome to a new Edition of SpoilerTV`s Weekly Round Table. This week it's all about the love as it is of course Valentines Day, and joining me is Kollin Lore, Michele, Emmaline Harvey, Beth Whitley, Jessica VanWinkle, Cecile, Abi Baker, Jamie Coudeville, Claire Serowinski, Mads, Sam Dinsmoor and me (Yon). You just have to sit back enjoy the read and join the discussion in the comment section down below.


Best Romantic moment in the last Year?
Yon: Even though the writers then took it away from us with the finale, I still have to say FitzSimmons wedding. These two have been through soooooooooooooooooooooo much angst since the show began, and they thoroughly deserved a rare moment of happiness where nothing majorly went wrong. Massively shame that was taken away from us in the finale and I have no doubt that next season will throw even more drama and angst their way, but regardless of what happens, we can still say we've witnessed a Fitzsimmons wedding.
Kollin: Cole proposes to Cassie in 12 Monkeys after realizing he needs to erase himself from time. Just so heartbreaking.
Michele: The FtizSimmons wedding last season gave me all the feels!
Emmaline: FItzSimmons wedding on Agents of SHIELD
Beth: Gary realizing that Maggie is getting Chemo on AMLT involved him getting vomited on and yet, it was a beautiful moment. The look of relief and joy on his face as he finally put together that she was fighting her cancer was beautiful.
Jessica: Sean chases down Sue in the series finale of The Middle. After a year of wondering if they would ever get on the same page, everything is finally revealed and fans were able to get their happy ending. They were an easy couple to root for, and I really miss them.
Abi: This is a two-parter but Patrick singing Simply The Best to David on Schitt's Creek during 'Open Mic' and then David dancing to Simply The Best for Patrick in 'The Olive Branch'.
Jamie: All of Jake & Amy's wedding planning was romantic and great but the wedding really was the best of them all. I love these two so much together. They compliment each other so well, and the wedding was proof of that.
Claire: Sue & Sean from the Middle. The final scenes where Sean runs after Sue when he finds the snow globe in his luggage and the fast forward to their wedding day. Though I wish they'd gotten together sooner instead of the last five minutes of the show, they had great chemistry and they would have made a beautiful couple. Wish the show had continued for another season to see their relationship play out. Eden Sher.
Mads: Cheryl and Toni kiss for the first time when they rescue Cheryl from conversion therapy.
Sam: I have to agree with Jamie on this one, Jake and Amy's wedding. Amy's line about Jake's butt being the bomb during her wedding vows, after admonishing him for wanting to say that about her in his wedding vows, was the most romantic part for me.
Best Couple currently on air?
Yon: Cheating ever so slightly since they're not a couple currently on air but the show is which means it still counts, and I can't not comment on Francisco and Lidia from Cable Girls. Whether he is actually dead in the 4th season is still something we're waiting to find out, but the chesmitry between Yon Gonzalez and Blanca Suarez is sublime. They've worked together a few times throughout the years and every time they do, their chemistry just seems to get better.
Kollin: Jake Peralta and Amy Santiago. Nine Nine, bitches! Enough said.
Michele: I'll second that, Jake and Amy all the way.
Emmaline: Fitz and Simmons of course!
Beth: Joel and Shiela from Santa Clarita diet. They are the literal definition of ride or die no matter what.
Jessica: Kensi and Deeks from NCIS: Los Angeles are my favorite (anxiously awaiting their wedding!), but I'm also liking Conrad and Nic on The Resident.
Cecile: Seconding Conrad and Nic on The Resident but I have a feeling they're heading for troubled waters
Abi: One of my favourites are Jonah and Amy on Superstore. They have some of the most adorable and sweet yet small gestures.
Jamie: Jack & Rebecca. No matter if it's when they first met or when they're raising their kids. They're scenes together are always the highlight of the episodes for me. They went through so much and even now that we know most of their story, I still enjoy discovering little bits and pieces.
Claire: Mike & Peggy Cleary on the Kids Are Alright. They are a married couple raising their eight sons in 1970's suburban California. They have been married for twenty years and their sons range in age from 1-19. They are realistic, cynical and obviously deeply in love with each other though they don't flaunt it. They love their kids but don't coddle them; this is a time of pre-helicopter parenting. They are funny and self-effacing and get each other's eccentricities. They are not 'lovey dovey', but you can see the excitement and bliss they exude when they are blessed with a few minutes alone together. They respect each other which wasn't more clear than when they thought that Peggy was pregnant again and Mike tells his devoutly Catholic wife that it is her body and her choice. It takes him some time to come to this realization after he sees how hard it is for her to raise eight children and this IS the 70's after all. But it is his deep love and respect for her that makes him realize that his wife's well-being must come before the church's rules on contraception. The characters and actors seem to truly like each other. Michael Cudlitz and Mary MacCormack also are terrific in their parts with amazing chemistry.
Mads: I'm biased so Cheryl x Toni on Riverdale.
Sam: Again, it's got to be Jake and Amy. They're just too perfect for each other. They are each other's lobsters.
Which Duo had the best chemistry but didn`t get canon?
Michele: Do Angie and Will from Single Parents count? We obviously know they're gonna get together...but the wait is killing me!
Jessica: I always liked Morgan and Garcia on Criminal Minds, but it doesn't look like that's ever going to happen.
Cecile: Joe and Peach from 'You', they had so much chemistry, I feel like they really missed an opportunity there if only Joe hadn't killed her! Just kidding of course, 'You' should be nowhere near any of these answers haha
Otherwise I'd say Eve and Villanelle from Killing Eve but they weren't so much a duo as enemies so... not sure it counts.
Abi: The show is still on the air so there is time for them to get together but Rollins and Carisi on Law & Order SVU get my vote. They have great chemistry which is even more evident in the deleted scenes that are released on social media. He's good with her kids, they spend a lot of time together off the job, they have almost kissed once and he's this close to admitting his feelings for her but unfortunately it hasn't happened on the show yet. I have my fingers crossed for the future though.
Jamie: There are many I could choose here but I decided to go with Klaus & Hayley. I still believe they were perfect for one another. They were so similar, which is probably why they clashed a lot. But when they worked together they were a force to be reckoned with. I think it's a shame their relationship was never explored on The Originals. That's the first time I ever saw Julie Plec avoid a love triangle.
Mads: I always wanted Sookie and Eric to end up together on True Blood. I was so bitter about the show's ending.
Sam: Oooooh I'm probably going to get in trouble for this one, but Supercorp. I will go down with this ship even though I know it will never be canon. Kara and Lena's chemistry is off the charts.
Best written LGBTQ+ relationship?
Yon: I'm gonna go with Kate & Rana from Coronation Street who I have brought up before. What their portrayers Faye and Bhavna do with their characters is something not seen in soap land before and it's hard to believe their characters only properly got together last year when it feels as though they've been together forever.
Michele: Schmitt and Nico's storyline on Grey's is really subtle and sweet. They're relationship feels really organic and not over-dramatized.
Beth: Patrick and David from Schitt's Creek are written so well. Their love story and how their relationship is portrayed is as close to perfection as you can get.
Cecile: Patrick and David from Schitt's Creek, they're so sweet and genuine together and never boring or cliché.
Abi: Without a doubt Stef and Lena on The Fosters (and technically Good Trouble - thank you for letting them guest on there). With over 100 episodes under their belt they got married twice and through it all there was never any threat of cheating or breaking up and they went through thick and thin together from health scares to money worries to miscarriages. Over the five seasons of The Fosters both as characters and as a couple they got to tackle such important storylines but the fact that they were a interracial couple raising children of multiple ethnicities who loved each other despite everything that was thrown at them was really inspiring.
Jamie: Elena & Syd. While we may not get a whole lot of scenes between the 2, I enjoy every moment we get. They always paint a smile on my face. I love how respectful they both are with each other, Elena with Syd's gender identity, Syd with Elena's first time. That valentine's day card was the cutest thing I've ever seen.
Mads: I'm partial to Bo and Tamsin from Lost Girl, though they didn't end up together either because most of my favorite relationships are doomed. I was also really fond of Emily and Alison from Pretty Little Liars.
Sam: This one I have to go with Syd and Elena. I just think their teenage romance feels so natural and modern and true to life for LGBTQ+ kids today.
That's it from us for this week. Sound off in the comments below and adios until we read again.......