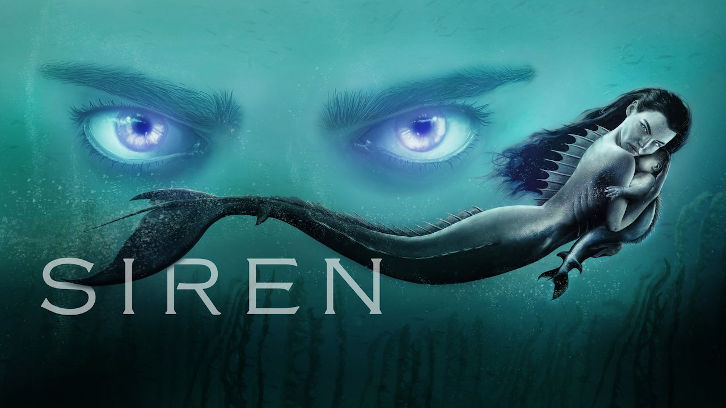 With just under half an hour to go until this week's episode, now feels like the perfect time to take a look at last week's Siren.

Starting off with Xander, and I'm reminded of how our parents used to always tell us if we had nothing good to say, don't say it. I truly have nothing good to say about him. At this point every time he's on screen, I'm just filled with rage because he is so incredibly annoying, and finding an injured Katrina? Keeping her captive? Blackmailing her into working with him by taking her out to sea knowing that she couldn't escape? All because he's still hellbent on killing Levi? It's just an incredibly frustrating storyline because it doesn't feel like it's going anywhere. Every week it's very much a rinse/repeat with his character becoming even more intolerable, and he was so bad that I actually felt bad for Katrina.

The question of whether she does or doesn't agree to work with him you'll soon find out, along with the consequences of that.

The rest of last week's episode was all about character progression instead of focussing on the action and I really appreciated it. We got to see that Levi isn't a bad merman at all, and he's also not as receptive as some of the others to understanding human life. He's a warrior, a protector, because that's what you have to be in the sea, but he also just wants to fit in. He and Ben have struck up quite the bond of recent times, which was continued when Levi demonstrated to Ben how exactly mermaids mate, and turns out? Not exactly a pleasurable experience for the males.

The episode continued to dangle the elephant in the room aka how Donna really died in our faces, as her daughter grew ever more curious over what exactly had happened to her mum. The mermaids chilling at the bar also drew some unwanted attention, particularly from a guy who didn't appreciate his girlfriend dancing with Levi, and that resulted in Levi and Ben getting into a bar fight where Calvin warned Ben he was tired of keeping his secrets.

It's still rather irritating that Calvin has become something of a background character and his friendship with Ben and Xander forgotten, as he gets approximately 2 minutes of screen time each week. Yes the show is juggling a lot of characters and storylines, but it's important not to forget how exactly everything transpired in the first place and that was due to the friendship between the guys.
One relationship most certainly not forgotten this week was of course the ot3. With Maddie's mum continuing to miss the Sheriff and knowing that Maddie was hiding secrets from her, it was enough to prompt her to turn back to her old dealer Cliff for some comfort. Of course when Maddie did decide to check in with her mum, she arrived home to find her high and was understandably disgusted. The fallout from that will be playing out on tonight's episode, but it drove Maddie into the arms of Ben and Ryn.

They'd spent their time at the bar acknowledging that they did have feelings for each other, and Ryn admitted to Ben that she likes singing to him, and he of course enjoys that a lot too, but he also still deeply loves Maddie, who thinks a lot about Ben and Ryn, who thinks about Maddie too. So this left the threesome to come together and share their first kiss. Some watching the show may not be happy with this turn of events, but I| actually appreciate that the writers are being brave enough to see this out, and actually go there so early in the season. The ot3 is something that has been teased quite a bit since the show began, and the writers have done an excellent job at showing that there is a genuine attraction between all three of them, and not something Maddie or Ben are going along with just so they don't lose each other. For Ryn the situation is extremely simple, given that mermaids don't live the same way that humans do, and it'll be interesting to see where the show goes forward with this.

Helen also continued to bond with her relative this week, as the show continues to develop her outside of the mermaid drama. It's really cute seeing her so nervous with her relative, given than she has been on her own for so long and obviously wants him around, but is scared of being too forward in case it causes him to run away.