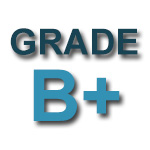 Need a refresher? Read my recap of last week's episode here.
Well the secret's out! Will accidentally initiates a game of telephone with his daughter's secret crush on Graham while discussing it with Angie. The second the twins catch word of it, the whole classroom knows within a matter of seconds.
Things grow awkward between Graham and Sophie, what with Graham having a new girlfriend, Louisa, who calls everyone "citizen". In a desperate attempt to help Sophie, Will comes up with a plan to initiate a play date between the two of them so they can talk about their feelings and maybe get back to normal. Where as Angie thinks things of this nature are better left to the kids to work out.
ABC/Eric McCandless
She ends up being right about that, sort of. Graham's newfound popularity with the girls in his grade has gone to his head and turned him into a pooka-shell-wearing-John-freakin'-Stamos wannabe. Basically, he starts acting way too big for his britches and even Will can't stand him anymore. He begs Angie to pick him up and the two get into an argument about Graham's behavior.
It isn't until Angie see's it for herself that she puts her foot down and learns Graham felt weird about learning Sophie had a crush on him and didn't know how to react. But being a jerk was exhausting and he's happy to return to the sweet and kind Graham we all love. Sophie takes the heartbreak in stride, she already has her eye on a new boy so her and Graham's friendship doesn't take much of a hit.
Poppy has to deal with a new love interest in her life too, Sharon, Ron's latest girlfriend. She and Rory have a habit of gossiping and trash-talking the short-lived flings his father often partakes in but Sharon is different from the rest. She's genuinely sweet and Rory has actually begun to grow fond of her. Plus she's moving in with Ron which means she'll be spending a lot more time with him.
ABC/Eric McCandless
Initially, this triggers Poppy's mama-bear reflexes and she scares Sharon away, before realizing her own opinions are influencing Rory and making him trash talk Sharon to please his mother. Is there really something so bad about more people to love Rory?
Rectifying her mistake, Poppy decides to take the high road and attend Sharon's crazy yoga-trampoline class and persuade her to give her relationship with Ron a second chance. Apparently it works out well since the two are
engaged
by episode's end. "Sure we can't gossip about this?" Rory asks after spotting the ring, "Oh we're gonna break this
down
." Poppy promises. I only wish we could have heard it!
Odds & Ends
- Miggy's storyline is unfortunately one of the more shallow and weaker points of the episode, I really hope he gets a better deal in season two. But he decides to get a tattoo with Zara's name removed after she blocks him on Instagram. He and Douglas do share a nice moment where Douglas is actually in the process of removing it and leaves behind the letter 'Z' as a reminder of the good times they shared. He talks about a scar he got on his back while married to Rose that he never got fixed because it makes him think of her every time he feels it.
- I love that Rory was drinking grape juice out of a wine glass with Poppy! Also as much as I love watching Poppy and Rory scenes (and I do) I would love to see Rory interacting with the other kids more often.
ABC/Eric McCandless
Favorite Lines
Poppy
: You're moving a stranger into the place my son sleeps dreaming of Ryan Seacrest dying so he can take his place.
Will
: Could you do me a favor and come pick up Graham?
Angie
: Sure, why?
Will
: Because he's being a little bitch.
Poppy
: Kids need boundaries. They need you to be tough. Otherwise they turn into terrible, entitled people who answer their phones at the movies.
Graham
: Thank God, I'm not cut out to be a heartthrob this patchouli is murder on my eczema.
Douglas
: You have a tattoo that says "sports". That was a choice you made.
A new episode of Single Parents titled "Summer of Miggy" premieres February 27th on ABC.