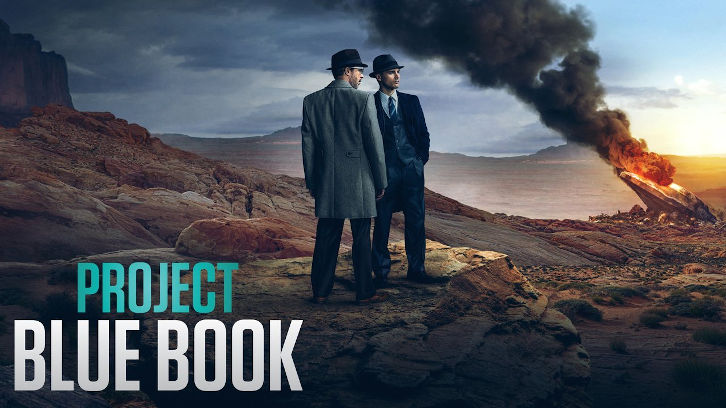 Project Blue Book
"War Games" was written by Thania St John and was directed by Thomas Carter. This is a very twisty-turny episode with lots of intrigue and some interesting reveals.
Harding (Neal McDonough) and Valentine (Michael Harney) have a movie for Quinn (Michael Malarkey) and Hynek (Aidan Gillen) to watch. Quinn and Hynek head to Camp Knoll in Sedalia, Montana. Hynek concentrates on gathering evidence. Hynek and Quinn have an unusual encounter with a Murmuration of starlings. Hynek tells a joke!
We finally get to meet the Hynek's other neighbor – Jack (Kurt Evans). Susie (Ksenia Solo) does some cleaning. Mimi tries a new hobby. Mimi (Laura Mennell) asks Susie for her help with something. Mimi and Susie grow closer.
Harding and Valentine make a call. Quinn finds himself in a difficult position. Hynek doesn't take orders well. Quinn and Hynek find some unexpected things in the woods.
Secret agendas are revealed. Mimi wants Hynek to make a choice. While some things are explained in this episode, more questions are raised. I really like how they keep upping the intrigue!
Don't forget to tune in
tonight at 10pm on History!
And just a few dialogue teases…
We have no idea.
It was blue, you moron.
It's a sign.
I've always admired your attention to detail.
It was freezing cold.
It came out of nowhere.
No. They're already here.
It's not going to hurt me. I promise.
I just don't feel safe anymore.
I don't like it.
It doesn't speak. It moves.
Mostly, I'm just winging it.
We need to unplug these phones. We don't want any interruptions.