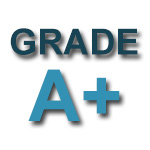 Need a refresher? Read my recap of the previous episode here.
Wow. This episode of
Deadly Class
actually left me breathless. I feel like I need to write this up and then go lay down on the floor for five hours and I'm not the one who was just beaten up, on 7 hits of acid, and involved in two murders like the gang from King's Dominion was!
Last week, Billy talked about his awful abusive father and asked Marcus to help murder him. So that is exactly what he, Saya, Maria, Marcus, and Willie do. They pile into a convertible and take off on an unforgettable road trip to Las Vegas. Little do they know, Chico is hot on their tail, chasing after Maria like possessive, crazed stalker that he is.
(Photo by: Katie Yu/SYFY)
Before they hit the neon glitz and glamour of Vegas, they stop off in a spot known for "crunchy hippies" with bum drugs. Marcus is conned into buying bad acid so when the same hippie comes by again later and offers a free sample, he takes 7 hits without blinking - assuming it's just as dead as the previous one.
Oh how wrong is he. What occurs afterwards is one of the most psychedelic, mesmerizing, bonkers thirty minutes of television I've seen. The writers, visual effects team, director, and production design really outdid themselves with an almost cinematic appraisal of Marcus's elaborate, intricate, ludicrous trip. Things quickly go from pure radical energy to nightmarish circumstances.
(Photo by: Katie Yu/SYFY)
I think you could watch this episode several times and probably notice different things in each variation. The silken smoothness with which the gradients, colors, and animation melts into style after style is enough to totally entrance you. Benjamin Wadsworth is excellent as the wild-eyed Marcus, grappling with all his might to hold on to any visible glimmer of reality amidst the drug-induced dysphoria and chronic hallucinations.
He envisions Master Lin coming to get him, he thinks of his parents, the aching broken boy inside him calling out for his mother and the deep wounds she has clearly left behind even if she is no longer around. I was gutted by Marcus, then by Billy, then by Maria. This episode refuses to stop and let you catch your breath for even a second, which is an effective storytelling mechanism when all the characters in the spotlight are also frantically fighting for their lives.
(Photo by: Katie Yu/SYFY)
Neither viewer nor character knows what is real and what is make believe. We know Marcus helped Billy kill his dad, though it ended up being more of an accidental death than anything (and I'm still not 100% sure that really happened but I'm assuming that was real). Then Marcus and Maria almost hook up but are caught by Chico, which leads to an utterly insane final act and street-wide brawl between Marcus and Chico.
Guns, knives, you name it. Weapons and fists are flying. Chico beats Marcus to a bloody pulp and likely would have wound up murdering him if it weren't for Maria finally reaching her breaking point. She slits Chico's throat with her awesome fan of knives and the group flees, driving home in a quiet haze of bloodshed, fried post-adrenaline rush nerves, and the Valium.
(Photo by: Katie Yu/SYFY)
It's worth noting a few other things too such as:
- Donahue shows up, the guy with the burnt face and beastiality fetish, at first it's hard to tell if he may just be another one of Marcus's visions but we see him approach Chico's body at the episode's end. I do not like that smirk on his face when he does either. This guy has big, awful, plans for Marcus. There is no easy death in store, he wants
pizzazz
and hideous methods of torture.
(Photo by: Katie Yu/SYFY)
- Every actor delivered this week but I have to give special props to Wadsworth, Maria Gabriela de Faria, and Liam James. Billy, Maria, and Marcus clearly had the most personally devastating arcs this week. All three will be reeling from what they've experienced from this trip for a long time to come. Based on the preview for next week's episode, Maria is going to have a breakdown of some kind.
- Billy also gets stabbed trying to defend Marcus from Chico, and Willie is unable to pull the trigger on the gun! Luckily, Billy gets stitched up but I don't know what the future might hold for Willie if he can't actually follow through on assassinations.
(Photo by: Katie Yu/SYFY)
- The animated sequences this week were all about the acid trip rather than a backstory, but wow were they vivid and altogether stunning. I'd like to go through frame-by-frame and analyze some of that subtext. I also
really
need to read the graphic novels now. I think they'll be worth buying because I am hook, line, sinker - totally obsessed with this story and universe now.
- Poor Saya. I think she really does have feelings for Marcus so it was hard for her to see he and Maria getting so close and cozy on this trip. I hate to see a boy come between the friendship between those girls. I guess we'll see how this plays out.
A new episode of Deadly Class titled "Stigmata Martyr" premieres February 20th on Syfy.