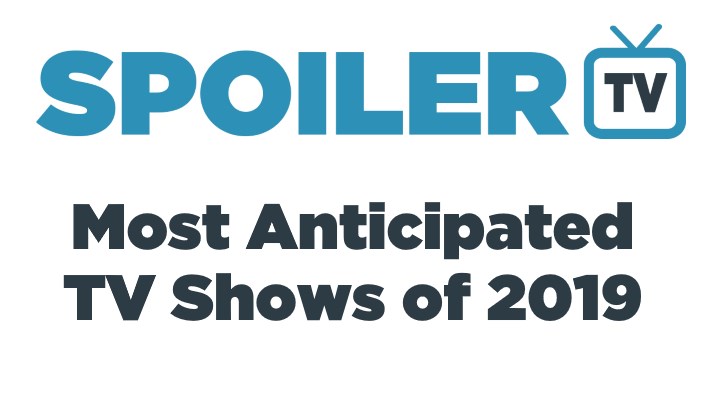 There is of plenty TV to look forward to as we inch ever closer to the 2020s.

In 2019, streaming networks DC Universe, which debuted in the last third of 2018, will be enjoying its first full year and Disney+ will be debuting at years end. Other established networks, Netflix and Amazon Prime among them, will continue to pile up their content in what has quickly become an arms race, of sorts.

This is not to mention what various broadcast and cable networks have to offer this year.

Movie stars will continue infiltrating the small screen, like Henry Cavill, George Clooney, Karl Urban, and Miles Teller; meanwhile some creative heavy hitters like Jordan Peele, Ava Duvernay, Nicolas Winding Refn, and Damon Lindelof will be bringing their unique visions to the tele.

Below are over 30 new TV shows that members of the SpoilerTV team are looking forward to.

Another Life (NETFLIX)




Developed by Creator/Showrunner Aaron Martin, Executive Producer Noreen Halpern, and is a production of Halfire Entertainment.
Cast: Katee Sackhoff, Blu Hunt, Tyler Hoechlin, Justin Chatwin, Samuel Anderson & Elizabeth Faith Ludlow, Selma Blair, A. J. Rivera, Alexander Eling, Alex Ozerov, Jake Abel, JayR Tinaco, Jessica Camacho, Barbara Williams and Lina Renna
Release date: Netflix production – 10 episodes- TBA

This Netflix original sci-fi drama is the story of astronaut Niko Breckenridge who leads a crew on a mission to explore the genesis of an alien artifact. As she and her young crew investigate, they face unimaginable danger on what might very well be a one-way mission. Seeing Battlestar Galactica favorite Katee Sackhoff back on TV screens in another space adventure is the biggest draw of this series. She is backed by a stellar cast that includes Selma Blair, Tyler Hoechlin and a host of CW series veterans. - DC

Netflix seems to be moving the chess pieces in 2019 to compete with some of the heavy hitters on other networks. They have upcoming dramas that could potentially be serious rivals to HBO's Game of Thrones, AMC's Into the Badlands, and now with Another Life, they can keep up with Amazon's The Expanse and CBC's Star Trek Discovery. Granted, Netflix already has Lost in Space, but Another Life looks to be a grittier and probably more philosophical space opera in line with the aforementioned competition. The prospect of seeing Katee Sackhoff (Battlestar Galatica) returning to space is super exciting and her crew consists of some solid names, including Selma Blair (Hellboy, Anger Management), Justin Chatwin (Shameless) and a host of CW vets like Jake Abel (Supernatural), Tyler Hoechlin (Supergirl, Teen Wolf), and Blu Hunt (The Originals).- KL

Boys, The (AMAZON)

Developed By:
Eric Kripke, Seth Rogen, Evan Goldberg
Starring:
Karl Urban, Elizabeth Shue, Jessie Usher
Release Date:
TBA
It's hard not to get hyped for a show based off a Garth Ennis (Preacher) comic with Eric Kripke (
Supernatural
,
Timeless
) and Evan Goldberg and Seth Rogen (
Preacher
) developing it. This is not to mention the pilot director, up and coming Dan Trachtenberg (
10 Cloverfield Lane
).
The Boys
, which follows a blue collared group of vigilantes who are tasked with taking down corrupt superheroes, features a stellar cast led by the always awesome Karl Urban (
Star Trek
,
Almost Human
) and Elisabeth Shue (
CSI
). Simon Pegg will also be making a guest appearance to the delight of fans of the comic.
Goldberg and Rogen's adaptation of Ennis' last work,
Preacher
, has been a bit inconsistent and has suffered from pacing problems, but when it has its moments, it's good.
The Boys
comic was described by Ennis as 'out-preaching Preacher," and if the adaptation can do that to AMC's
Preacher
, then we are in for a good time.
- KL
Carnival Row (AMAZON)
Starring:
Orlando Bloom, Cara Delevingne, David Gyasi, Karla Crome, Indira Varma, Tamzin Merchant, and Scott Reid
Created by:
René Echevarria and Travis Beacham
Developed By/Release Date:
Amazon Prime/Currently Unknown
The subject matter and the cast of this are very intriguing to me. It's about a group of mythical creatures who are forced to flee their homes due to war and strife. They congregate in a city but any peace they find is short-lived as a murder investigation threatens to destroy any of their stability. The show is said to be neo-noir with heavy fantasy elements which sounds fantastic to me. Del Toro's prior involvement also makes me all the more keen, although I admit I'm sad he won't be part of it any longer but it doesn't look as if it was due to creative differences - just a scheduling conflict. I really like Cara Delevingne so I'm curious to see how she does as the lead in this show. The match of her and Orlando Bloom is not a pairing I ever would have guessed but it should be interesting to watch this show play out.
- MD
Catch-22 (HULU)
Developed by
George Clooney, Grant Heslov, Luke Davies, David Michod, Richard Brown and Steve Golin.
Cast:
Christopher Abbot, Kyle Chandler, Hugh Laurie, George Clooney, Daniel David Stewart,
Release Date:
TBA
Joseph Heller's acclaimed novel is getting the mini-series treatment and it comes with an all-star cast. Kyle Chandler (
Friday Night Lights
), Hugh Laurie (House) and George Clooney (
Ocean's 11
) alone on the same project enough to get me to watch anything, and it's going to be fascinating to see what these A-Listers can do with the source material, which follows Yossarian, a US Air Force bombardier in WW2 who has to contend with problems from both his own army and his enemy.
With such prestige both in front and behind of the camera, with talented cinematographer Ellen Kuras (Eternal Sunshine of the Spotless Mind) taking up directing duties,
Catch 22
is bound to be one of those shows that is worth sampling at least one episode based on its calibre alone of when it airs on Hulu at sometime in 2019. With an exact release date unconfirmed at this point, now is the perfect time to get prepared by catching up on the source material and Mike Nichols' feature film, starring Alan Arkin.
- MJ
Central Park 5 (NETFLIX)
Developed by
Ava Duverney, Jeff Skoll, Jonathan King, Oprah Winfrey, Jane Rosenthal & Berry Welsh
Cast:
Jharrel Jerome, Jovan Adepo, Chris Chalk, Michael K. Williams, Vera Farmiga, John Leguizamo, Felicity Huffman, Niecy Nash, Aunjanue Ellis, Kyle Bunbury, Storm Reid, Stephanie Blake, Joshua Jackson, Christopher Jackson, Omar Dorsey, Adepero Oduye, Blair Underwood, Famke Janssen, William Sadler, Aurora Perrineau, Ethan Herisse, Michael K. Wiliams, Astante Blackk, Caleel Harris, Justin Cunningham, Freddy Miyares
Release Date:
TBA
Ava Duverney's name attached to this should be all you need to know that it's going to be good, as she writes, directs and works as an executive producer on
Central Park 5
which looks set to focus on the Central Park jogger case from 1989. The Netflix mini-series looks set to spend time with each of the 5 teenagers who were framed for raping Trisha Meili in Central Park, New York and wrongfully convicted until they were finally cleared in 2014, exploring their persecution and false vilification over the decades which included an attack from current President Donald Trump at the end of the 1980s who called publicly for their execution.
- MJ
Cursed (NETFLIX)
Release Date:
2019
Developed by: Frank Miller and Tom Wheeler
Starring:
Katherine Langford
From Frank Miller (
Sin City
) and Tom Wheeler (
Puss In Boots
) comes the 10-episode fantasy series based on an upcoming illustrated novel based on the journey of Nimue, cursed to be the Arthurian Lady of the Lake. There's enough potential to go around and hopefully Netflix will be able to pull it off.
- LU
Deadly Class (SYFY)
Developed by The Russo Brothers, Rick Remender, Miles Orion Feldsott, Mike Larocca, Mick Bentancourt
Starring:
Benedict Wong, Benjamin Wadsworth, Lana Condor, Maria Gabriela de Faria, Luke Tennie, Liam James, Michel Duval
Release Date:
Pilot available to watch now, airing on SyFy January 16, 2019.
Adapted from the hit Image Comics series of the same name (which is 100% worth the read) from writer Rick Remender (Captain America, Uncanny X-Force etc) and artist Wesley Craig,
Deadly Class
is a series arriving to SyFy bursting full of potential. The show is a story that draws elements from 1980s counterculture as we follow a teen outsider recruited to a high school for assassins. It's an interesting coming of age plot and also has a stellar talent both in front of and behind the camera. Benedict Wong and Lana Condor in particular will be worth paying attention to, with Condor's Netflix hit
To All The Boys I've Loved Before
showing that she has potential to become a star, but there's also the involvement of
Avengers: Infinity War
directors Joe and Anthony Russo that will surely have audiences excited. This is one that fans of comic book TV shows are going to quickly fall in love with, and based on its time-period, at the very least, the soundtrack will be good.
- MJ
Dark Crystal: Age of Resistance, The (NETFLIX)
Developed by:
Director Louis Letterier and Executive Producers Lisa Henson, Halle Stanford.
Starring:
The voices of Taron Egerton, Anya Taylor Joy, Nathalie Emmanuel, Caitrriona Balfe, Helena Bonham-Carter, Natalie Dormer, Toby Jones, Shazad Latif, Gugu Mbatha-Raw, Mark Strong, Alicia Vikander, Harvey Fierstein, Mark Hamill, Jason Isaacs, Keegan-Michael Key, Simon Pegg, Andy Samberg.
Release Date:
TBA 2019
A prequel to the 1982 cult Jim Henson film,
The Dark Crystal
,
Age of Resistance
will bring the world of Thra to the small screen. The story will follow "three Gelflings – Rian, Brea, and Deet – as they discover the secret behind the Skeksis' power, and undertake a quest to start a rebellion and save the world."
Similar to the film,
Dark Crystal
will depend mostly on puppetry with the use of green screen to hide the puppeteers.
Director Louis Letterier hasn't had the most encouraging filmography consisting of such duds as
Grimsby
,
Clash of Titans
, and
The Incredible Hulk
. However, the world of Thra is rich for exploring for a TV series and the use of puppets make for interesting storytelling. It is also hard to ignore the talent in front of the camera, a voice cast consisting of a who's who of fan favourite names
The Dark Crystal
. For these very reasons, this Henson fantasy drama is one of the more intriguing projects upcoming this year on Netflix.
- KL
Doom Patrol (DC UNIVERSE)
Developed by
Jeremy Carver
Cast:
April Bowlby, Diane Guerrero, Jovian Wade, Brendan Fraser, Alan Tudyk, Timothy Dalton, Matt Bomer
Release Date:
February 15
Based on Arnold Drake, Bob Haney and Burno Preiani's unique alternative-superhero story
Doom Patrol
and another original series for DC Comics' ambitious streaming network DC Universe,
Doom Patrol
picks up after the cast were first introduced as a team of oddballs in Titans. Plunging into that already well-realised world under the helm of Supernatural veteran Jeremy Carver comics fans will have plenty to get excited about, especially thanks to fan-favourite actors in the form of Brenden Fraser, Alan Tudyk and ex-James Bond star Timothy Dalton all making sure that this show will no doubt have an interesting ensemble.
Fans of
Titans
will already be acquainted with the cast but expect a wild ride if the source material is anything to go by, and
Doom Patrol
could shape up to be one of the most fun and unorthadox series of 2019.
- MJ
Gilded Age, The (NBC)
Developed By:
Julian Fellowes
Starring:
TBA
Release Date:
2019
Not to be confused with the documentary of the same name exploring the same time period. What could be more scrumptious than a new TV show from the creator and writer of Downton Abbey. The Gilded Age will explore one of the most decadent, chaotic times in older American history. It will explore the clash between old money and new starting around 1882. The Gilded Age was famous for cities springing up almost overnight, while barons and tycoons multiplied and exhibited their riches. In the series, the lead character Marian Brook embarks on infiltrating the wealthy neighboring family. This family's members are described as ruthless, rakish, and ambitious. NBC ordered it right to series in January 2018, with 10 episodes planned, including a 2-hour premiere. However, the show has been in development since 2012, postponed because of Downton Abbey's success. And Julian Fellowes made 2 movies last year while we've been waiting for Gilded Age casting and crew news. Let's hope we don't have to wait much longer!
- EC
Hanna (AMAZON)
Developed by
Hugh Warren, Andrew Woodhead, Marty Adelstein, Becky Clements, Tom Coan, David Farr.
Cast:
Esme Creed-Miles, Joel Kinnaman, Mireille Enos.
Release Date:
March 2019
Fans of the American version of
The Killing
will be in for a treat in this show which reunites both Joel Kinnaman and Mireille Enos for Amazon's remake of Joe Wright's incredible 2011 film Hanna (well worth checking out in preparation), which starred Saoirse Ronan, Eric Bana and Cate Blanchett. It's a film set to follow a young girl of the same name who evades a CIA agent in the process of uncovering the truth behind her identity, so if you're a fan of espionage films like
The Bourne Identity
then this seems something that should be right up your street. It has all the potential to be another solid addition to Amazon's line-up of original series, and with it airing on Amazon, it will mean that all episodes will drop at once, giving audiences plenty of episodes to sink their teeth into.
Legion
fans will be interested to hear that director Sarah Adina-Smith is attached for the first season.
- MJ
Hunt, The (AMAZON)
Release Date:
2019
Developed by:
Jordan Peele
Starring:
Logan Lerman
This drama from Jordan Peele is inspired by real-life events, it takes place in 1977 and revolves around a group of Nazi hunters living in New York City. And in a time when it seems some people are looking to normalize Nazis I'm very much interested in watching some old school Nazi hunting. What can I say, I loved
Inglourious Basterds
.
- LU
I Am The Night (TNT)
Developed by
Patty Jenkins, Chris Pine, Carl Franklin, Michael Sugar, Sam Sheridan
Cast:
Chris Pine, India Eisley, Jefferson Mays, Leland Orser, Connie Nielsen, Justin Cornwell, Golden Brooks
Release Date:
January 28 2019
Reuniting
Wonder Woman
director Patty Jenkins with Chris Pine,
I Am The Night
is an upcoming noir mini-series on TNT that looks set to be an entertaining, pulpy thriller. Fauna Hodel (India Eisley) is looking for her birth father when she runs into Pine's Jay Singletary, a down-on-his luck photographer resorting to easy jobs to make a living. The first two episodes are both directed by Jenkins and it'll be interesting to see how the series incorporates the Black Dahlia incident, which has been adapted multiple times before.
- MJ
In The Dark (CW)
Developed By:
Corinne Kingsbury and executive producers Ben Stiller, Jackie Cohn, Michael Showalter, Nicky Weinstock
Starring:
Perry Mattfeld, Casey Deidrick, Kathleen York, Derek Webster
Release Date:
Spring 2019
A very bleak and nonsense synopsis, about a blind woman who sets out with her dog Pretzel to find the killer of a murder she witnessed, were initially major turn-offs. But for many viewers who will be entering the world of Murphy Mason blind, it will be a surprisingly positive experience.
And despite being majorly off brand for The CW,
In The Dark
still succeeds to capture you as a millennial viewer. It has the necessary dose of intercourse, great puns, a solid mystery and characters you learn to love with every new scene. Everything you need for this show to enter your guilty pleasure list while still being able to catch your heart and squeeze it really hard. Murphy Mason's story is gripping and still deeply entertaining, as she pushes the boundaries of what is acceptable.
In The Dark
features representation in different ways, with a strong supporting cast and good writing, this is surely a breath of fresh air in a generic broadcast season.
- MK
Jett (CINEMAX)
Developed by
Sebastian Gutierrez and Carla Gugino
Starring:
Carla Gugino, Giancarlo Esposito, Elena Anaya, Michael Aronov, Gaite Jansen, Chris Backus, Gil Bellows and Violet McGraw. Jodie Turner-Smith, Gentry White, Lucy Walters and Mustafa Shakir are set for recurring roles.
Release Date:
TBA, Filming wrapped November 2018
From one of the writers of
Snakes on a Plane
, Sebastian Gutierrez, comes a suspenseful new drama starring Carla Gugino as a talented thief whose plans to reboot her life after prison take a detour. Granted, it's a familiar-sounding tale, but Gugino has a knack for elevating any project she stars in. The official tagline promises a colorful, action-packed story. "Fresh out of prison, world-class thief Daisy "Jett" Kowalski is forced back into doing what she does best, and a cast of morally ambivalent, dangerous and eccentric criminals, from budding femme fatales to compromised law enforcers, are determined to exploit her skills for their own ends." Behind-the-scenes scoop promises wigs and other forms of subterfuge. From golf courses to Niagara Falls to dark forests, this show looks to be a fun ride. Gutierrez and Gugino are long-time collaborators (and real life partners), having done everything from noir to sci-fi films. This show has been in their plans for a while.
Bonus points for the mini
Haunting of Hill House
reunion, with Violet McGraw cast as Daisy's daughter.
- EC
Lovecraft Country (HBO)
Starring:
Jonathan Majors, Jurnee Smollett-Bell, Wunmi Mosaku, Aunjanue Ellis, and Elizabeth Debicki
Produced by:
Monkeypaw Productions, Bad Robot Productions, and Warner Bros. Television with executive producers including Jordan Peele, Misha Green, J. J. Abrams, and Ben Stephenson.
Developed By/Release Date:
HBO/Currently Unknown
Just look at that list of people producing this show. I don't care what it's about, I'll be watching it for the collaboration between Jordan Peele and J.J. Abrams alone. That said, I happen to find the subject material fascinating.
Lovecraft Country
is an upcoming television series being developed by HBO that will focus on the 2016 novel of the same name about the juxtaposition of H.P. Lovecraft's works and racism in the United States. It follows "Atticus Black as he joins up with his friend Letitia and his Uncle George to embark on a road trip across 1950s Jim Crow America in search of his missing father. This begins a struggle to survive and overcome both the racist terrors of white America and the terrifying monsters that could be ripped from a Lovecraft paperback."
The story is told form the perspective of a black man who loves science fiction. While I haven't read the book (I intend to in the near future I hope), it sounds like an excellent way to marry important topical social issues with the horror genre, and that is something Peele has shown he is extremely skilled at. I can't wait to see how this project develops and what becomes of it, I have high expectations.
- MD
Mandalorean, The (DISNEY+)
Developed By:
Jon Favreau, Dave Folini, Kathleen Kennedy, Colin Wilson
Starring:
Pedro Pascal, Gina Carano, Nick Nolte, Giancarlo Esposito, Emily Swallow, Carl Weathers, Omid Abtahi, Werner Herzog
Release Date:
TBA
For a life long Star Wars fan, one TV series to look forward to in 2019 is
The Mandalorean
, which follows "a lone gunfighter in the outer reaches of the galaxy far from the authority of the New Republic." For one thing, it's debuting on Disney's new streaming service with a 100 Million dollar budget spearheaded by directors like Dave Folini (
Star Wars Rebels
), Bryce Dallas Howard (
Vanity Fair: Decades
), and Taika Waititi (
Thor: Ragnarok
), which says, Disney is serious about making this space opera work!
There's also the epic top-notch and more diverse cast that includes
Game of Thrones
alumni Pedro Pascal, Nick Nolte, Giancarlo Esposito, Carl Weathers, and Omid Abtahi along with professional mix martial artist, Gina Carano and Supernatural fan-favorite, Emily Swallow! And some will surely be surprised to see someone like Werner Herzog snag a role, being so prolific in German cinema and film theory.
And lastly, if this wasn't enough, despite being set between
Return of the Jedi
and
The Force Awakens
, a lot of classic and other
Star Wars
material seems to be making it's way into the series too! There are things like
The Empire Strikes Back's
classic bounty hunters Bossk and assassin droid IG-88 set to appear or the titular character being gifted with Boba Fett's weapon once featured in the cartoon Christmas Special! There are also rumors about the main character being tasked to protect an infant child, that Nick Nolte's character may be an ugnaught, or that
Star Wars Rebel'
s character Sabine Wren may make her first live-action appearance! It all sounds excitingly wonderful and a good step in the right direction for Star Wars' future!
- DL
October Faction, The (NETFLIX)
Developed By:
Steve Niles and Damian Kindler
Starring:
Tamara Taylor J.C. Mackenzie
Release Date:
TBA
Any fans of paranormal drama, in particular fun B-shows about secret societies, monster hunters and things that go bump in the night, has
The October Faction
to look forward to on Netflix.
Based off the IDW comic of the same name,
The October Faction
follows a retired globetrotting monster hunting family - the parents played by Tamara Taylor (Bones) and J.C. Mackenzie (Dark Angel, The O.A.) - who move back home only to find the town isn't as idyllic as it once was. This could very well be a fun, guilty pleasure of a show.
- KL
Passage, The (FOX)
Developed by:
Liz Heldens
Starring:
Mark-Paul Gosselaar, Saniyya Sidney, Vincent Piazza, Brianne Howey, Jamie McShane, Caroline Chikezie, Emmanuelle Chrigui
Release Date:
January 14, 2019
Based on the first first novel in a supernatural vampire series of the same name by author Justin Cronin,
The Passage
is one of the few TV series to look out for that will be on network TV.
Based on the trailers, young actress Saniyya Sidney (American Horror Story: Roanoke) feels like perfect casting and someone who can carry this semi-controversial heroine role in what should be a disturbing tale and is seemingly nicely paired with actor Mark-Pual Gosselar (
Franklin & Bash
), whose character is serving as the young girl's surrogate father.
It's not so much that one should expect the TV series to follow the books exactly, but rather it's one of the few contemporary takes on vampirism that makes the notion less myth and more scientifically plausible. The show will make viewers re-examine its heavy lore while still playing on themes of identity and the marginalized through a new lens of genetic material, viruses, and corporate espionage. This all while telling a human survivalist story that relies on a child test subject who will need protection at all cost!
For someone who loves vampire stories, but is always looking for a fresh take, because lets face it, viewers have been over saturated with vampire stories in recent years, one may find the contemporary spin feeds other appetites, bringing crime drama, espionage-thriller, and science-fiction into the realm of a Gothic supernatural and post-apocalyptic story! There's so much here to potentially like, as long as FOX doesn't make it too episodic and shy too far away from its source materials horror aspects.
- DL
Based on the first first novel in a supernatural vampire series of the same name by author Justin Cronin,
The Passage
is coming to the Fox Network.
The tag line of "Can one girl save humanity?" Saniyya Sidney (American Horror Story: Roanoke), Mark-Pual Gosselar (Franklin & Bash) and cast pulls you into this story of intrigue, science fiction, heart and possible horror.
- GK
Pretty Little Liars: The Perfectionists (FREEFORM)
Developed By:
I. Marlene King.
Starring:
Sasha Pieterse, Janel Parrish, Sofia Carson, Sydney Park, Eli Brown, Kelly Rutherford, Graeme Thomas King and Hayley Erin
Release Date:
TBA, Confirmed to air in 2019
It may have an extra long title, but
Pretty Little Liars: The Perfectionists
, a sequel of the long-running Freeform drama, promises to be escapism at its chic. Like the juniors section of any clothing store, prepare for random glitter, thin textiles, and strategic cutouts. Whatever disappointment the big sister show brought over its run immediately faded (a little) with the first Perfectionists promo. The dark, lush green Oregon setting! Mona with a huge knife and pie! Emotionally-fraught cello playing. Jump scares. Murder. What more could you want? Did I mention Mona is back?! So is Allison. And they're joined by a brand new clique of Liars. As long as there's a fresh new mystery, this could be another delectable guilty pleasure.
- EC
Ratched (NETFLIX)
Release Date:
2019
Developed by:
Ryan Murphy
Starring:
Sarah Paulson, Finn Wittrock, and Jon Jon Briones
A prequel to
One Flew Over the Cuckoo's Nest
following evil nurse Ratched that already has a two-season order. This is coming from Ryan Murphy who described it as peering into the mind of a sociopath and, as someone who loved
Hannibal
and
Dexter
, that is enough make me excited about this one.
- LU
Roswell, New Mexico (CW)
Developed by:
Carina Adly MacKenzie, Kevin Kelly Brown, Justin Falvey, Darryl Frank, Lawrence Bender, Julie Plec
Starring:
Jeanine Mason, Nathan Parsons, Tyler Blackburn, Michael Vlamis, Micheal Trevino, Lily Crowles, Heather Hemmens, Karen Oberoi
Release Date:
January 15, 2019
Based off the books 'Roswell High', and theoretically a reboot of the late '90s series
Roswell
, this show is set to forge its own unique path. The series is based around three alien children, Max, Isobel and Michael who crash landed in the deserts of New Mexico and have lived and grown up among the locals, undetected. All is well until Liz Ortecho, a biomedical engineer and the daughter of undocumented immigrants returns home after a 10 year absence. When Max uses his powers to save his former high school crush Liz after being shot, the aliens are now worried they are at risk for exposure.
The reboot craze is at a fever pitch lately, but this show really sets itself apart from its predecessor. Firstly, these characters are not bundles of high school hormones and angst. They are 10 years removed from their teenage years and well into their '20s. Given this take on the story, I would argue those who enjoyed the original as teens might enjoy this just as much because they are on a level playing field with the characters and new fans will be able to enjoy the show without needing to see the original.
The times are also updated with where we are in our political climate and integrates LGBTQ storylines that the original did not. Finally, it is actually filmed in the deserts of New Mexico which adds an authentic layer to the story. While the CW historically skews young, there is something here for everyone.
- BW
Schooled (ABC)
Developed by
executive producers Adam F. Goldberg, Doug Robinson and Marc Firek.
Starring:
The Goldberg's AJ Michalka, Bryan Callen and Tim Meadows, all reprising their roles for this Goldbergs spin-off.
Release Date:
Tuesday, January 9 at 8:30.
From Adam F. Goldberg, this
Goldberg's
spin-off has been in the works for a couple of years. After finally airing as a back-door pilot during last season, it was picked up for a 13 episode first season.
Though retooled from its original pilot version because of actor's other commitments, Michalka's Lainey Lewis is set to take the lead of
Schooled
.
Set in the 90's with all of the cultural and musical references still fresh to many of us, it should make for fun watching. The 80's references in
The Goldbergs
is one of the things that I love about that show (I'm a kid of the 1980's).
As a big fan of its predecessor, I'm really excited about
Schooled
and even more so after seeing a rough cut of the new show. It is quite promising with some kinks to work out, but I'm optimistic. The family, broadcast, half- hour comedy isn't dead, yet.
So with terrific actors like Michalka, Callen and Meadows and Adam F. Goldberg's talented team, I'm betting this show will be a winner.
- CS
Sex Education (NETFLIX)
Release Date:
January 11th
Staring:
Gillian Anderson, Emma Mackey, Asa Butterfield, Ncuti Gatwa
Developed By:
Laurie Nunn
What every teenager goes through, but nobody wants to talk about.
Sex Education
follows Otis (Asa Butterfield) a 16-year-old virgin with an over protective mother (Gillian Anderson) who is a sex therapist. Otis soon discovers that he has a gift and along with his friends they start an underground sex clinic.
- SC
Stargirl (DC UNIVERSE)
Developed by:
Geoff Johns, Greg Berlanti, Sarah Schechter
Starring:
Brec Bassinger, Anjelika Washington, Yvette Monreal, Christopher James Baker, Joel McHale, Henry Thomas, Lou Ferrigno Jr, Brian Stapf
Release Date:
TBA
Another addition to DC Universe's original content,
Stargirl
is focused on Courtney Whitmore, a creation of Geoff Johns (named so after Johns' sister) and Lee Moder, the former of whom joins the show as an executive producer. Johns' rich comics history has seen him provide character defining stories for both
Green Lantern
and
The Flash
, and is joined by key Arrowverse exec, prolific showrunner and director of Love, Simon Greg Berlanti, who set a record of having 15 different live action scripted shows planned to air in the 2018-2019 season.
Stargirl
is set to be an entertaining comics outing that will no doubt get the best out of Brec Bassinger (The Goldbergs). With the character having already appeared in live action before on both
Smallville
and
Legends of Tomorrow
it will be interesting to see how this new iteration of
Stargirl
stands out. One thing is certain, however, DC Universe is set to have a very bold 2019, if this and
Doom Patrol
are anything to go by.
- MJ
Too Old to Die Young (AMAZON)
Developed By:
Nicolas Winding Refn
Cast:
Miles Teller, Billy Baldwin, Jena Malone, John Hawkes
Release Date:
TBA
Nicolas Winding Refn, the writer-director famous for his uber stylized, art house action film-making, including critically acclaimed films as
Pusher, Bronson, and Drive
, will make his TV debut with
Too Old to Die Young
on Amazon Prime.
The story follows "a grieving police officer who, along with the man who shot his partner, finds himself in an underworld filled with working-class hit men, Yakuza soldiers, cartel assassins sent from Mexico, Russian mafia captains and gangs of teen killers."
Refn had some missteps with his last couple of films, as he often got too carried away with style and lost touch with any sort of substance. However, if, and that's a big if, Too Old is anything like some of his best films,
Drive
in particular, then expect a brutal, unforgivably exciting action TV series.
Rising young actor Miles Teller (Whiplash, Only the Brave, War Dogs) is a capable lead, but we've never seen him dig his teeth into an action role, and it will be interesting to see how he does in
Too Old to Die Young
.
- KL
Treadstone
Developed by:
Tim Kring, Ramin Bahrani director of pilot and serve as an executive producer. Ben Smith and Jeffrey Weiner executive produce on behalf of Captivate Entertainment, of whom produced the Bourne film franchise.
Cast:
Jeremy Irvine, Brian Smith, Tracy Ifeachor, Gabrielle Scharnitzky
Release date:
2019 – USA Network
The series centers on the fictional CIA black ops program Operation Treadstone, which was the program that created superspy Jason Bourne. The covert program uses behavior modification protocol to turn recruits into nearly superhuman assassins. The first season follows sleeper agents across the globe as they're mysteriously "awakened" to resume their deadly missions. The series will go into production in 2019. Kring, the creative mind behind the cult favorite Heroes, returns to television with this intriguing premise.
- DC
The series centers on the fictional CIA black ops program Operation Treadstone, which was the program that created superspy Jason Bourne. The covert program uses behavior modification protocol to turn recruits into nearly superhuman assassins. The first season follows sleeper agents across the globe as they're mysteriously "awakened" to resume their deadly missions.
This series is based off Spy Thriller Author Legend, Robert Ludlum and his creation, Jason Bourne. From the Network who gave us The 4400 and Covert Affairs, and the Executive Producer who gave us Heroes, and production company who gave us The Bourne movies, I'm hopefully optimistic that this will be brilliant.
- GK
The Umbrella Academy
Developed by:
Steve Blackman
Starring:
Ellen Page, Tom Hopper, Robert Sheehan, Emmy Raver-Lampman, David Castañeda, Aidan Gallagher, Mary J. Blige, and Cameron Britton.
Release Date:
February 15, 2019
Last year, Netflix promoted four shows as the centerpiece of its new THRILLS and CHILLS lineup. The first two of those shows were The Haunting of Hill House and Chilling Adventures of Sabrina. The third is Umbrella Academy, a tale of super-powered siblings who are drawn back together to solve a mystery. They were meant to save the world, but, like any family, everything about them is a little bit dysfunctional. And don't forget the very unusual circumstances of their birth! Expect a fantastic setting, magical special effects, and a bunch of enthralling new characters to discover. This one is going to stand out.
- LU
Utopia (AMAZON)
Release Date:
2019
Developed by:
Gillian Flynn
Starring:
TBD
Created by Gillian Flynn, award-winning, best-selling author and screenwriter of
Gone Girl
and
Sharp Objects
,
Utopia
is based on the British series of the same name where a group of people, who meet online, are mercilessly hunted by a shadowy deep state organization after they come in to possession of a near mythical cult underground graphic novel – they discover the conspiracy theories in the comic's pages may actually be real and are forced in to the dangerous, unique and ironic position of saving the world. Hooked yet?
- LU
V-Wars (NETFLIX)
Starring:
Ian Somerhalder, Adrian Holmes, Jacky Lai, Peter Outerbridge, Kimberly-Sue Murray, and Kyle Harrison Breitkopf
Created by:
William Laurin and Glenn Davis
Developed By/Release Date:
Netflix/Currently Unknown
V-Wars
is actually based on anthology series of the same name. The plot sounds a little bit like a zombie story except the V-Virus plague turns people into bloodthirsty creatures of the night. It doesn't exactly sound like the most unique premise but I want to know what was so special about the script to get Ian Somerhalder involved in yet another vampire show after he seemed so ready to be done with
The Vampire Diaries
. Plus I enjoy a good vampire show and this one seems to have the makings of a fantastic horror series so I look forward to seeing how Netflix executes this property and I may go check out the anthology it's based on at some point too.
- MD
Watchmen (HBO)
Starring:
Regina King, Don Johnson, Tim Blake Nelson, Louis Gossett Jr., Adelaide Clemens, Andrew Howard, Jeremy Irons, Tom Mison, Frances Fisher, Jacob Ming-Trent, Yahya Abdul-Mateen II, Sara Vickers, Dylan Schombing, Adelynn Spoon, Lily Rose Smith, and Jean Smart
Created by:
Damon Lindelof
Developed By/Release Date:
HBO/Currently Unknown
Damon Lindelof developing this show is the biggest draw, second is lead actress Regina King and third to the fact that
Watchmen
has deserved the prestige television drama treatment for ages now.
I was in love with Lindelof's
The Leftovers
and a big
LOST
fan back in the day too so I trust Lindelof is going to create an immersive and introspective
Watchmen
series that will do justice to the novel and give people a far more enriching experience than the film version did. I didn't hate the film either but I really think this show and its expansive and deeply philosophical world needs someone like Lindelof at the helm and the freedom to do as he pleases on a network like HBO. The cast is great too, in addition to Regina they've got Jeremy Irons and Jean Smart. All the ingredients for a fantastic show are here.
- MD
Wayne (YOUTUBE PREMIUM)
Developed By:
Shawn Simmons, Rhett Reese and Paul Wernick
Starring:
Mark McKenna, Ciara Bravo
Release Date:
January 16th (YouTube Premium)
The description for
Wayne
seems like a throwaway peak TV show, but at its core it is a very interesting and layered coming of age tale. Wayne is a teenage vigilante with an axe to grind for anyone who picks on the weak or hurts those who need defending. When his cancer stricken father tells him the story of his mom that ran off with her new boyfriend in the car he meant for Wayne, he is determined to get it back. He meets Del, a sweet and badass girl and asks her to come along on his quest to get the car back once he sees that the town they live in is holding her back. They embark on a trip of self-discovery and mischief that is extremely deep and entertaining.
If you like an underdog tale with plenty of layers, try this one out and you may be pleasantly surprised.
- BW
What We Do In the Shadows (FX)
Release Date:
Spring 2019
Starring:
Matt Berry, Kayvan Novak, Natasia Demetriou, and Harvey Guillen
Developed By:
Jemaime Clement and Taika Waititi
Vampire mockumentary co-created by Jemaine Clement and Taika Waititi and based on their feature of the same name, it follows three vampires who have been roommates for hundreds and hundreds of years
- LU
This vampire mockumentary is based off the critically acclaimed 2014 New Zealand film of the same name. The film, also by Taika Waititi, who many will know as the director of
Thor: Ragnarok
, is considered by many to be one of the great comedies in film with its off-beat and deadpan humor.
What We Do In the Shadows
will debut on FX, a network that does not have a lot going on 2019, and could potentially be one of their big hits if the film is anything to go by.
- KL
Whiskey Cavalier (ABC)
Developed by:
Dave Hemingson Bill Lawrence Jeff Ingold Peter Atencio
Starring:
Scott Foley, Lauren Cohan, Ana Ortiz, Josh Hopkins
Release Date:
27th February 2019
As an early frontrunner in the development and pilot season,
Whiskey Cavalier
certainly doesn`t disappoint as it takes you through the world of covert agents. With a star studded team in front and behind the camera
Whiskey Cavalier
is certainly one to not miss this midseason.
Whiskey Cavaliers
biggest strength is that it doesnt take itself too seriously, while the story is solid and intriguing the twists, turns and awkward situations the characters are put in create a truly entertaining hour of television.
A powerful cast doesn't mean shit if the chemistry isn't there and the sizzles Scott Foley (
Scandal
) and Lauren Cohan (
The Walking Dead
) deliver is certainly transferring nicely to the screen and while the show is named after Scott`s character the two of them are certainly co-leads throughout the outing.
- MK
Witcher, The (NETFLIX)
Developed By:
Lauren Schmidt Hissrich
Starring:
Henry Cavill, Freya Allan, Anya Chalotra
Release Date:
TBA
Netflix has yet to have that big, epic fantasy drama to rival HBO's
Game of Thrones
and once it is done, the GoT prequel.
The Witcher
, based off the hit series of novels by Andrzej Sapkowski (not the video game), has potential to be that series.
The Witcher
follows Geralt, a solitary monster hunter whose destiny gets caught up with that of a powerful sorceress and young princess, as the three navigate the volatile world - beasts and wicked people alike - of the Continent.
Controversially cast in the role of main hero Geralt is former Superman, Henry Cavill. Controversially because he was never on the top of many a fan's dream casting list, *cough* Mads Mikkelsen, and the first look photo of Cavill in a really bad wig looking like he is dressing up to be Legolas at a Comic Con Convention hasn't really been too encouraging either.
However, the source material is rich and in the right hands could make for some very engrossing television. Cavill himself is a fine actor and is said to be a fan of the books and will thus bring lots of passion to the role. We are thus hopeful against all hope that
The Witcher
on Netflix will live up to its potential and then some.
- KL
Wu Assassins (NETFLIX)
Cast:
Iko Uwais, Katheryn Winnick, Byron Mann
Developed by:
Executive Producers John Wirth and Tony Krantz
Release:
TBA
Iko Uwais of
The Raid
fame makes his TV debut in this martial arts drama about a young chef (Uwais) in San Francisco Chinatown who discovers he is the Wu Assassin, chosen to round up the powers of an ancient triad.
This show is basically a response to the success of
Into the Badlands
on AMC and having seen Iko Uwais in
The Raid
, there is no doubt that
Wu Assassins
will be equally, if not more bone crushingly bad ass. On a side note, Summer Glau (
Firefly, Terminator: The Sarah Connor Chronicles
) has been cast in a minor role, which makes me even more amped up for this show. Bring on the ass kicking!
- KL
What are your most anticipated shows of 2019?! Discuss away in the comments and vote in the poll below!