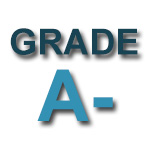 Need a refresher? Read my recap of last week's episode here.
Emma and Amy get into their very first fight when Douglas discovers Emma is mathematically gifted. Amy feels as if her sister is going to outgrow her and leave her behind and she's also jealous of Emma being "special" whereas she feels she isn't. This manifests in several physical altercations between the two girls, who, Douglas proclaims, have never fought before this.
In fact he prides himself on raising them as one child, merging them into an individual rather than two separate girls. But it becomes clear this issue isn't going to clear up on its own so Will and Sophie offer to help out. Especially since Douglas has a very important Dermatologist Awards ceremony (known as the "Dermies") to attend!
The ABC Television Network. (ABC/Kelsey
McNeal) -- MIA ALLAN, ELLA ALLAN
Will is in way over his head. It becomes evident quite fast that all his conflict resolution notebooks will do little to get to the root of Amy and Emma's issues. This is a problem only their father can handle and he does after Emma drives her scooter across town to interrupt his ceremony. Being the good dad that he is, Douglas hands the reigns over to Tony and brings her home so he can give both of them a much-needed heart-to-heart. Turns out, the ominous shed Douglas has feared entering is adorned with tons of Amy's creations. She is gifted in her own way, just not in math. But her drawings and engineering skills are amazing for a kid her age!
The twins make up afterwards, uniting over their new task: fixing the air hockey table Douglas breaks to give them a project that will force them to work together once more.
Elsewhere, Graham has made a new friend! With a 4-year-old named Alex. I'm not sure why Graham befriends a toddler and it isn't ever really addressed since the plot is more about Angie, but I digress.
The ABC Television Network. (ABC/Kelsey McNeal)
-- TARAN KILLAM, MARLOW BARKLEY, MIA
ALLAN, ELLA ALLAN
Angie is nervous about having a "mom playdate" with Nora, Alex's mother, since he's too young to be left behind on his own, meaning Nora will hang out with Angie while the boys play. Turns out, Angie had nothing to worry about because Nora has no intention of actually hanging out with Angie, she just wants a quiet place to do her work. This is amazing news for Angie, who even blows off Poppy for an afternoon of blissful time to herself with Nora around but it doesn't take long for things to spiral out of control.
Nora makes herself comfortable,
too
comfortable. She spreads her work out all over the place, hijacks all of Angie's outlets, breaks into the hummus, has her random assistant come to the house, you get the picture. Angie needs Poppy back so she apologizes for calling her "a lot". Turns out, it's a good thing anyways because she needs Poppy to go deep with Nora and get her out of the house. In reality, Nora was overwhelmed taking care of Alex since her husband attends improv shows every night and leaves all the childcare to her! Poppy allows her a chance to vent before swiftly kicking her out the door.
And then everyone is able to reunite together at the end and listen to Douglas's speech since he didn't get a chance to give it at the ceremony. It's really a giant list of all his enemies, such as Santa Monica Boulevard between 9:00 am and 11:00 am and Siegfried (but
not
Roy, Roy is a peach).
The ABC Television Network. (ABC/Kelsey McNeal) -- BRAD GARRETT, MIA ALLAN
ODDS & ENDS
- Douglas's version of a punishment for the twins is not letting them do oil changes.
- When the twins start fighting they take down old man Tony too! "Cover your face Tony, just roll into a ball, like an armadillo."
- "Amy has just put Emma up for sale on Craigslist."
- "That's it! I want a divorce."
- "How can everyone afford noise-cancelling headphones?"
- Will: She moved herself out to the shed. Sophie: Asked us to forward her mail.
- "She has gone through all of the generic hummus and now she's about to hit the good stuff in the back of the fridge."
- Angie saying "you know I really don't like people" is too relatable.
- Douglas's sisters are both dead and former synchronized-skating stars.
- Douglas picks up a crowbar from the shed - Amy: Hey! You gotta sign that out!
- We never did get an explanation for
why
, exactly, Graham's friend is a 4-year-old toddler?
A new episode of Single Parents titled "A Cash-Grab Cooked Up By the Crepe Paper Industry" airs February 13th on ABC.