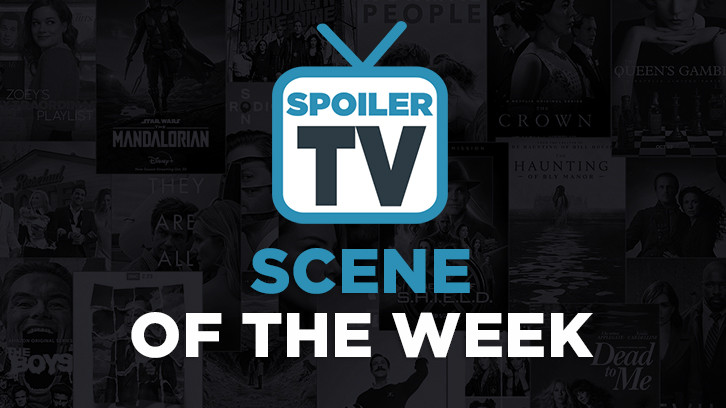 A weekly feature in which we're trying to find the most compelling, best acted, written, directed and just generally great, memorable scenes that we've seen in past seven days on TV.

DIRTY JOHN, "One Shoe", December 30, 2018, Actors: Connie Britton, Eric Bana
The Scene: Debra tells John she wants a divorce
Mads: This was such a powerful and devastating scene. Debra finally stood her ground and told John exactly what she wanted from him - a divorce. Even though he attempted to intimidate her, she didn't cower or back down, she got out of the apartment and even though the story isn't over, this scene was pivotal to Debra's character.

DOCTOR WHO, "Resolution", January 1, 2019, Actors: Tosin Cole, Daniel Adegboyega, The Scene: Ryan confronts his father
Justyna: It was good to see Thirteen working with her friends against her greatest enemy, a Dalek, but the most powerful part of the hour for me was Ryan's honest conversation with his father Aaron. He's not able to just pretend that everything's fine and tell him how he's doing. Instead he clearly states that their relationship is not in a good place and things have to change between them. Aaron is not quite sure what to do but he asks his son what he needs to hear, because he's willing to make up for everything he missed. That's when Ryan admits how he's feeling, more than that, he lets his father know exactly how his absence affected him in the past and made his life harder. It's an emotional speech, wonderfully acted by Tosin Cole. I'm glad we're getting to learn more about Ryan as his character is growing on me with each story. Aaron, on the other hand, tells his son how things look from his perspective, admitting to his mistakes with a promise not to hide anymore. It was a good step for these two working to improve their relationship. Realistic, powerful, moving, very well done. Kudos!

GOTHAM, "Year Zero", January 3, 2019, Actors: Ben McKenzie, Robin Lord Taylor, Jessica Lucas and more, The Scene: The standoff for supplies
Justyna: I haven't been watching the show regularly in the past few years but I found myself interested to see this final season. I'm glad because it was a great premiere and I plan to continue following where the story goes from here. I decided to highlight the standoff near the end of the hour, the turning point for the situation in Gotham, at least for the group led by Gordon. When several fighting factions show up to gather the supplies from the aircraft shot down in the city everyone is forced to fight for survival and not all of them leave the building in one piece. Tabitha uses the opportunity to attack Penguin but he manages to grab a blade and end her life instead. Her death hits Barbara hard and she tries to avenge her but finds herself close to dying as well. That's when Gordon and his men take over control of the situation. After being forced to stay away, due to lack of ammunition, the police officers win the standoff thanks to Bruce showing up with resources they've been missing. It's a moment of small victory between all the darkness and hopelessness they're struggling with. In the end Gordon shoots Penguin in the leg, forcing him to surrender, saves Barbara's life in the process and leaves with all the supplies he came for. Intense and even emotional moment for all involved. Kudos to cast & crew for all their work. Excited to see the next episode already.

GROWN-ISH, "Nothing Was The Same", January 2, 2019, Actors: Yara Shahidi and more
The Scene: The girls come to comfort Zoey
Luana: Zoey has a tendency to be way too self-absorbed and to focus way too much on boys, I'd love to see more academic stuff in this show, or anything else that's not boy-drama. The strongest thing this show has are the friendships and this is made absolutely clear when all the girls are there for Zoey, I'm hoping we get more friendship development for once.

OUTLANDER, "The Birds & The Bees", December 30, 2018, Actors: Sophie Skelton, Sam Heughan, Caitriona Balfe, The Scenes: Jamie and Brianna talk while waiting to attack the bees & Brianna tells Claire what happened & Jamie realizes his daughter smiles in her sleep
Laura B: Jamie and Brianna talk, while waiting for nightfall to attack beehive. There were really a lot of great moments in this week's episode, but for me the back and forth between Jamie and Brianna in not just Brianna feeling guilty of betraying Frank, but also in light of recent events, which lead to another reveal of what Brianna is dealing with, was still an endearing scene thanks to Jamie's patience and understanding. I also just loved the notion of hunting bees, with the tragic goal to get the honey and the odd juxtaposition that comes to be when compared to all of these events, let alone "bees" being a rather symbolic motif throughout the series, such as buzzing noise that can be heard by those that are fated to pass through the stones.
Luana: Brianna tells Claire what happened. It was heartbreaking to watch Brianna relive her past all over again and see Claire realize what her daughter had to go through without being able to change a thing. That has to be a parent's worst nightmare.
Jennise: Jamie realizes his daughter smiles in her sleep like people tell him he does. I agree with the other scenes nominated from this episode so I picked this moment from my list. Jamie spent most of the episode tiptoeing around Bree's feelings and dreading the inevitable moment she would have to return to her time. But in this moment all of that worry fell away... the only thing left was all of the love and joy he felt looking down on his little girl.

TELL ME A STORY, "Chapter 10: Forgiveness", January 3, 2019, Actors: Dania Ramirez, Becki Newton, The Scene: Hannah burns Katrina's face on a stove
Mads: I'd been waiting for the confrontation between Hannah and Katrina forever and it didn't disappoint. Not only did I get to watch Hannah finally end the villain who has been hunting her and Gabe all season long but I loved the homage to the original Hansel & Gretel fairytale when she burned her face on the stovetop.

THE GIFTED, "eneMy of My eneMy", January 1, 2019, Actors: Sean Teale, Percy Hynes White, Emma Dumont and more, The Scenes: Lorna and Marcos kiss & Andy breaks the Purifier's legs
Mads: Lorna and Marcos share a passionate kiss. It was so nice to see these two together again and a reminder that Lorna is not so different from who she once was, she just needs to find her way back to the Underground.
Luana: Andy breaks the Purifier's legs. The look on his family's face made it clear they're finally realizing Andy might be too far gone, he enjoyed inflicting damage way too much, and all their hopes of getting through to him and get him to leave the Inner Circle suddenly falter.