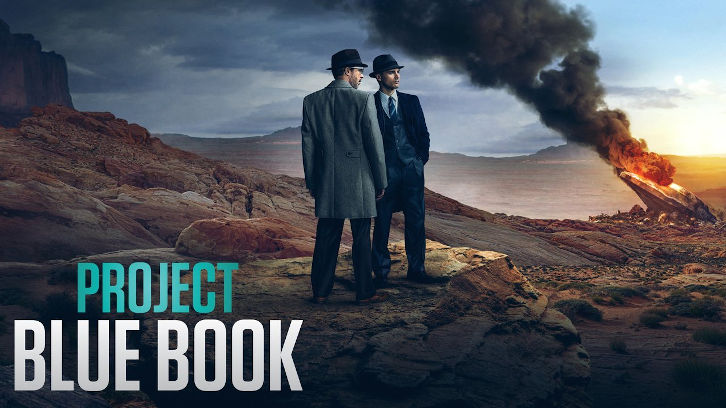 Are you looking for a new show with movie-level production values, acting, and writing? Are you intrigued by UFOs and their history?
Project Blue Book
premieres on January 8, 2019 on History. The series is based on the real-life Project Blue Book that details investigations into UFO encounters and unexplained phenomenon. The show is listed as an historical period drama and science fiction – so make of that what you will!
Aidan Gillen plays historical figure Josef Allen Hynek – a physicist who became a ufologist. The show begins by saying it's inspired by Hynek's investigations and the cases are based on real events. The show also stars Michael Malarkey as Captain Michael Quinn, whose character is based on Edward J Ruppelt, a United States Air Force officer who was also involved with Project Blue Book. Rounding out the cast are Laura Mennell as Mimi Hynek, Michael Harney as General Hugh Valentine, and Ksenia Solo as Susie Miller. Neal McDonough plays Quinn's superior, General James Harding. Robert Zemeckis, David O'Leary, who created the show, and Sean Jablonski executive produce and the production was filmed in Vancouver.
"The Fuller Dogfight" was directed by Robert Stromberg and was written by David O'Leary. Early lessons? Don't try to outsmart a genius. Don't shoot at things when you don't know what they are. Crazy and eccentric aren't the same thing. The detail in the show to the period is uncompromising and luscious. The special effects are terrific. The show also highlights the growing concern over nuclear war of the period.
The episode begins in Fargo, North Dakota. It's the Truman era. The government isn't happy with Hollywood's depiction of aliens, but the military has a different take on it. Get ready for a real
X-Files
vibe – but early
X-Files
– and not the comic episodes. There's a different sort of balance between Hynek and Quinn than there was between Mulder – the believer – and Scully – the science-based intellect, but there are a lot of shady players – think Deep Throat and the Smoking Man. It's also shot with the same dark palette. There's pie and coffee in a diner that had me thinking
Twin Peaks
too!
Aiden Gillen is delightful. Hynek is not a shrinking violet. Malarkey does a wonderful job creating a toe-the-line-square-shoulders military man. There's lots of action and tension set in motion in this first episode. It's definitely not completely clear who the good guys are and who the bad guys are – with a couple of exceptions.
And more than that I won't say – but you'll definitely want to give this show a chance! Don't forget to tune in on
January 8 at 10pm on History
!
And just a few dialogue teases….
This is a chance to show the world the truth.
I need to make some calculations.
I never said they were lying. Just misinformed.
You sure you're not the alien?
I have three conditions.
Stop indulging his bullshit.
When I first met you, I knew you were special.
Is that his plane? What are they doing to it?
We'll speak the same language.
Logically, that's not possible.
This is a new science we're creating here. It needs its own terminology.