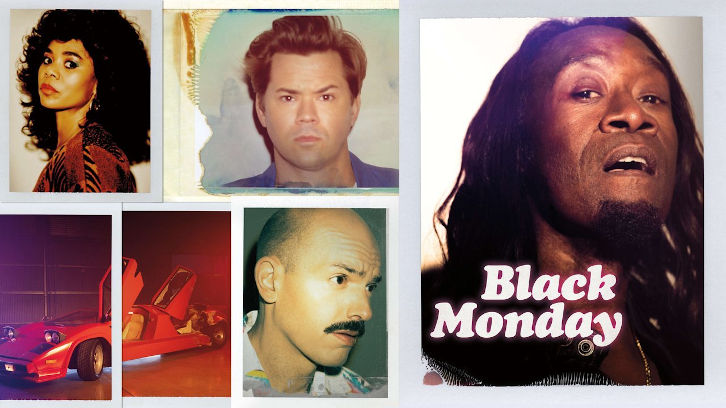 On Monday, October 19th, 1987, stock markets around the world crashed to staggering lows. In the United States, The Dow Jones Industrial Average fell 508 points: it was the worst stock market crash in the history of Wall Street.

That day is referred to as Black Monday.

After a quick, dark depiction of that infamous day, the series flashes back to better, more prosperous days to lay out a number of character introductions. The cast is stacked: Don Cheadle as Maurice Monroe, a trader with big ambitions and an array of vices (and a robot!); Regina Hall as Dawn Darcy, a take-no-shit female making her way in a man's world; and Andrew Rannells as Blair Pfaff, as over-qualified as he is in-over-his-head.


As Maurice and Dawn aim for big trades that will take them to the highest echelon of Wall Street, Blair's sole motivation seems to be to make enough money to please his girlfriend (Casey Wilson), who has ambitions of living the lavish life that the financial district promises. That motivation is enough to get him past an embarrassing hiccup on his first day and into Maurice's good graces. How well things will work out is yet to be seen – though given the grim intro, we can assume that not everyone will get a happy ending.
Directed by Seth Rogen and Evan Goldberg, the pilot zips through character intros and wastes no time setting up a season that promises to be full of excess – sex, drugs, bad hair, and big laughs. Aesthetically,
Black Monday
is beautifully shot, set-dressed, and directed. The clothes, hair, and sets are wonderfully ridiculous.
While
Black Monday
may not be essential viewing in an over-crowded TV landscape, it's certainly quite fun. The laughs are consistent, the setting is ripe with potential stories, and the characters are engaging enough to join for the ride. The cast is reason enough to stick around for subsequent episodes. In addition to the main players, there are also fantastic turns from Paul Scheer (in a gloriously bad hairpiece) and Ken Marino (who plays dual roles as twins Larry and Lenny).
Black Monday premieres tonight on Showtime. For more on the series and my other work, feel free to follow me on Twitter and make sure you're following SpoilerTV on Instagram.