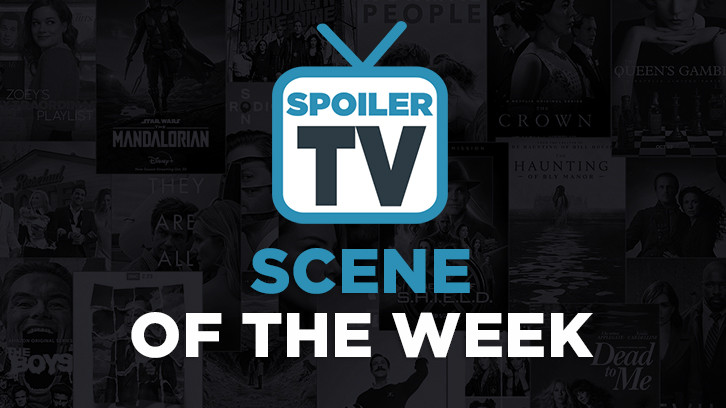 A weekly feature in which we're trying to find the most compelling, best acted, written, directed and just generally great, memorable scenes that we've seen in past seven days on TV.

BLACK MIRROR: BANDERSNATCH, December 28, 2018, Actors: Fionn Whitehead and more, The Scene: The Netflix option
Luana: To be honest most of this episode was quite boring, but when it got full on meta they even acknowledged it and almost made the whole thing worthwhile. I'm not sure I have the time or patience to watch a lot of interactive specials like this one, but the ridiculousness of that fight scene, and the way they made fun of the whole thing was absolutely awesome, it reminded me of some of my favorite movies and I have to say I would love to see more of that without the whole preamble, maybe that's not exactly Black Mirror's thing but I'd love for someone to take on that mantle.

CALL THE MIDWIFE, "Christmas special", December 25, 2018, Actors: Linda Bassett, Helen George, The Scene: Phyllis gives Trixie Barbara's work sweater
Claire: My Christmas is not complete until I watch CTM on Christmas night and every year I cry like a baby. It was a special tradition shared by myself and my late mother, Charlene. And every year when I watch, it's like going home again. This year's special, set in 1963, has it all: the Turners fostering a new child, Trixie's return, a birth on the streets of Poplar, a Christmas pageant, a new Mother Superior, a donkey. What's not to love? But I especially liked the short, sweet scene between Trixie and Phyllis. Trixie is just returning to her midwifery work and last season wasn't there when Barbara suddenly passed away (actress Helen George was on maternity leave at the time). Nurse Phyllis gives Trixie Barbara's work sweater which had Barbara's name written in it. It was perfectly poignant moment with very few words spoken.

DIRTY JOHN, "Lord High Executioner", December 23, 2018, Actors: Connie Britton, Julia Garner
The Scene: Debra tells Terra why she's giving John a second chance
Mads: Debra explains to Terra why she's willing to give John a second chance. Even though Debra is trying to convince her daughter of her reasoning for letting John back into her life, it's clear she's really trying to convince herself. Britton is excellent in this scene.

MADAM SECRETARY, "Family Separation: Part 1", December 23, 2018, Actors: Téa Leoni, Tim Daly and more, The Scene: Elizabeth visits the immigration detention center
Justyna: This episode hit me so much harder than I expected. I knew it was going to be emotional but I can't quite remember the last time any TV show made me this upset and angry. It was such a powerful hour and this topic was so difficult to process. Just the idea that something like this is possible anywhere in the world is hard to apprehend but to know it's really happening, right in front of our eyes, is simply beyond words for me. From the very beginning this episode feels memorable and important, but the ending leaves you somewhere between speechless and about dozen of adjectives I could add here. Let's just say it's a lot to take in. The visit in the detention center was somehow exactly what I expected and yet so much worse when you actually see it. "Children separated from their parents, in cages, crying, terrified, lacking basic care." Elizabeth's speech at the end is quite a perfect summary of this appalling situation. "Nothing can justify harming children." I'm quite amazed by this show's ability to touch upon difficult and based in reality topics. I can't imagine how hard it must be to write such a story, much less to live in it. The wonderful thing about Madam Secretary, though, is how the writers manage to find light even in the darkest of circumstances, which is why I'm hopeful to see the conclusion of this one. If only everybody paid attention and truly listened to what has to be said here... Kudos to cast & crew for their brilliant work on the series, especially considering 100th episode celebration. Congratulations, well deserved.

OUTLANDER, "Wilmington", December 23, 2018, Actors: Caitriona Balfe, Sophie Skelton, Richard Rankin and more, The Scenes: Claire sees George Washington at the theater & Brianna and Roger commit to each other
Saloni: Claire's excitement upon realizing George Washington is at the theater. Claire and Jamie's storyline was the lighter, nicer part of the episode. Brianna and Roger's went from being kind of romantic to straight up brutal, so to get Claire geeking out over meeting George Washington and telling Jamie about his trajectory was a fun reminder that Outlander is a time travel show after all!
Luana: Brianna and Roger commit to each other. Everything for Brianna went pretty horribly after this, but it was still a very sweet scene that had been building up for a while. I can't say I'm happy about the way things happened after that storywise, I get tired of people being raped and brutalized every couple of weeks here, so the good moments are a nice breather in between horrible events.

TELL ME A STORY, "Chapter 9: Deception", December 27, 2018, Actors: Dania Ramirez, Becki Newton
The Scene: Hannah and Katrina talk on the phone
Luana: I can't wait for Hannah to kick Katrina's ass, I knew she had to be a villain since we learned her name was Katrina Thorn, we all know thorns aren't great in fairytales, but I was surprised to learn she was this bad. And Hannah has proven to be a bad-ass more than once so my bet is definitely on her.