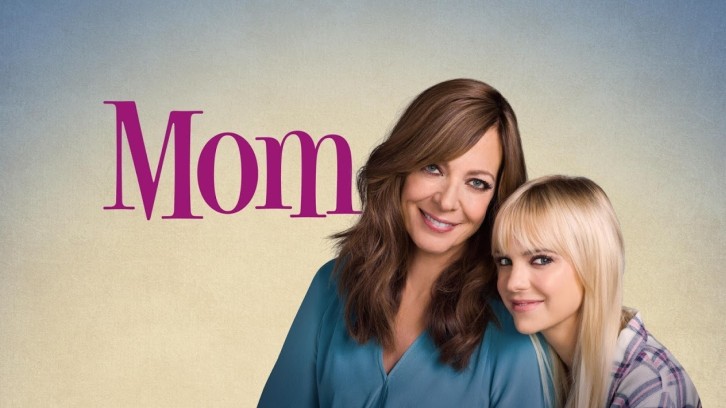 It's Christmas for the Plunketts. That means time for crappy Secret Santa gifts, nasty parole officers, and "Christmas lies."

After an AA meeting, the girls draw names for Secret Santa, with only a little bit of tradesies involved! Bonnie gets lucky and gets Marjorie - cat pillow off the internet and she's good to go! Christy, on the other hand, gets Wendy and realizes that other than knowing that she's five foot three and a nurse, for all the years she's known Wendy, she really doesn't know anything about her. But, with a little bit of detective work, she's able to track down Wendy's family on the East Coast and get the recipe for Wendy's Grandma's peppermint meringue cookies, giving her the perfect Secret Santa gift.


When making the cookies, Christy finds out that Bonnie's been using the cookie sheet to catch leaking oil under her car. (Why am I not surprised?) Bonnie sends Christy over to Adam's to borrow his cookie sheets. Once there, Christy makes a surprising discovery. Adam isn't actually living in the apartment, a renter is.
Christy heads down to the bar, where Adam admits things haven't been going as well as he had hoped since they opened. (There's all of two people sitting at the bar - and that's the lunch rush!) Although Christy's more than fine with Adam staying with her and Bonnie for the month, she does ask him why he hasn't said anything to Bonnie. Adam's answer - "Cause I love her and I'm going to marry her, but I'm still kind of afraid of her!" Yep, that pretty much makes sense! Christy agrees to keep Adam's secret.
Bonnie is dealing with her own little challenge. When she takes Tammy for an appointment with her parole officer, they discover that good-natured PO Juan has been replaced with PO Hard-Ass. And PO Hard-Ass isn't satisfied with Tammy getting by on odd handyman gigs. She's got to have a solid brick and mortar job by next week or it's back to the slammer. And as Bonnie and Tammy quickly discover, being a 50 something ex-con with next to no employment history and no diploma doesn't leave Tammy a lot of options. (Oh, and she's definitely not Macy's material!) Bonnie says that "desperate times call for desperate measures." "Truckstop hooker?" Tammy suggests. No, Bonnie was thinking more along the lines of "flipping burgers in a paper hat." "So degrading," Tammy bemoans. (And she's cool with truck stop hooker???)
Finally, things begin to look up when Tammy gets a job Taco Willy's, which she loves. ("I'm learning Spanish here too!") Christy, however, proves again to be the worst secret keeper in the world. When Adam's check for the wedding band bounces, Bonnie can tell Christy knows something is up and is able to "Mom glare" her into admitting what's going on.
Bonnie goes down to the bar where Adam admits he didn't want her to know just how bad things are getting. When he says that he's scared she'll leave him if he goes broke, Bonnie assures him she's there to stay. She, can, after all, "do broke better than anyone." ("I got through 1991 on $11!")
Things still aren't in the clear for the group yet. Tammy comes in to the AA meeting angry and sad. She got fired for giving a homeless guy a little bit of free food on Christmas Eve. With no job, it looks like she's going back behind bars.
At the parole officer's office, PO Hard-Ass says she's going to have to send Tammy back to prison. At this, Christy, Marjorie, Wendy, Jill, and the rest of the AA group barge in to support her. But, PO Hard-Ass says that despite a roomful of character witnesses, having no job means Tammy still has to go back. Again, the girls start to speak up, coming up with handyman jobs Tammy can do around their places. PO Hard-Ass says it has to be an official job. She's going to need to see pay-stubs, invoices, etc. Everyone assures her they can make it happen and PO Hard-Ass agrees. It looks like even the Grinch can have a change of heart on Christmas Eve.
At the bar, Bonnie suggests to Adam that they hold off on the wedding so there will be more money to keep the bar afloat, which he readily agrees to. The girls exchange their Secret Santa gifts. Christy presents Wendy with her grandmother's cookies. Wendy tells her her grandmother never made cookies. Apparently, she was "a drunk who shot off own toe." "Well, your cousin Dominic in Newark begs to differ," Christy says. Wendy says she doesn't have a cousin Dominic. "I found your whole mobbed-up family on Facebook... "Waste Management" *wink wink,*" Christy protests. Wendy tells her she's sure Christy has the wrong Wendy Harris, but when she goes in for a hug she whispers "Do yourself a favor and never talk about that side of my family again!" Guess Christy was right on the money!
Random Thoughts:
- I just about rolled when Adam admitted he's bribing the health inspector by sponsoring his kid's Little League team, and even they're going under. ("The Barrelworks Pirates. They're one in six.")
-Best lines go to Adam when explaining why he has to work on Christmas Eve. ("It's a big night for bars. People are depressed because they don't have families. Others are depressed because they do."), and Christy, after tracking down Wendy's family ("There is a solid chance that one side of Wendy's family is...pretty mobbed-up.")
Will Bonnie and Adam ever get married? Let me know what you think below and Merry Christmas ya'll!