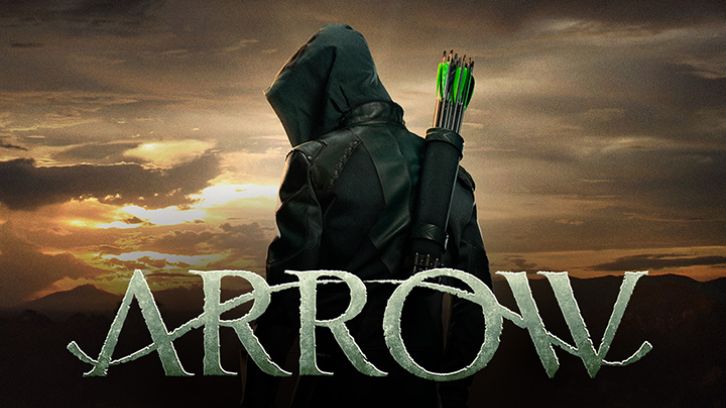 Arrow
"Unmasked" was written by the team of Oscar Baderrama and Beth Schwartz and was directed by Alexandra La Roche. This episode featured some good one liners and a couple of exceptional fight scenes. It also featured the introduction of two new characters – one in the present storyline, Emiko Queen (Sea Shimooka), and one in the future storyline, Maya (Katherine McNamara). The episode also featured two of the stupidest developments yet on the show – and a single scene to begin the Elseworlds crossover.
Let's start with the positive. I liked the nice parallel of Emiko's workout on the rings to Oliver's (Stephen Amell) salmon ladder. I loved the opening with Oliver and Felicity (Emily Bett Rickards) and their anniversary and then Felicity running interference for Oliver at the party. It's always fun to watch Oliver snatch an arrow out of the air.
I liked Rene (Rick Gonzalez) being offended by the rich people pretending to care about prison reform, and Dinah (Juliana Harkavy) suggesting he run for office. And of course, in the future storyline, it appears that Rene is the leader of The Glades. Lots of nice parallels to the future story – like using the same club.
Lyla (Audrey Marie Anderson) gets one of the best lines when she leans over and asks "We're friends with her now?" when Laurel (Katie Cassidy) shows up at their table.
I always like Oliver and Rene working together. Rene describes the new Green Arrow as efficient, disciplined, and precise, and Oliver comments that that takes a specific kind of training – so we are getting the breadcrumbs to figuring out who she is. However, I do not believe that a woman has been playing the new Green Arrow up to this point – so it's a fake out.
I liked Diggle (David Ramsey) being happy to have Lyla back in charge at ARGUS. I didn't like the development that the Dante painting seems to be some kind of paypal for the Longbow Hunters.
The rooftop chase between Oliver and Emiko was terrific – even if you could tell a lot of it was wire work – it was good wire work! The hallway fight in the club with Oliver was also really good – I especially loved him shooting the guy behind him without looking. The cage fight in the future was also a well-choreographed delight. Also liked Oliver shooting the gun out of Fuller's (Marcus Rosner) hand.
Rene gets the other great line from the episode about the Mayor (Laara Sadiq): "She may be the tiniest, most unpleasant person I've ever met!" I did like that Dinah finally came up with the work around for the anti-Vigilante ordinance – Oliver works for the SCPD without the mask!
I liked the scene in the ruined bunker with Oliver and Diggle when Oliver intentionally leaves the mask behind. It was nice to see Diggle being more Diggle-like for a lot of this episode. He asks Oliver if he's given up on breaking the cycle of violence – he hasn't for William's sake, but it's more about accountability. If the violence is not anonymous, if he owns it, and it's for the right cause and reason it isn't just vigilantism.
I am still really hating the entire future storyline. How will it work exactly? Clearly not going to work backwards, so I assume they will all wear the terrible makeup for however long they keep at this? What a waste of Colton Haynes! I know there was a lot of buzz about adding Katherine McNamara, but she did not impress me at all in this episode – except in the cage match. It's a shame, however, to waste Andrea Sixtos (Zoe), who delivers solid performances every week. Ben Lewis is also fine as grown up William – though he gave up way too easily.
The one thing that I did like in the future storyline this week was the Mark of Four. Dinah tells William that Oliver came up with the tattoo to remind them of the 4 pillars of heroism: courage, compassion, selflessness, and loyalty. And it's the last one that is the reason she came to help William and Roy. The scene was a little sappy, but it's a cool concept.
So, now for what truly did not work for me in this episode. I liked the fight in the apartment, and the realization that Felicity essentially has PTSD, but it really is stupid for Oliver to call her on having a gun – he has shot way more people in their apartments! He also hasn't got a leg to stand on as far as her aligning herself with Anatoly and Laurel. What I really, really hated? Was Felicity telling Oliver that she had to learn how to survive and that the old her was week. Oliver responds with "the old you is who I fell in love with." Felicity tells him that she's gone and is not coming back. And that leads into the final scene – where once again it looks like Oliver and Felicity will be spending time apart because what's good for her isn't good for "them." AARRGGHH!
I also HATED that Diggle and Lyla go to Diaz (Kirk Acevedo) for help – how stupid are they??? And how is he still not dead? And they aren't going to tell Oliver and Felicity? What about when Diaz inevitably gets out and away? Will they tell them then or hold onto the secret. Just ridiculously stupid.
I did not like the development that Emiko is a long-lost half sister. I won't hate this just yet as long as they don't claim – as they do in the comics – that Emiko is the daughter of Robert Queen and SHADO!!
Finally, I know Amell was super happy about the Elseworlds crossover starting on Arrow, but what the hell was that? Yes. Cool. John Wesley Shipp as Flash and also cool that LaMonica Garret – who I adore on
Designated Survivor
is The Montior. But what is even going on there? If this is something that viewers of
The Flash
or
Supergirl
completely understand, it only underscores how ridiculous these crossovers are becoming. This scene has nothing to do with the Arrowverse. As a reviewer, I will watch the crossover, but if I was just watching
Arrow
(as I usually do), I would skip the crossover. I mean, we don't have any reference at all for what Earth 90 is!
What did you like/dislike about the episode? Are you fed up with them manufacturing reasons to keep Oliver and Felicity apart? Did you like the two new characters? Are you like me and feel like we don't get to see enough of the characters we have? Let me know your thoughts in the comments below!