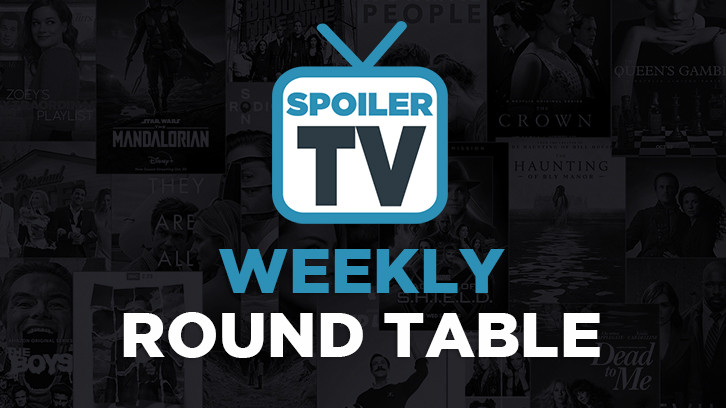 Hello and Welcome to a new Edition of SpoilerTV`s Weekly Round Table. SpoilerTV members featured in this issue are me (Yon), Milo, Laurba B (DL), Ellys Cartin (EC), Mads (MD), Zandarl (DC), Katherine Meusey, Sam Dinsmoor (SD), Angela Niles and Marko Pekic (MK). You just have to sit back enjoy the read and join the discussion in the comment section down below.


Witches witches witches. . . More than ever we are confronted with strong females kicking ass as Witches. Are Witches the Vampires of the late 2010s? And is being a Witch an all Women occupation?
Yon:
I'm completely happy with witches taking over the airwaves. We've had to deal with vampires, the the comic genre making a comeback, revival and reboot after the other, and now witches which are really fun. I don't necessarily think witches are an all female occupation, after all we only have to look at how popular the Harry Potter franchise still is and John Constantine returning to our screens on Legends of Tomorrow, but I do think that when we think of witches, we do think of females and I think that's good. Boys have a lot of role models that they can look up to whilst for girls it's a bit more of a slim picking, and there's nothing greater than turning on your TV after a long, hard day, and seeing women kick ass and working their magic (pun intended). The last time I remember witches being on air it was all about Charmed, and as good as the show was it was also slightly problematic, so I think it's quite fitting that the witches revival would coincide with the reboot of Charmed which is also a lot better than most people are giving it credit.
MK:
I am very pleased by the uprising of Witches on TV. Its a positive trend in my opinion, especially as all the shows are essentially different. It is a nice way of empowering the characters and create good stories for female characters. The witches certainly don't carry the Vampire hype of the '00s but still seem to be very popular storytelling aid.
Milo:
It's great to see more witches as this means more urban fantasy shows with strong female leads and I dig urban fantasy. I wouldn't say they're quite as popular as the vampire craze of the late 2010s, as that was everywhere and on a much bigger scale thanks to the popularity of the Twilight Saga. There's few male witches out there but there are more wizards out there (they're for all intents and purposes, the same thing) with Harry Potter, John Constantine and Newt Scamander being notable examples - Potter perhaps being the forerunner for this latest trend. But TV tends to go around in phases after all - remember the time travel craze a few years back? So this is nothing new.
DL:
It definitely feels like witches are on the rise and do probably seem an appropriate symbol towards women identities and empowerment, but there are still wizards and warlocks too and and one can argue Harry Potter, in some ways, helped revive an interest in magical people set within a still relatable contemporary world to continue to reflect on our current sociopolitical dynamics, which most of these witch series are also doing.
EC:
Witches are having a moment, but it's debatable if the new witch shows are as popular as they'd like to be. Still, this year has brought us a plethora of such shows: Charmed, Chilling Adventures of Sabrina, A Discovery of Witches (and Vampires), and Freeform's upcoming Motherland series. It's easy to see why most of these are being pushed right now. Young women uncovering and growing magical powers and abilities fits in with the cultural movement right now. It also taps into the idea that girls lean towards fairy tales vs. superheroes and adventurers. There aren't as many male witches, because there's also this idea that boys are more into heroes who fight physically vs. heroes who fight with spells and brains. The more things change, the more they stay the same. J.K. Rowling's "Potterverse" remains a mostly unique magical world where male and female characters largely have equal impact on the story. That's not to say that these current witch shows can't be wonderfully entertaining though. But ultimately it's not the magic that makes or breaks them, especially with their intended teen-or-younger audience. It's whether or not they have interesting characters and Tweetable moments.
MD:
All I can say to that is IT'S ABOUT TIME. I've been waiting for witches to take the reigns for years. I want dark witch shows out the wazoo. I mean we've had countless vampire, zombie, werewolf, and even robot media but witches have always taken a backseat (likely because of the fact they're majority women and the Hollywood climate hadn't embraced that as much as it's starting to now). So I'm definitely happy about it and no, I don't think it has to be an all-woman occupation but I think it is nice to get supernatural women stories told. But I think there is room for other genders, I say make every season the season of the witch.
DC:
I recently asked a similar question to Deborah Harkness Author of A Discovery of Witches and we both talked a length about the answer as why we are fascinated about this subject. I think it's like everything they have always been there but when a few are on at the same time we think it's a resurgence . Bewitched is my first memory of of a witch in a tv series . one of my favourite books as a child was The Worst Witch by Jill Murray , The original movie 1986 with Tim Curry was very cheesy , and tv adaption followed in the late 90's, ironically was once again given a recent revamp into a tv series on Netflix in 2017. In the 90's Willow in Buffy and Charmed with the Halliwell sisters saw them once again featured on a screens showing strong female characters but also relatable characters . With the rise of the Harry Potter Universe with Wizards and Witches being in the movies and a very knowledgeable witch called Herimone Granger became just as popular as the main character.
We did have shows featuring witches , such as Hex in 2005 then Supernatural , The Vampire Diaries, Trueblood, Once upon A Time , American Horror Story :Coven. A few witch based shows like EastWick ( based on the Witches of Eastwick) , The Secret Circle and Witches of EastEnd both based on successful book series ,didn't get the attention they deserved . Salem was a darker take on the subject matter but again didn't make it past a few season's, While shows like the Good Witch on Hallmark has continued success and even a few movies as well. Witches continued to be featured in shows like The Originals , Midnight Texas but this year they seem to have once again held the forefront in being the leads . A Discovery of Witches proved a instant hit in the uk and is doing well in other countries. The Charmed reboot despite my scepticism seems to be pulling in a new audience. The old Sabrina teen age Witch went for the comedic aspect the new version is darker which as the title suggest's is chilling . will we see more , will more witch based books reappear on our screens due to there success time will time. It's the rise of the Witch during this Samhain and I am enjoying it.
SD:
Supernatural beings on television has been especially popular for the last 20 years or so, I think ever since Sabrina in the '90s, Buffy in the '90s, and Charmed in the '90s/00s. Which is funny because 20 years later, both Charmed and Sabrina are back again. And then we also had witches in shows like True Blood and Witches of East End, Eastwick. The popularity has always been there, but I would say witches are more in the forefront now then they were even back then, thanks much in part to recent revitalization of the feminist movement. But that does beg the question, is being a witch a woman thing or does it encompass the entire spectrum of gender? I think it does. We've had some great male witches on television (and, of course, within movies; like the Harry Potterverse) and I wouldn't want to not have them for anything. Being a witch really just means having magic. It doesn't matter what gender you are and it shouldn't. In fact, I think it's good to have men in what are considered traditionally female roles, because I think that helps bridge the gap between feminity and masculinity.
Disney streaming service is majorly heating up? Is Disney taking up too much at once? Should they keep up the speed or take it down a notch and do one thing after another like DC Universe?
Yon:
I stopped paying interest to streaming services 5 announcements ago. It's beyond overkill at this point and I think everyone needs to stop, slow down and take a look at their choices. I would much prefer to have one big, gigantic streaming service that has all the programs and movies available at the tap of a search button and all in one place, than having to deal with multiple streaming services all producing new content for their separate platforms that I'm not going to be able to keep up with. As much as I was excited by the idea of new Star Wars content when Disney took up the rights, they haven't produced anything at all that my Original Trilogy loving bottom is remotely interested in. I also happen to be a rare person who hasn't gotten into any of the Marvel movies, so producing TV shows based around those characters does nothing for me either.
MK:
Disney is doing the right thing atm, create buzz and anticipation about their upcoming streaming service. I do think they are a bit overdoing it a bit and pulling the break, yet Disney has enough money to arrange enough quality writing staffs to deliver quality material. I am excited to see them create another phenomenal streaming service to throw my money at.
Milo:
There can never be enough Marvel and Star Wars related stuff as far as I'm concerned and I'm really hyped up for the Loki and Cassian Andor series. I'm still bummed that we never got to see Cassian show up in Star Wars: Rebels as the timeline would have been right, but now it's clear why they were holding him back.
DL:
If Disney wants to truly be in the streaming game, then they need to catch up to Netflix and/or even the niche shows of Amazon Prime Video and Hulu. With streaming and premium cable we're still enjoying vast and expansive variety in quality television, but at some point there will probably be a burn out. So now is a good time to try and please the audience and Disney has such a great advantage owning so many franchises, this just seems like win win for them. (Hey Disney+, If you would like to make a 7-episode season Pirates of the Caribbean Spin Off series with Emily Hampshire in a Jack Sparrow-like role, I would be much obliged.)
EC:
Disney likely employs actual witches, because they know how to cast a spell. I've bought a ticket more than once for a simply weak movie (cough Four Realms cough) just because it had the Disney label on it. They know how to wrap something up in really pretty paper with a big sparkling bow. Even if what's inside the box is beyond basic, the Disney magic will still cast it in a glow. Disney has the mega billions to load up their streaming service before it launches, and I for one have no complaints about Disney finally making some merchandise regular people can afford!
SD:
If they have the money to do it, I say go for it. I'm loving what I'm seeing from Disney. Of course, we have to wait until we actually see this content to see if it's quality or not, but it looks good so far.
Another Dynasty casting shake up? How smart is to replace so many of your regulars with such a small audience to begin with?
Yon:
I'm still dealing with the sadness that the Cable Girls season 3 cliffhanger may not have been a rouse and Yon Gonzalez may indeed have left the show, and then I see this news regarding James Mackay. They just about got away with writing Nathalie off the show and introducing a whole new Cristal, and now when Steven is dealing with massive life upheaval and trying to find his place in the world knowing that everything he thought he knew was a lie........ they go and write him off the show. Steven and Fallon's relationship is one of the most important aspects of the show since he helps to humanize her, and Steven's relationship with Sam is one of the healthiest LGBT relationships The CW as a Network has to be proud of. Sure they've made a few missteps here and there, but it has still been positive representation which The CW is in dire need of considering it's always dealing with accusations of queerbaiting. Now we find out not only has Steven left the show but it wasn't even James decision, which gives war flashbacks to Nathalie dropping the bomb she'd left Dynasty. I completely get that the show isn't exactly a ratings winner, and it's mostly the streaming deal with Netflix that keeps it on air, but they cannot think that they can keep getting away with making casting changes to the show. Viewers get attached to these characters, and when they find out that these characters and their actions have gone and not through their own choice? It loses the show even more viewers and Dynasty isn't the type of show that can really afford that. They could possibly have gotten rid of James so that they can recast the characters with a more well known actor to try and bring in new viewers, but that's an extremely risky move and not one I think Dynasty can pull off.
Having said that though I have been enjoying season 2 just as much as I enjoyed season 1, but it is already quite strange watching the show with Steven's husband still around, his family getting on with things, Steven referenced and yet not appearing.
MK:
I am not happy with this, especially if they really intend to bring in a new actor. The oldest Carrington child was a bunch of fun and delivered a lot of balance in for the show. Also a show like Dynasty doesn't need all these shake ups. Twists and turns are very welcome but not this many casting shake ups. Stability is something they should've aimed for.
EC:
I should catch up on Dynasty this season, but some spark is missing that made me enjoy its freshman outing. I can't speak to whether Steven's exit will help the show, but it seems like an odd choice.
Will & Grace tapped into #MeToo territory. Do you appreciate your comedies going all serious losing the lines with their comedic nature?
Yon:
Comedies are here to help us laugh through the bad times but sometimes? They can actually do a mighty fine job of making an extremely good point and tackling an issue in a way that dramas can't, because sometimes? In order to really bring a point home? You need to see it somewhere you wouldn't really expect. Not all comedies can pull this off which is why 90% of them stick to what they're good at. But a show like Will and Grace, which is blessed to have talented actors who can not only bring the humour but also make you cry? They can pull something like this off effortlessly. The secret and the revelation didn't feel tagged on for the sake of referencing a tropical event, it felt real, it felt painful and that's exactly how it should be. They gave just enough details to make us feel sick, and make Grace's father feel guilty for his past actions, whereas other shows might have gone too heavy on it and had the message lost in translation. Crazy Ex-Girlfriend is another comedy that makes you feel real emotions, as is Blackish and i really appreciate it.

MK:
Debra Messing's performance was shocking and painful and perfect in so many ways, still felt inadequate somehow. I love comedies which send strong messages and show a variety to their nature. Yet W&G changed their whole dynamic and expression for this outing, which is something I don't appreciate. W&G had previously sad episodes, heartbreaking episodes but the balance in this outing felt off and forced with the nutty waitress (despite her being hilarious) and the Jack off story with the other 3 regulars.
EC:
If a comedy just pops out a serious story line out of the blue, it sticks out like a sore thumb. But if the show has established previously that it will explore realistic dilemmas and issues, like Superstore or Crazy Ex-Girlfriend, it's not so jarring. I haven't seen the Will and Grace episode, so I can't say how that one lands.
Katherine Meusey:
I was very surprised by the Will and Grace episode, particularly how far it went. I don't think I've seen a drama go into as much detail as this comedy did, but somehow it worked for me. It was awkward, and it was uncomfortable, but I think it was also realistic. If a comedy wants to address something like sexual assault, it helps if the show has shown itself as one that can and has featured a more dramatic bent as part of their general makeup. Blackish is another good example.
SD:
I always like to see some serious tones in sitcoms. It makes the show feel more real, and brings depth to the characters. If it's all just laughtracks, gags, one-liners, and slapstick comedy, it makes it harder for me to see them as real people, which takes me out of the show. I like watching sitcoms not just for storylines or laughs but for the characters. I like seeing them go through things that I can root for them to come out of.
Angela Niles:
Comedies have been tackling serious subject matter for decades (just look at virtually any Norman Lear comedy from the '70s, for instance), so I'm not bothered by the idea in and of itself. The issue, for me, isn't whether or not comedies should touch on serious topics; rather, it's if they have the chops to handle discussing them well, and not get all "after-school special" on us. Some shows are better at it than others. I was surprised by the turn in the recent "Will & Grace" episode, but this is a show that has occasionally touched on serious topics in the past and has had some genuinely emotional, poignant moments, so it made sense in that context. And fortunately, I thought they handled this issue well. These are topics that are part of our lives, these are things that are being discussed, so it makes sense shows will want to touch on them. And if this episode, or others similar to it, helps anyone watching who went through similar painful situations, or gives them the courage to speak up about what they'd been through as well? All the better, I say.
That is a wrap guys! Ur turn now, come and join the discussion down below. Till we read again. . .