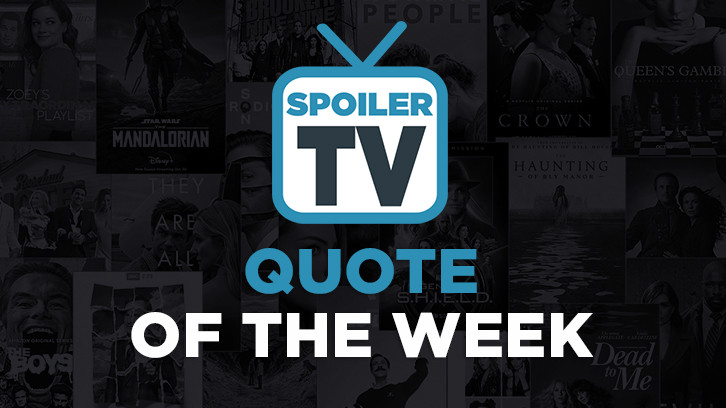 A weekly feature highlighting the best quotes on TV as picked by the Spoiler TV team. We'd love to hear your picks too so please sound off in the comments below.



911 -
1. Chimney: "Can you tell me what year it is?" Man: "2018." Chimney: "Can you tell me who the president is?" Man: "Do I have to?" (Marine)
The Big Bang Theory -
1. Sheldon: "This reminds me of a traditional Amish barn raising. With everyone pitching in." Howard: "How exactly are you pitching in?" Sheldon: "I don't hear anyone else giving facts about traditional Amish barn raising." Leonard: "The rest of us are pitching in with hammers and nails." Sheldon: "Well, facts are my nails, and my voice is the hammer which pounds them through the wood of your skull." Penny: "Well, that is how it feels." (Jules)
2. Leonard: "Siebert put me in charge of handing out the last bit of the administrative funds, and I have sole discretion." Raj: "Ooh! Looks like Christmas came early. First thing on my list is a golden umbrella, 'cause Leonard's gonna make it rain!" Leonard: "Uh, hold on, I'm not just gonna hand out money. There's a procedure you need to follow." Sheldon: "I believe he's referring to the traditional kissing of the buttocks." (Jules)
3. Bernadette: "Work's been crazy, and the minute I get home, I have two kids hanging on me, and sometimes I don't want babies pulling my hair and pinching my belly fat." Penny: "That'd be a good slogan for a condom company." (Jules)
Legends of Tomorrow -
1. Sara: "What in the Disney Hell?"
2. Ava: "Did you put butter in the coffee machine again, Gary?" Gary: "Yes." (Prpleight)
NCIS: New Orleans -
1. Chris: "Are you alright?" Gregorio: "No. We're in the creepiest building in the world searching for a freak who likes to cut people up. Do I look alright?"
2. Loretta: "Tell me the rest. Let's skip the denials."
3. Gregorio: "Wait. You're telling me I have to go into Dracula's castle in the dark?" Sebastian: "You want me to hold your little hand." Gregorio: "You touch me Sebastian, I'll shoot you."
Outlander -
1. Jamie: "When my body dies, my soul will still be yours. Nothing is lost Sassanach. Only changed." Claire: "That's the first law of thermodynamics." Jamie: "No. No, that's faith." (Prpleight)
Young Sheldon -
1. Sheldon: "We are such different people MeeMaw."
MeeMaw: "Die, you cumbitches, die!"
Sheldon: "Very different people."
2. Georgie: "Come on Mom. It's not like I'm gonna graduate validictatortorian." (Prpleight)