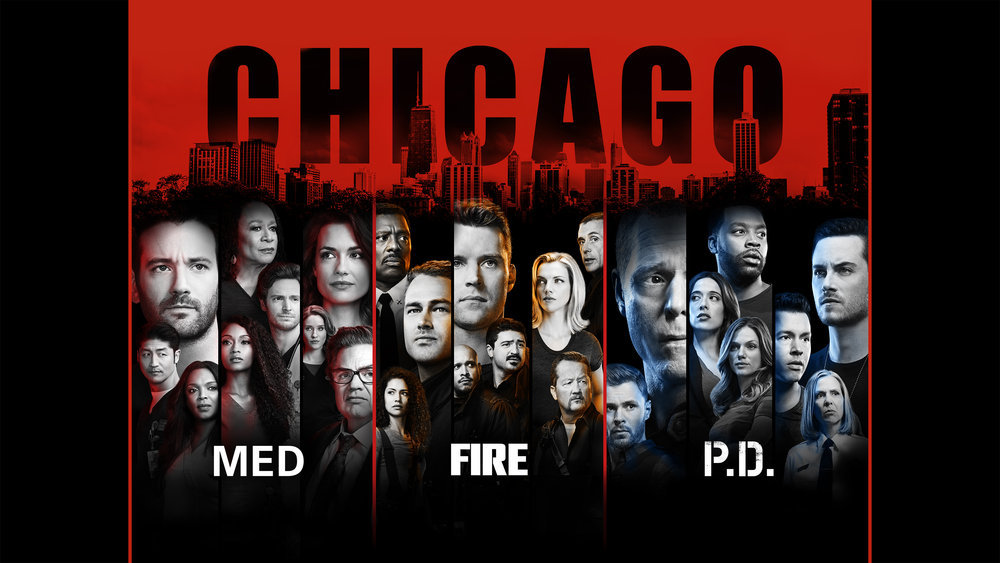 This week saw our favorite Chicago heroes facing difficult choices. Will was forced to choose between becoming an informant for the task force or risk some very serious ramifications; Hermann had to deal with the best way to handle his new position with the firehouse; and Burgess faced decisions that could have ended her career. Additionally, there was plenty of romantic drama to go around, most notably Stellaride. There wasn't many commonalities between the three series as the shows have mostly diverged since the crossover episode, save for Will's plot on Chicago Med. We still have characters quickly popping up on the others series though, just to remind us this is One Chicago less we forget.

Chicago Med
IF THERE'S A WILL, THERE'S A WAY
| "Backed Against the Wall" finds Will reluctant to become a confidential informant for the task force trying to take down Ray Burke. The good news is that Will was smart enough to cut ties with the mobster upon learning the truth; the bad news is he has to return to the belly of the beast or face some serious repercussions. After Halstead failing to convince his brother to be a CI, the series brought in the big guns in the form of Hank Voight, which is never a good sign. As much as I love Jason Beghe, it's never good news when he shows up. Voight, and then again Halstead, telling Will he can't just walk away and find another wedding venue now that he's on the FBI's radar should have been enough to force Will's hand, yet our most impulsive ED doctor keeps refusing. For once, Will is actually making a decision without rushing into it – although I'm pretty sure no one would rush into being a CI for this task force – but by the episode's end he realizes he doesn't really have a choice in the matter. After having to make a hasty medical decision, Will realizes it was the only way to save the patient's life, even though there wasn't any definitive proof. Him joining the task force as an informant is the only way to "save" himself so to speak, so he reluctantly agrees. It's sort of ironic that the one time Will tries to make the rational and logical decision, he's forced into taking on a risky role, as we all know Will will end up in a life-threatening situation sooner or later. He's either going to end up on the other side of the barrel when Ray finds out he's working with the Feds, or in some serious hot water if he interferes with the task force's plans. Knowing Will, it will probably both. And to make matters worse, Will has to keep lying to Natalie. Sure, it may be to protect her, but a lie is still a lie. It's only a matter of time before Natalie finds out something is up, and by the time Will tells her the truth, it may be too late for the couple. I'm wondering if there is some way for Will to tell her part of what's going on, like say, "I'm working with the Feds, but I can't tell you more for your own safety." That probably wouldn't fly with either the Feds or Natalie, but it's the best answer I can think of to this complex situation.
THE BUREAURACY OF CHICAGO MED
| Once again,
Chicago Med
proved that Gwen Garrett is the worst. You'd think she'd have learned her lesson after last episode after someone literally killed themselves because of her, but no, she keeps on being the biggest thorn in the ED's side. In a series of unfortunate events (pun intended), Natalie and Goodwin find themselves in a no-win situation. A patient named Linda has a form of leukemia, but due to her immigration status, she only option to survive is a stem cell transplant from her brother. However, Manny, her brother, has his own immigration issues to deal with, as both he and his pregnant wife are undocumented. Manny is afraid if he donates, then he, his wife, and their unborn child will be deported back to El Salvador. Natalie and Goodwin eventually convince Manny to donate, explaining that the government can't access the immigration status of those on the donor registry, yet only a few scenes later he finds himself being taken away by ICE agents in the parking lot. So how did ICE find out about Manny? Well, a racist addict makes a complaint to the new ED chief, who in turn went to Gwen Garrett. Garrett being the asshole reached out to the hospital's lawyers, and lo and behold, Manny is the one in handcuffs all because everyone played a ridiculous game of telephone. Gwen needs to remember that it's better to ask for forgiveness than permission because all of the circular questions ended up destroying two families, as Manny can no longer donate his stem cells to save his sister. We really shouldn't be surprised that Gwen keeps sacrificing patient lives to keep the hospital devoid of any risk, but it still makes me angry every time it happens. Like I've mentioned before, I am more than ready to see Gwen back her bags, but it's going to be a while before that happens. As a side note, I'm still unsure about how I feel about
Chicago Med
tackling topical issues every episode. When
Chicago P.D.
did this last season, I applauded the series, but now it sort of seems like lazy writing. I mean does every episode have to focus on some pressing issue? The world is screwed up as it is; I'm not sure I want to watch fictional but real world problems every week. Sure, it serves as an opportunity to educate people, but TV is supposed to be an escape from the reality of the lives we live.
Chicago Fire

BLAST FROM THE PAST | Stella Kidd has been on the series for almost three seasons, yet viewers know very little about her pre-Chicago Fire life, save for her disastrous marriage and subsequent fallout with her ex-husband. So it was more than time for the series to give us a little more insight into Stella, which accounts for the introduction of her high school best friend named Tyler. But what purpose did Tyler really serve other than to let us know Stella used to have purple hair and be a rebel? If you can't think of one, that's OK, because it seems like Tyler's only real purpose was to drive a wedge between Stellaride. While Stella was over the moon with Tyler visiting, Severide had a much more somber attitude. It wasn't inevitably clear – at least to me – what Severide's issue was, seeing as how Stella has met and had prolonged interaction with several of his exes. I mean, was it really fair for Severide to hit the brakes on Stella spending the weekend with Tyler and their old friends just because he was jealous. I'm sorry but he spent plenty of time with Renee last season "working" on a case, when really she wasn't over him and wanted to give it another go. Did Stella force Severide to stop working with Renee even though she was uneasy about Renee's motives? No. So Severide really doesn't have any right to tell Stella it makes him uncomfortable for her to hang out with Tyler. Yes, it's obvious that Tyler's in love with Stella, but Severide should have more faith in her, as she's never really given him a reason not to trust him. I'm pretty sure he never told Stella about Renee kissing him last season, so does he really have any higher ground to stand on? With Dawsey on life support, Stellaride is the only shippable couple on the series, so, of course, the pair get the privilege of having everything thrown at them, but this one sort of felt different. Correct me if I'm wrong, but this sort of felt like the beginning of the end for them. I really hope I'm off base here, but Tyler just seems like the tip of the iceberg for these two, and there's still a whole season of story left. We can already see the cracks forming, and there may come a time, when they just can't get past these issues.


ANYTHING BUT SMOOTH SAILING | As expected Hermann's first shift as the new lieutenant of Engine 51 isn't exactly smooth sailing. However, I don't think Hermann or I thought it would be that bad. The members of Engine 51 had absolutely no respect for their lieutenant, going so far as to steal his bugles and placing them in one of the urinals. I mean in what world is that an acceptable for of hazing? Also, as their new lieutenant, they really shouldn't be hazing him in the first place as he isn't some newbie candidate but rather their superior. It's also not as if these guys have never interacted with Hermann around the firehouse. Sure, Engine 51 seems to keep to themselves, but they must have at least had some conversations. For six seasons, we've been hearing about how Firehouse 51 is family, so you'd think family would have a little more respect for one another. If I was Hermann I would have been so beyond angry as their stunts took the hazing to a whole new level of indignity. Hermann absolutely made the right decision to transfer the ringleader out of Firehouse 51. It effectively showed that no matter how much the others don't like it, he is in charge, and it offered some satisfaction in a way that didn't blow up in his face. So who would be filling this newly vacant spot on Engine 51? Well, there just so happens to be a candidate Mouch has become rather attached to. Of course, Mouch and Herman had to do a little cajoling upon learning Ritter had quit the department. Being transferred out of his old firehouse and all that happened in the crossover episode was enough for Ritter to throw in the towel. He seemed resigned to face the fact he wasn't cut out to be a firefighter, but quickly agreed to join Engine 51 when Hermann and Mouch offered him the position. So it seems that I was right about Ritter becoming a firefighter for Firehouse 51 but wrong about the company. It's nice and everything that Mouch has taken such a keen interest in helping Ritter, but I hope this decision doesn't put the lives of our favorite firefighters in danger. Ritter did freeze up during the high-rise fire, and it could have been a one-time instance or it could happen again. Also, the many rotating firefighters on Chicago Fire don't seem to stay more than half a season, so he could be gone within episodes or conveniently transferred to another shift at Firehouse 51 like Kannell.


DO YOU TRUST ME? | "This Isn't Charity" continues to slowly lay the groundwork of who exactly is Emily Foster. We know little about her so far – she became a paramedic after getting caught cheating on her medical boards – but after only a few episodes that makes sense. Like I've said in my previous reviews, I appreciate the series taking its time in developing this character and her relationship with Brett. If Brett had automatically backed Emily when the new member of Firehouse 51 accused the mother of giving her daughter performance-enhancing drugs, that would have been way out of character. Brett is just getting to know Emily, so immediately having her back would have been weird. Emily believed that the doctor wasn't listening to her medical expertise because he held a grudge, but Brett was right to call Emily out. While Emily used to be a doctor, she's now a paramedic, and really overstepped by accusing the mother and then ordering the doctor to screen for PEDs. It may have been slightly out of line, but I think we can all acknowledge it was a very Dawson-esque thing to do. If Dawson had suspected something similar, she would have definitely give both the mother and the doctor a piece of her mind, with Brett backing her up. But again, Emily may have some similar characteristics to our recently departed series lead, but she is no Gabriela Dawson. What did end up coming out of this subplot was that Brett learned she could trust her new partner's instincts and would have her back in the future. These two are on the road to becoming fast friends, which I don't mind, but I really hope the writers don't try to make Emily a Dawson substitute in that she's suddenly Brett's new BFF and Casey's new love interest. That would definitely be too far for me because I actually like the character, from what we've gotten to know about her. I, and I think others, could relate to the desire to be the best, going so far as to cheat or lie or do something morally unethical to achieve success. However, it's a true mark of Emily's character that she seems to have learned from her mistakes and that being the best isn't worth it, especially when it can cost you everything. I hope to continue to learn more of these nuggets of information about Emily as the season progresses.

Chicago P.D.
---