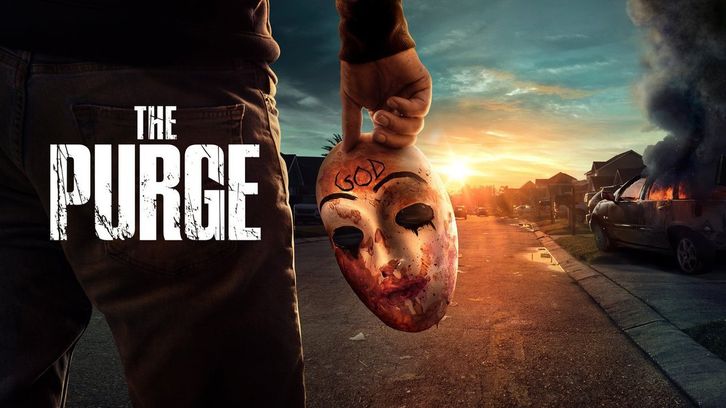 WARNING: THIS PREVIEW MAY CONTAIN SPOILERS FOR THE PREVIOUS EPISODES.

Last week on The Purge: Jane separated from the Matron Saints to continue her mission and find David to put a stop to the purge payment she made and save his life. We learned about Henry and his reasons for wanting revenge on Penelope and Miguel through flashbacks of their teenage years. Rick and Jenna escaped the Stanton party with the help of an anti-NFFA agent masquerading as a maid and Jenna struggled with leaving Lila behind.


Before we follow up on that cliffhanger with Miguel being deposited on Henry's doorstep at the carnival, we finally get to learn a little bit about the masked man whose been popping up in every episode. He's been appearing in episode stingers for five episodes now so it's about time we get some intel on his motivations.
Miguel and Penelope are reunited at last, too bad its at the hands of a psychopath. Is this the end for the brother/sister duo or will they find a way to escape Henry's clutches?
Things are not great between Rick and Jenna, they may have escaped from the party before the entire place was ransacked by the rebel group but at what cost? Jenna is reeling from leaving Lila behind and even worse, she's having doubts about Rick's character. It's hard to remember what a happy couple they were back in the pilot episode.
For once, Penelope isn't the only one in a sticky predicament. I'd say Jane is in one of the worst situations out of everyone as she discovers a dark truth about David Ryker. I'm not sure I liked the way her story culminated tonight. It's definitely one of the most disturbing moments of the franchise, especially given our current political climate. It's a bold and clumsy attempt at social commentary. Regardless, Jane may have a surprising ally.
Side note:
I wish we could have spent more time with the Carnival of Flesh I feel like there was a lot that could have been explored and expanded upon there in regards to the Purge mythology but we don't get to see all that much of it.
Only five more episodes left of
The Purge
. This episode featured several big plot developments and another dastardly cliffhanger. I have a feeling things are about to get pretty crazy in the back half of the season.
DIALOGUE TEASES
"We were 12 hours away from changing everything."
"I will do anything for this family."
"I should have killed you when I had the chance.
"You're a goddamn lifesaver man."
"We're dinosaurs, the meteors coming."
"When the cornea bursts you'll see the most spectacular colors, so enjoy that."
"Over and over, you give, they take. Now what?"
"I just want tonight to be over."
THE PURGE AIRS TUESDAY, OCT. 9TH @ 10:00 PM ET/PT ON USA.