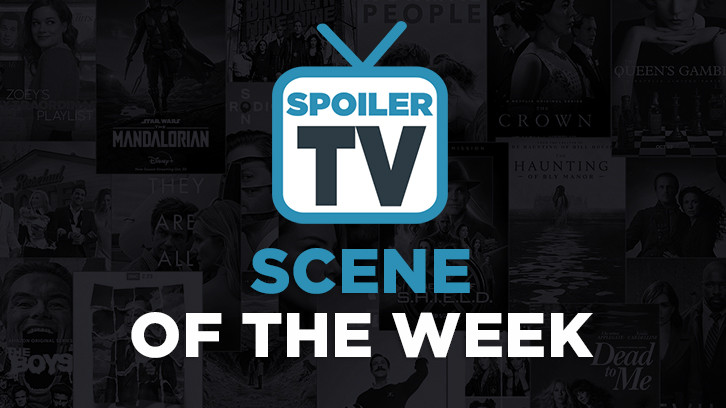 A weekly feature in which we're trying to find the most compelling, best acted, written, directed and just generally great, memorable scenes that we've seen in past seven days on TV.

A MILLION LITTLE THINGS, "Save the Date", October 10, 2018, Actors: James Roday, Stéphanie Szostak, Grace Park and more, The Scenes: Gary visits Delilah & Katherine finds out about Eddie's affair
Justyna: I continue to really enjoy the show and I'm glad that everyone now knows about the affair. It's the one plot that I'm not a fan of, but I liked how this reveal allowed viewers to see a different side of some characters, especially Katherine. However, for my choice of SOTW, I decided to highlight a more peaceful conversation, at the end of the hour, when Gary visits Delilah to ask her "why". First of all, I absolutely love Gary's character, he's been my favorite in all the episodes so far and this one felt quite important to him. Other than Katherine, he's the one who had the most powerful and emotional reaction to the news, standing up for his lost friend and declaring some things are simply unforgiveable. While he and Eddie are clearly not in a good place, I was surprised by his conversation with Delilah. It felt like he was able to understand her ("I just got forgotten") and opened up to her with his own story. Judging by what we've seen so far, these two have a lovely, supportive friendship and I liked how they were able to find a common ground despite everything. It also shows a very clear contrast between Eddie and Delilah who are both responsible for their actions but ultimately make a very different impression on their friends and the viewers. Kudos to James Roday and Stéphanie Szostak (& the crew) for this moment and all the wonderful work so far.
DarkUFO: Kim finds out about Eddie's affair.

AMERICAN HORROR STORY, "Boy Wonder", October 10, 2018, Actors: Lily Rabe, Sarah Paulson
The Scene: Misty is rescued from hell
Sam: After five long years, justice finally prevailed when Misty was, in Myrtle's words, raised from perdition. As excited as I was seeing those ashes form back into her body, there was one person who may have been even happier than me to see her be resurrected and that was Cordelia. The way Misty wakes up in her arms, totally amazed to be alive again and out of hell, and Cordelia crying as she hugs her was beautiful.

ANDI MACK, "The Boys Are Back", October 8, 2018, Actors: Lilan Bowden, Trent Garrett
The Scene: Bex and Bowie propose to each other
Klutzy girl: Bex and Bowie propose to each other at the same time. It was absolutely adorable and amazing after their previous proposals didn't go as planned. I'm really looking forward to their storyline this season, and can't wait to see what's ahead for them. Also picked by Abi

BETTER CALL SAUL, "Winner", October 8, 2018, Actor: Bob Odenkirk, The Scene: Jimmy cries in his car
Laura B: This was another incredible season finale, not so much because it was action-packed, but rather the emotional bridge between scenes was just so strong from Jimmy warning a future-self in the form of a young girl named Christina, to not take anyone's garbage to Mike not knowing he's looking in the mirror when having to deal with Ziegler, to the wonky darkness of Lalo creeping around in the day light, to the heartbreaking Abba Karaoke opening sequence, to Kim finding herself shocked by Jimmy's "performance" at the end of the episode. It was truly hard to choose, but this small private scene resonated with me most, because it quite frankly was the metaphorical death of Jimmy McGill, making it the most important.

DYNASTY, "Twenty-Three Skidoo", October 12, 2018, Actors: Elizabeth Gillies, Grant Show, The Scene: Fallon and Blake clash
Samantha: It was obvious throughout the episode that both of the Carringtons are struggling to deal with the aftermath of the fire, and they're of course doing that in their own unique ways but this scene hit me in the feels. Despite how confident she portrays herself to be, there's nothing that Fallon wants more than her father basically being a father to her. She had a lot of struggles last year which Blake didn't really provide much support on, and here we saw Blake struggling which Fallon and Steven weren't really helping with because they were preoccupied by their own issues. I think what's so great about this scene is that neither of them were really wrong. She has Culhane back but some obvious lingering feelings for Liam which she doesn't want to give into, so of course Fallon would try to make a deal with someone else because there's nothing the Carringtons do better than trying to ignore their problems. She was right to call Blake out on seemingly abandoning the family to bask in his grief, and leave them all soldering on and Fallon step up to the plate to keep things going. Blake was also right to call Fallon out on being so self absorbed. He has after all just lost his wife, he's entitled to grieve and being prepared to do a deal with a rival just to avoid strife in her romantic life is incredibly childish. Elizabeth Gillies and Grant Snow are always on top form when Fallon & Blake are going up against each other, because she truly is her father's daughter and it makes for extremely entertaining television.

MANIFEST, "Turbulence", October 8, 2018, Actors: Parveen Kaur, Melissa Roxburgh, Josh Dallas, The Scene: Saanvi meets with Michaela and Ben
Aimee T: Saanvi meets with Michaela and Ben to explain her theory about the cause of the mysterious protein / marker in her and Cal's blood. Saanvi determined that the elevated Glutamate levels in their blood could be a sign of ischemia (severely reduced blood flow). Moreover, she concludes that "the potency of this marker is on par with a stroke victim." This would seem to indicate that she and Cal (and presumably the rest of the flight's passengers) underwent a near-death experience where "the faucet of blood circulation had been turned off and then suddenly it was turned on high." Ergo, they were all brought extremely close to death and then pulled back from the brink. This development is intriguing because thus far the fantastical elements of the show seem to be supernatural/divine in nature, and therefore (arguably) not "explainable" in a secular way. However, this discovery provides physical/scientific evidence that the flight passengers experienced a tangible phenomena, which grounds the plot back in "reality." I'm interested to see if the show will continue to introduce both religious and scientific developments to "illuminate" what happened on the flight, especially since that makes for a more compelling story.

RIVERDALE, "Chapter Thirty-Six: Labor Day", October 10, 2018, Actors: Lili Reinhart, Tiera Skovbye, Mädchen Amick, The Scene: The ending
Mads: The ending of the episode where Polly and Alice toss the twins into the fire and Betty has a seizure. Clearly Riverdale is just going to go completely off the rails this season and honestly I'm 100% down for that. I've always loved the show most when it's at its craziest so I say bring it on. I have no idea what to expect from this strange cult storyline and while the Goblin King gave me Demogorgon/Stranger Things vibes, I'm intrigued to see if they're going to fold witchcraft into the show's mythos. It seems to be going that way, what with the floating babies and the ritualistic murder scene that came right before it. Also what was Betty's reaction? I could have understood her fainting but it looks like she has a seizure. I have so many questions and even if people think this is jumping the shark, I, for one, am excited to see the gleefully campy and insane twists Riverdale takes this season.

SPEECHLESS, "L-o-n-London: Part 2", October 12, 2018, Actors: Micah Fowler, Cedric Yarbrough, The Scene: Kenneth and JJ talk
Samantha: So JJ spent most of this episode trying to set Kenneth up with various women which didn't work well, and eventually explained that since he knows Kenneth won't be around as his helper forever, he wants to be Kenneth's wing man so he never loses his friend. Not gonna lie this scene had me tearing up. Kenneth/JJ's relationship is a key part of the show. No matter what happens, they always have each others backs and the unfortunate reality is that JJ is growing up so their relationship will change, and I'm looking forward to seeing how exactly the show explores that.

THE FLASH, "Nora", October 9, 2018, Actors: Grant Gustin, Jessica Parker Kennedy, The Scene: Nora tells Barry about the future
Justyna: It's only been an episode but I already love the interactions between Barry and Nora. This father-daughter duo was responsible for all my favorite parts of the hour. After an emotional conversation with Iris about watching their daughter grow up and all the things still waiting for them in the future, Barry suddenly realizes that Nora's been lying to them and visits her to ask for the truth. As it turns out, the famous article we've been seeing from season one, about Barry disappearing in 2024, is actually followed by another one, decades later, which reports on the fact that Barry never comes back... What's more, Nora admits that she doesn't even remember her father, which is why she learned everything about him from the Flash Museum, as well as travelled back in time just to meet him. It's clear how much she's looking up to Barry and how much she misses him. They're very much alike, in the way they're acting and thinking, which makes the realization that they never got to spend any time together even more painful. It's a lot for Barry to process ("I missed all your firsts") but he tries to stay strong for Nora and comfort her. Wonderful work by both Grant Gustin and Jessica Parker Kennedy. Kudos to cast & crew for this great premiere!
Naomi: Nora Reveals Barry's Future. Barry realizes that something may have happened to him in the future so he asks Nora to tell him. Switching the 2024 headline to the year 2049, she reveals that Barry never returns to Central City. They are both devastated by the life the future brings to their family, and though Barry is hesitant about Nora travelling in time, he now understands that she made the crazy and dangerous journey just to spend a moment with him. This scene was so heartbreaking and so well acted by Gustin and Kennedy. Bravo!

THE GIFTED, "coMplications", October 9, 2018, Actors: Sean Teale, Emma Dumont and more, The Scene: Marcos meets his daughter
Justyna: It's been a heartbreaking experience to watch Marcos trying to find Lorna and their daughter but nothing has been as powerful as this moment when he's finally (temporarily) reunited with Polaris and meets Dawn for the very first time. His voice breaking at the sound of her name, the tears in his eyes when he gets to hold her in his arms... It's a beautiful view, but also incredibly sad one knowing he's going to be taken from those he loves a moment later. It's also hard for Lorna, not to fall apart when seeing Marcos again, especially with their baby girl, but it's her choice that landed them in this position. So she has to stay strong, almost cold towards Eclipse, not letting her emotions get in a way. Sean Teale and Emma Dumont did a wonderful job in this moment. It's impossible not to see all the emotions their characters are struggling with during this reunion. And my heart definitely breaks here for Marcos the most. Kudos to cast & crew for all their great work!

THE GOLDBERGS, "RAD!", October 10, 2018, Actors: Wendi McLendon-Covey, Hayley Orrantia, The Scene: Erica apologizes to Beverly
Samantha: Erica apologizes to Beverly for her behavior and admits her mum is cool. This show really wouldn't be what it is without Wendi & Hayley. They're both such fantastic actresses capable of pulling off the comedic moments along with the more heartfelt ones. Erica still has a lot to learn about being a grown-up, but to admit that she was the lame one and Beverly gives far more than Erica gives her credit for? It was a huge step in the right direction for them, and outside the sibling moments Beverly/Erica's mother/daughter relationship is the one I love most.

THE GOOD DOCTOR, "36 Hours", October 8, 2018, Actors: Richard Schiff, Holly Taylor
The Scene: Dr Glassman sees Maddie after his surgery
Abi: Following some complicated brain surgery, Aaron sees Maddie, his daughter. That wouldn't normally be a problem, except for the fact that she's been deceased for a number of years and it's clearly an emotional blow for him. We don't actually know much about her at this point so it'll be interesting to learn more about her and find out if the complications from Glassman's surgery are serious/life threatening and if anyone caught onto them.

THE GOOD PLACE, "The Snowplow", October 11, 2018, Actors: Kristen Bell and more
The Scene: Eleanor lashes out at Tahani's goodbye party
Saloni: Kristen Bell, man. What a terrific actress. She was great in this scene and really showed Eleanor as a nuanced character.

THE HAUNTING OF HILL HOUSE, "The Bent-Neck Lady", October 12, 2018, Actor: Victoria Pedretti, The Scene: The reveal about The Bent-Neck Lady
Mads: We learn who the Bent Neck Lady is. I loved this reveal. The entire episode was excellent actually but the way we discover that Nell has been the Bent Neck Lady all along is so eerie. When she hangs herself and falls through multiple floors to demonstrate the length time she has haunted that house, it leaves so many questions and theories behind. Victoria delivers a spellbinding performance this episode.
DarkUFO: That was a great scene/reveal.

THE RESIDENT, "Three Words", October 8, 2018, Actors: Matt Czuchry, Emily VanCamp, The Scene: Nic decides to give Conrad a second chance
Mads: Nic finally decides to give Conrad a second chance. We finally learned about why Nic and Conrad broke up in the past. It was hinted at all through the first season but we never got a clear reason and in this episode featuring flashbacks of their relationship, we discovered it was due to Nic witnessing a violent outburst from Conrad directed at a man who tried to grope her. Conrad insists that he's changed and Nic finally decides to believe that and trust him. I've been rooting for them since day one due to Emily and Matt's great chemistry so I was thrilled to see them seal the deal with a kiss and decide to fully move forward together in a relationship. I don't know how long that happiness will last but I'm intending to enjoy it while I can.
Beth: Nic shows up at the bar and tells Conrad she loves him and she believes things will be different. Seeing their past was heartbreaking and I appreciated that the show did flashbacks to better understand where they had been. This final scene showed that they are both different and this fresh start may just work this time.

THE ROMANOFFS, "The Violet Hour", October 12, 2018, Actors: Marthe Keller and more
The Scene: The ending
Laura B: I wasn't sure what to expect from this star-studded anthology series from Matthew Weiner after being a bit disappointed with Mad Men's ending, but I found something hopeful in this first episode that I wasn't expecting. It's not that Weiner didn't preserve his Mad Men themes of wealth, power, class, and obsession, but he gave a contemporary fairy tale story in this first episode that I found refreshing, nicely blending today with the past.

THE WALKING DEAD, "A New Beginning", October 7, 2018, Actors: Xander Berkeley and more
The Scene: Gregory is hanged (picked by DarkUFO)

THIS IS US, "Katie Girls", October 9, 2018, Actors: Milo Ventimiglia, Mandy Moore
The Scene: Jack and Rebecca talk at the grocery store
Saloni: Jack and Rebecca at the grocery store, talking in the aisle. This was a very simple scene but it still stood out. TIU always kills it with their emotional dialogues. I loved Jack and Rebecca's talk about their dreams. Jack talks about having a home/kids that was nothing like the one he grew up in. In retrospect, knowing how his life turns out, it's a comforting enough thought.