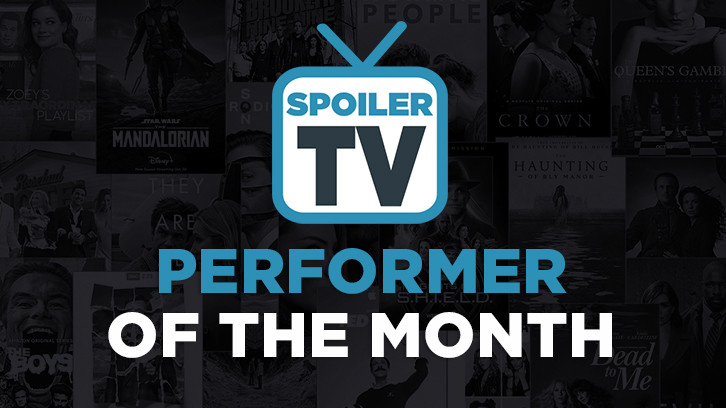 It was a close month of voting, but we ended up with two very deserving winners who emerged from an impressive list of nominees.

RESULTS


The competition for the Readers' Choice of September was a close race all the way to the end. The two powerhouse performers of
Wynonna Earp
's most popular couple, WayHaught, battled it out for the title. In the end, Katherine Barrell won by the slightest of margins over her equally talented co-star. She won for the episode entitled, The Other Woman (3x10) in which her character, Sheriff Nicole Haught, was temporarily possessed. This gave Barrell the opportunity to portray the character in some humorous situations. On the flip side of that, she also got to portray some very serious and heart-wrenching moments as well. As is per usual, she proved why she is one of the most dynamic and overall most solid performers on the show. They throw wild and crazy things at her and she still makes the audience feel for her character and root her on. Katherine Barrell has been deserving of this title all season and it's great to see that she finally won. There are many more reasons why she is deserving of this win and they'll all be covered in her winner article coming out in a couple weeks. For all the reasons noted here and all the reasons that will be noted in the article, Katherine Barrell is SpoilerTV's September Readers' Choice Performer of the Month.
The SpoilerTV Staff performer for September is Carrie Coon, who once again gave a master class in acting in the eighth and last episode of her season of
The Sinner
. She took the lead in the poll immediately and though Emma Stone came close to snatching it up Carrie Coon remained victorious, and deservedly so. Carrie Coon's acting skills are just undeniable, she made us fall in love with her on The Leftovers and many will follow her anywhere after that, luckily The Sinner was an amazing experience to follow and though she wasn't exactly the lead, she stole every scene she was in. In this episode, we got to see her character, Vera Walker having to come to terms with the fallout of the things her son did and the man he wants to becomes and find out where this leaves her. She had to have her character walk a fine line between not being completely good and not completely evil and that is what most intrigued the SpoilerTV team and earned her this much-deserved title as SpoilerTV's September Staff Choice Performer of the Month.
Katherine Barrell and Carrie Coon's winner articles will be released by the end of the month. Until then feel free to use the comments here to discuss these two very deserving winners and their phenomenal fellow nominees.
Original Post
A great group of nominees has been voted into the Top 10. It will be very interesting to see which of these worthy performers will ultimately prevail this month.
Now it's time to determine who will be our September Readers' Choice Performer of the Month. The results will remain hidden for the duration of voting. The results of this poll and the Staff voting will be revealed after the poll closes.
2017 Staff's Choice Performer of the Year: Tatiana Maslany
2017 Readers' Choice Performer of the Year: Sam Heughan
January Winners:
Readers' Choice: Camilla Luddington (Jo Wilson) - Grey's Anatomy
Staff Choice: Justina Machado (Penelope Alvarez) - One Day At A Time
February Winners:
Readers' Choice: Tala Ashe (Zari Tomaz) - Legends of Tomorrow
Staff Choice: Mandy Moore (Rebecca Pearson) - This Is Us
March Winners:
Readers' Choice: Sarah Drew (April Kepner) - Grey's Anatomy
Staff Choice: Iain De Caestecker (Leo Fitz) - Agents of SHIELD
April Winners:
Readers' Choice: Abigail Spencer (Lucy Preston) - Timeless
Staff Choice: Sandra Oh (Eve Polastri) - Killing Eve
May Winners:
Readers' Choice: Tom Ellis (Lucifer Morningstar) - Lucifer
Staff Choice: Keri Russell (Elizabeth Jennings) - The Americans
June Winners:
Readers' Choice: Bob Morley (Bellamy Blake) - The 100
Staff Choice: Elizabeth Moss (June Osborne) - The Handmaid's Tale
July Winners:
Readers' Choice: Marie Avgeropoulos (Octavia Blake) - The 100
Staff Choice: Amy Adams (Camille Preaker) - Sharp Objects
August Winners:
Readers' Choice: Alycia Debnam-Carey (Alicia Clark) - Fear The Walking Dead
Staff Choice: Sissy Spacek (Rut Deaver) - Castle Rock
Please remember that a performer can only win once in 2018. After that win, they will be ineligible to win again in 2018, but they will secure a spot in our year-end Performer of the Year contest.
Now comes the hard part where you can
only vote for 1 performer
. The poll will be live until
Thusday, October 11th at 6 pm ET
. After you vote be sure to make a pitch in the comments section for what the performer you voted for most deserves to win.