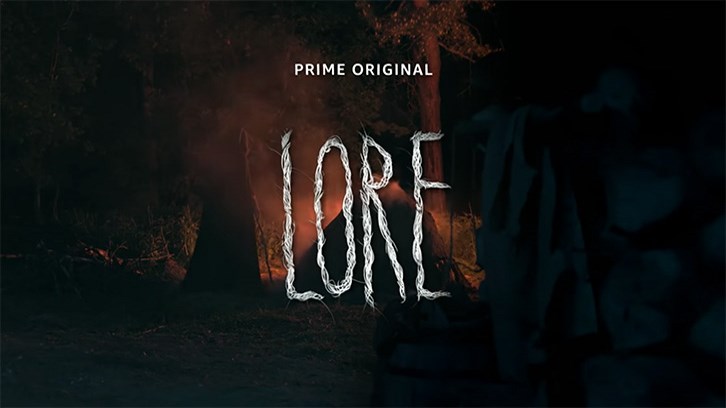 Lore is soon returning for its long-awaited second series with six brand new episodes to continue its exploration of real life legends and myths. Based on the highly popular podcast of the same name, this season will feature two brand new stories, not featured on the podcast.

I enjoyed this season immensely, and while I already held the first season in high regard, I liked this season even better. Sean Crouch stepped in as the new showrunner (you know him from short-lived, but well-received, Fox series, The Exorcist). Under Sean's direction the show takes a more confident jaunt into its second season. It's bolder, scarier, and even funnier when the moment calls for it. Each episode feels more personal to the character or historical figure in focus.

They've done away with the clinical ending narrations and instead allows for the characters to tell endings (or lack thereof) in ways unique to their history.

While you can't exactly spoil a show based on real stories, I'm not going to give too much away on how the Lore creators have rejuvenated and spiced up the series this time around.

I really loved how this season felt like small historical horror films, last season was in the same vein but this season felt more self-assured and dramatized, less of a retelling and more of its own original story despite obviously being based in truth.


IN THE NAME OF SCIENCE - BURKE & HARE
William Burke and Billy Hare are two down on their luck men struggling to make a living in rough and tumble streets of Scotland. If those names sound familiar to you it's likely due to the fact they form a duo that became some of the most prolific murders in history. Their trail of bodies was sixteen and counting as they created corpses to sell for a quick buck, all in the name of science.
It was because of Burke and Hare that congress was forced to pass a bill and eliminate corpse trading. They could kill a prostitute and the doctors would be keen to study the effects of sexually transmitted diseases, or kill a drunk and the excuse was for the study of how alcohol affects the body, etc.
"God, our father, your power brings us to birth. Your provenance guides our lives and by your command, we return to dust."
Emmet Byrne is compelling as the morally conflicted Billy, and Emmett J. Scanlan is boisterous and domineering as William Burke. Watching the two of them together suddenly made me want a gritty miniseries based on this exact case.
There's plenty of chills and thrills this episode and even some gross-out moments too, a few scenes even made me have to look away. They found some interesting ways to create terror, for example: using a puppet show to chilling effect.
MIRROR MIRROR - ELIZABETH BATHORY
This was easily my favorite episode of both seasons so far! Maimie McCoy plays Elizabeth with a wicked zeal and she is excellent as the delightfully cruel Elizabeth Bathory, in some scenes it even felt as if she was channeling a little Lena Headey as Cersei Lannister.
"Your pain pleasures me, it fuels me."
This entire episode felt like a disturbing mini gothic horror movie as we delved into the dark and terrifying story of Elizabeth Bathory and her obsession with youth. This, coupled with some vibrant and fantastic animated sequences to dictate her story, created an enthralling piece of television.
Seriously, this episode is such old school horror, I loved it. There are some seriously twisted images (if you've been paying attention to the promotional material then you've already seen one) one image in particular towards the end struck me vividly, both for its macabre beauty and its cinematic quality.
I may even start introducing this episode into my annual Halloween film & television watch.
I'm honestly surprised there hasn't been more media made about Elizabeth Bathory. There's a world of possibility in her story.
GHOSTS IN THE ATTIC - HINTERKAIFECK
"Ghosts in the Attic" is a snow capped crime murder mystery. The incident known as "Hinterkaifeck" involved the brutal slaying of a family and a killer that walked away free.
The strange thing is the killer left cash on the table, did the dishes, and essentially made a home for himself in this strange and eerie true story. There is a belief that he could have been living in walls of the house for weeks before he finally struck.
This episode reminded me of a cross between a tense crime thriller, such as Amazon's other series,
Fortitude
, and a slasher film.
Lore
doesn't shy away from anything this season that's for sure.
THE DEVIL AND THE DIVINE - JACK PARSONS
This episode is an epic, twisty sci-fi/horror star-crossed love story. Josh Bowman makes a charismatic turn as Jack Parsons. I particularly enjoyed the score of this episode and its unconventional take on the traditional demon summoning story, especially as it's almost artistic in nature.
It's a feat that this season they've really experimented and given each episode its own individualized tone and genre shift.
This episode is much different from the others and not really horror per say, but rather a metaphysical, philosophical, love story with a heavy dose of occultism. It is one of the most thought-provoking episodes this season for sure.Parsons story is certainly an interesting, and at times even ludicrous, one.
"There is no beginning there is no end, it's an infinite loop."
Alicia Witt plays well with Bowman as the summoned Scarlet Woman of his dreams, Marjorie Coleman. She questions the line between muse and obsession, the blurry boundaries of how womanhood is utilized as a tool for men and the woman herself can lose her agency to his trade as a result.
There are two other episodes that weren't available for screening. One is about the Prague clock and is titled, "The Curse of Orloj", and the other is about Mary Webster, titled "The Witch of Hadley". I'm excited to watch both of them as I've been so impressed by this second outing overall. I'm sure they'll live up to the expectations set by these other four.
Also, I've been lucky enough to get the chance to interview Josh Bowman, who stars as Jack Parsons in "The Devil in the Divine", so be on the lookout for my piece sometime soon!
SEASON TWO OF LORE BEGINS STREAMING OCT. 19TH ONLY ON AMAZON PRIME.