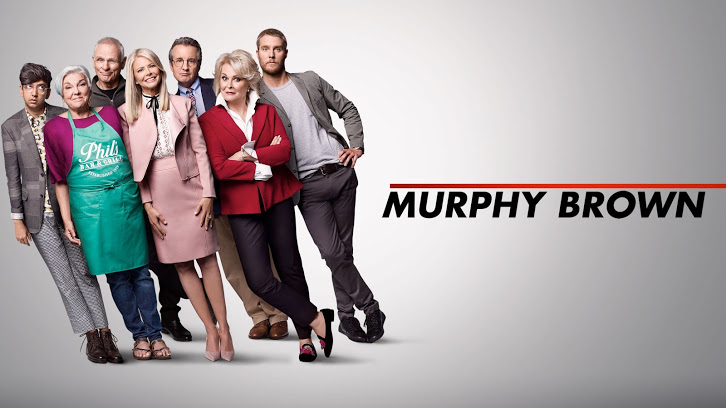 Murphy Brown
"#MurphyToo" was written by the team of Gina Ippolito and Skander Halim and was directed by Don Scardino, whose other credits include
Rescue Me
,
30 Rock
,
2 Broke Girls
, and
Young Sheldon
. The show remains on point politically. I think this is Candice Bergen's strongest performance so far in the reboot.
It's sexual harassment seminar day at
Murphy in the Morning
. There are widely varying levels of enthusiasm. Not surprisingly, there's fun between gender and age groups. Pat (Nik Dodani) has some tech help for Frank (Joe Regalbuto).
There's another great scene between Murphy (Candice Bergen) and Avery (Jake McDorman). Murphy confides something in Avery – but not before they take another great shot at Fox… err the Wolf channel…. We learn something surprising about Murphy.
Phyllis (Tyne Daly) reveals why she never wanted to be a bartender… but still manages to give Murphy some great advice. Murphy gets Phyllis a nutcracker.
Don't forget to tune in Thursday on CBS at 9:30/8:30c!
And here are a few dialogue teasers….
Every zap gets stronger!
Tell no one.
I have a confession to make. It wasn't hypothetical.
I could never get through your secretaries…
There's no one here named Dennis.
Some of us don't need to be here.
Mayday!
The App hears all…
We already know everything they're going to tell us.
I could get lost in your deep brown eyes.
I don't know any woman who hasn't had an experience.
I'm just asking casually on behalf of women everywhere.