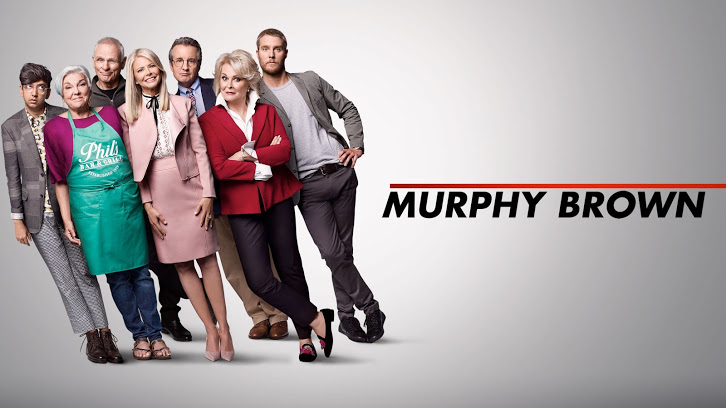 Episode 2 of season 11 premieres tonight at 9:30pm/8:30c on CBS, written by Tom Palmer and directed by Pamela Fryman.

Each week, Murphy Brown just gets better and better! Grant Shaud's Miles Silverberg is as screwed up and hilarious as he was twenty years ago. And Jake McDorman's Avery fits in seamlessly with the already established group. Finally, a tv show to look forward to each week...

This week the group is struggling to acclimate to the early morning hours that Murphy In The Morning requires. Will Miles be able to get Murphy to stop wearing pajama pants to work? I doubt it.

Everyone is excited when Avery is chosen for his first White House press briefing. And though Murphy is happy for her son, she seems just a TAD bit jealous. But Murphy's banned from the White House. Will that stop her? I doubt it.

We are introduced to another 'interesting' and hilarious secretary/assistant for Murphy. And hey, 'some German-sounding lady' leaving a message for Murphy doesn't have to be Chancellor Angela Merkel? Right? Will this secretary be there next week? I doubt it. But no one will ever outshine Secretary Clinton.

In the end, will Murphy's blind ambition continue to interfere with her relationship with Avery? Or can two words fix everything?

Especially strong are the core group of characters: Murphy, Frank, Corky, Miles and Avery. The peripheral characters leave much to be desired. But it's only the second episode. There's time.

Favorite quotes:
"Trespassing on White House grounds is a felony."

"I wish I could put on a dress and sneak into that briefing room."

"The next thing you know I'm Bernie Madoff's bitch."

"What makes you think that Sarah Huckabee Sanders will call on you?" "Oh, (winks) she'll call on me."

"I have a thing for domineering women. My Hebrew teacher had a smoky eye and a sneer I found arousing at 13."

This episode also highlights the magic that can be accomplished with great editing. I was standing up and cheering, it was inspiring...