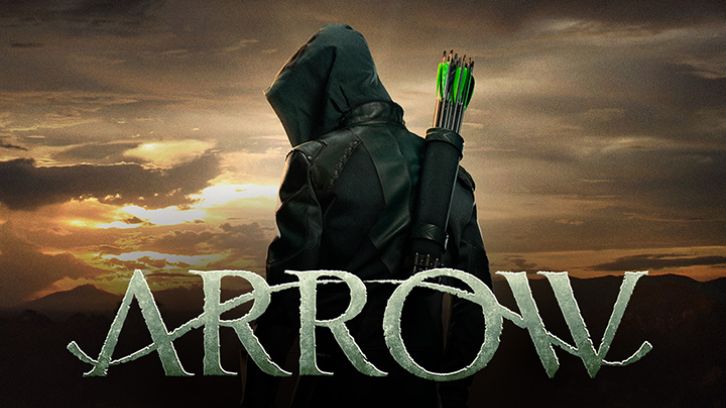 Arrow
returned with "Inmate 4587" written by Beth Schwartz and Oscar Balderrama and directed by James Bamford. It seems that this season is going to feature flashes five years forward in time. I suspect that this is going to prove even harder to maintain continuity than the flashbacks ultimately did. The episode had some strengths – and some of the same plotting weaknesses that have bothered me in the past. Overall, however, I would give this episode a thumbs up. It's also only fair to let a new showrunner have at least a few episodes to establish the arc they've set up for the season.
The episode begins with Oliver's recurring nightmare in prison: William (Jack Moore) running through the woods in a green hoodie – nice shout out to seeing Oliver (Stephen Amell) do the same – and of course, Felicity (Emily Bett Rickards) is there too. They are running from Diaz (Kirk Acevedo) who shoots and kills Felicity. And then we jump to Oliver's days in prison.
And we quickly get to my first big quibble. Would they put Oliver in general population – with people like Turner (Michael Jai White) and Brick (Vinnie Jones) who he put there? Even if they didn't care about Oliver, starting fights and riots like that in a prison is stupid and endangers other prisoners and guards. And then we have to suffer through Oliver not standing up for Stanley (Brendan Fletcher) as he just tries to keep his head down and get out earlier based on good behavior. But of course, the guards resent him too, so that's never going to happen. At least we only have to suffer through one episode of wallflower passive Oliver.
My second big quibble is that the "team" is honoring Oliver's sacrifice by not continuing his mission – which is what he actually asked them to do! Dinah (Juliana Harkavy) – who is as annoying as ever – is now police Captain and basically lords it over Rene (Rick Gonzalez) that she can continue the mission there. Diggle (David Ramsey) is working with ARGUS and Curtis (Echo Kellum) is now head of R&D at ARGUS. Rene has been sidelined to running a run down gym and teaching kids self-defense – so helping in his own way too. His students call him on not helping as Wild Dog anymore – everyone knows who he is too after all.
The thing that I did like was who is this new Green Arrow? I thought at first it had to be Diggle – but my second guess is Roy Harper (Colton Haynes) – as Haynes is back on the show this season. The mystery is fun – as long as they don't drag it out too long. Naturally, the stunts and fights involving the Green Arrow are all terrific. I really liked Rene showing up to make sure Dinah didn't catch him.
I loved Felicity's pink hair! Having her work as a barrista seemed beyond cruel, however. Naturally, both she and William are miserable in witness protection. And it's about the worst witness protection ever when Diaz shows up again. I did like them intercutting the fight between her and Diaz with the fight with Oliver in the prison that was very Eastern Promises – think Viggo Mortensen as the naked combatant – and not carefully shot as this was (yes. Do yourself a favor and watch the movie if you haven't – or even if you have!). Much more annoying is that we never see or even hear – really – how Felicity got out of it – or how Diaz got away… again.
I did like the scene between Oliver and Felicity. Both Amell and Rickards are terrific here. Felicity tells Oliver that she's found a spot for William – which later seems to be planted as rather than Cambridge, it seems William will be staying at ARGUS? She also tells him that she's done hiding – and not fighting back. It also seems like Oliver is finally ready to stop being a pacifist too. Of course, why stay in witness protection when Diaz can get to her anyway – and clearly, he can get to Oliver in prison too. Oliver's final fight in prison – using The Count of Monte Cristo, which we'd had ample time to see he was reading – was terrific.
I thought the flash forwards were extremely confusing at first rather than mysterious even if they were filmed in sepia to let us know there was a time jump. I liked that we were clearly on the Island – and the clues were there that time had passed for the vegetation to re-grow if you were paying attention. It seems that an adult William (Ben Lewis) went there to find Roy – who is now hiding out on the Island? I did like seeing Felicity pass the hosen to William – and then seeing him use it as proof of who he is in the future.
It turns out the new Green Arrow is acting like Robin Hood, giving money to the poor, including Rene's gym. It also seems that he has a list.
If we could just get rid of Dinah and Curtis, I think there's enough interesting stuff happening here. It still felt like this episode was a bit all over the place – with a number of logic holes, but I'm intrigued enough to give Schwartz a few more episodes to get her sea legs. What did you think of the episode? Let me know your thoughts in the comments below.