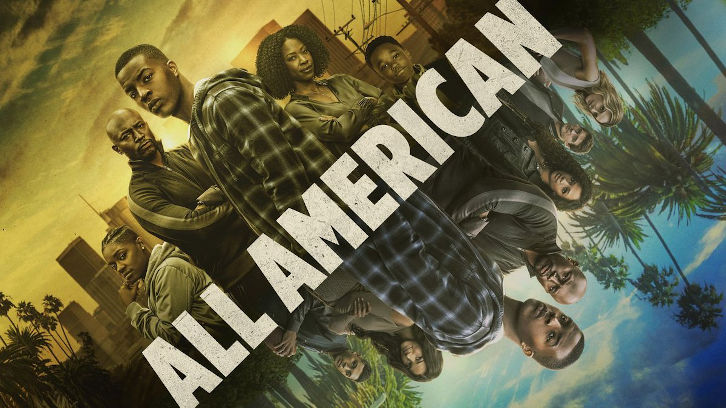 When the CW announced its schedule and new shows back in the spring, I was pretty excited about All American. I love teen dramas, and I'm a huge sports fanatic, too. I think this show has potential and could possibly be the next Friday Night Lights or One Tree Hill. I was impressed with the first episode, and I'm anxious to see what everyone else thinks of the show.

We begin the episode with the first football game of the season where we are introduced to Spencer James, the star of the team. The football team huddles up, and Spencer tells his teammates he wants the ball. "I'll see you boys in the end zone." The next play is a deep pass to Spencer. He flips into the end zone and scores. His team wins and the crowd cheers. Well until they hear gunshots.

After the game (and gunshots) Spencer's approached by Billy Baker, the coach of Beverly High. He tries to convince Spencer to come play at his school and assures him he can get around the recruiting rules. Beverly High is a better and safer school according to Coach Baker and he can make his NFL dreams a reality. Spencer declines the offer and walks away.
After Spencer ends up getting into a fight trying to protect his friend, Coop, he goes home and is greeted by Coach Baker. It seems as if he's told Spencer's mom all about the offer. She agrees that going to Beverly is the best thing for him. It seems like Spencer's mom is struggling, and she wants a better life for her son. Good for her for convincing him to take this opportunity.
"Welcome to Beverly Hills."
It's clear that Spencer's new school is a completely different world. In his first class everyone has a computer except him. The girl behind him, Olivia, offers to share and then shows him around school. Olivia seems nice, but he's clearly interested in another girl, Leila, who walks by. Then the team's quarterback introduces himself to Spencer. Turns out Jordan, the QB, is Coach Baker's son. And Olivia is Coach's daughter.
Jordan introduces Spencer to the group including Leila and Asher, who plays the same position and isn't too happy about Spencer joining the team. He says something rude and Spencer walks away. Leila ends up apologizing for him and they have a nice conversation. I thought it was cool that Spencer could predict the guy walking by was going to drop his plate of food. That's a good skill for a football player to have. He notices things that other people can't. Leila wants to know what he sees in her, and he says she's like a defensive back: confident, wants to call all the plays, and she seems lonely.
Spencer's first practice doesn't go very well. He runs the wrong plays and Jordan calls him out on it. Coach Baker wants to try Spencer out on a new position, and Spencer refuses. He wants to score touchdowns not play defense. After practice Spencer complains to Coop about Coach Baker and the team. He doesn't know if he wants to be at Beverly, but Coop changes his mind. She tells him to make this his season.
"You decide who you want to be."
Coach Baker asks his son to take Spencer under his wing and give him a chance. Jordan brings him to their house, and Spencer takes notice of how amazing the house is. "All of his on a coach's salary?" Turns out Coach Baker's wife is an attorney. While they're hanging out Jordan overhears his dad on the phone. He wouldn't have recruited Spencer if anyone on his team had half his potential. This upsets Jordan who tells Asher they need to get rid of Spencer.
They develop a plan and get Spencer to come to a party that night and take shots. Spencer's worried since they have practice the next day but they assure him it's just drills. Jordan and Asher pour their drinks out, but Spencer gets pretty drunk, and it shows the next day. At practice Spencer quickly learns it's scrimmage day, and he was tricked. He gets angry and starts to fight, but Coach breaks it up. Spencer lashes at Coach, too, because he thinks Coach only wants to save his job and doesn't care about him. Coach Baker tries to explain to Spencer his plans and why he switched his position.
"I need you to see the field from every angle. Because when you do you'd be unstoppable."
Coop again convinces Spencer to take this chance. He can give his mom and brother a better life. So he goes to Coach Baker and tells him he wants to play in the NFL. He'll play any position, but he needs Coach Baker to be honest. Why him? Coach said he wanted to win and wanted to get back something he lost when he hurt his knee. Spencer reminds him of him, and he's asking him to play for something bigger than himself.
I loved the scene where Spencer and team run out on the field. The music was excellent and was the perfect choice for the game. During the game Spencer notices that one of the players on the other team, #52, is hurt, and he thinks he can take him. Spencer comes into the game for Asher, and Jordan calls the play- roll left. Spencer blocks for Jordan and takes out #52. The Eagles win!
After the win Coach and Spencer walk off the field together which Jordan sees. You can tell Jordan's feeling are hurt, and he's a little jealous. Coach is proud of Spencer and tells him he's going to keep him on defense after that block. "I'm too pretty for defense."
He walks off the field toward Olivia, but Leila swoops in. She apologizes for the party and claims she didn't know. He says it's okay and they agree to be friends. I'm not sure how you all feel about Leila, but there's something about her that I don't trust. I think it's odd that she seems so eager to be friends with Spencer. I guess we'll find out more in the next few episodes.
Back at school Spencer is a star. Everyone seems to be excited to see him, and he seems to love all the attention. But Coach Baker pulls him aside with some bad news: his transfer permit is being contested. Spencer has to move in with the Baker's so he can keep playing for Beverly High. Spencer's brother is so cute when he tells Spencer he should go, and then wants to know if he can have Spencer's room. I hope we have more scenes with Spencer's brother.
The episode ends with a cliffhanger involving Coach Baker and Spencer's mom.
"We need to talk. We gotta tell Spencer the truth."
What do you think the two of them are hiding? I really hope that Spencer isn't the coach's son because that would be too predictable. It would be kind of weird, too, considering the vibes I was getting from Olivia. It seems like she likes Spencer so hopefully the secret is something else entirely.
I'm really interested in this show. I think Daniel Ezra was the perfect choice as Spencer, and I can't wait to see more of him. Spencer seems like a good guy who sticks up for his friends and family and truly loves football. I'm also intrigued by Olivia and Coop. I think they seem like characters who could have great stories and development throughout the season.
What did you think of All American? Will you be tuning in next week? Discuss below in the comments section!