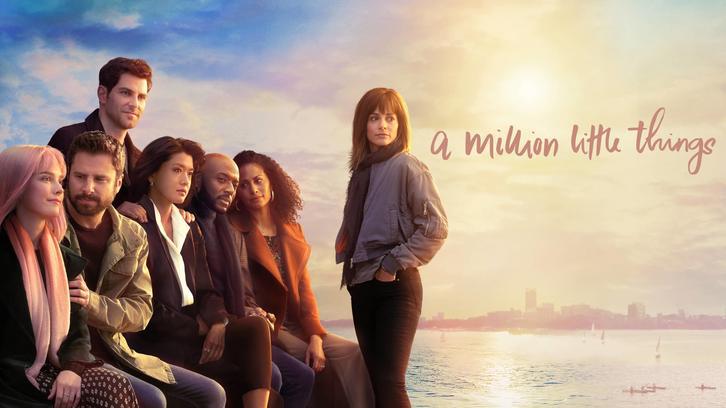 This episode of A Million Little Things focused on Gary's 35th birthday which was pretty much a disaster from the start. At the beginning of "Save The Date" everyone gets a text from Jon reminding them about the birthday. When Gary gets the text he's in bed with Maggie. He ends up making her mad after he goes through boxes in her apartment and makes fun of her stuffed panda. Maggie tells him to stay out of her stuff.

Eddie and Rome both go over to Gary's to celebrate his birthday even though Gary hates his birthday. A limo pulls up and tells them what Jon had planned: a fantasy Bruins camp. While I'm not a hockey fan, I've seen our local basketball and football camps and they seem like fun. Jon really went all out for his friend. All the guys are excited about getting to play hockey and agree to get in the limo, but they have to stop by Eddie's house first. Eddie tells Katherine about the Bruins camp and asks if she'll pick up Theo from practice. He accidentally leaves his phone in the house, and Katherine answers when he gets a call.
Eddie runs back in the house to get the phone, and Katherine asks why he was at the hotel. Eddie ends up admitting he had an affair. She demands to know who the affair was with, and he reluctantly tells her it was Delilah. Katherine is hurt. She doesn't understand how he could do this to her. How could he do it to Theo? Gary overhears their fight about Delilah and storms out of the house. He tells Rome and the two drive off in the limo leaving Eddie behind.
Gary is furious and, while Rome is angry, too, he tries to calm him down. When Gary asks if they should just pretend everything okay, Rome says that's what he does everyday. Wow. I'm glad that Rome is trying to be honest and open about his mental health. He finally convinces Gary to go to the Bruins' fantasy camp.
"We're going to the garden. We're going to have the best day ever."
Eddie shows up to the hockey game, and needless-to-say, things don't go well. He watches the video of Jon telling them "wives are off limits" and this leads to a huge fight. Eddie tries to explain to Rome and Gary why the affair happened. They tried to fight it, but they fell in love. They were going to tell everyone before Jon died. He wonders if Jon knew. Gary says that he hopes that's why Jon died because at least he would know why. At first I thought that was a pretty awful thing to say, but those are just Gary's feelings. He's so hurt because he doesn't understand why Jon committed suicide.
The guys put aside their feelings to finish playing the hockey game. It's tied, but Gary scores the winning goal. Everyone celebrates but just for a minute before Gary walks away. Gary says that what Eddie did was unforgivable and leaves. On the drive home Rome tries to convince Eddie that Jon didn't commit suicide because of him. Even if it was part of it, it wasn't the whole thing. He knows from his own experience that it wasn't one thing.
It was a million things.
While the guys were playing hockey, Katherine tries to process Eddie's affair. I thought Grace Park did a fantastic job this episode, and her scene with Delilah was powerful. She tells Delilah when she found out about the affair she wanted to call the one person who understood her. The person who understood that she works hard not because she wants to, but because she is sacrificing for her family. Jon understood that. This gave us some insight into Katherine, and it made me more sympathetic to her.
Gary's birthday continues to get worse when he gets into a fight with Maggie. She seemed a little irritated because she didn't know it was his birthday. But he points out that he doesn't know anything about her. He tells her that this is supposed to be fun, but it's not. She should come back when it is. I hope they can figure out their issues soon because I like both of them together. But I have to side with Gary on this one. If they're going to make this work she is going to have to be more open.
Gary goes over to Delilah's and asks why Jon wasn't enough for her. He was enough for him. Delilah feels like Jon was everything to everyone, and she got left behind. She had a great marriage with Jon until it wasn't great anymore. I have to wonder: did she try with Jon? Did she talk to him about her feelings? I don't want to blame everything on her, but I want to know why she decided cheating was the answer.
Delilah does have something for Gary: a birthday cake from Jon. Delilah puts candles on it, and Gary asks if he should be hurt because she chose Eddie instead of him. I thought that was funny. He blows out the candles and wishes for the same thing he's wished for since he was seven: for everyone to be happy. He blows out all the candles except for one. "Damn it, Jon," he says before blowing out the last candle.
I thought it would take longer for the affair to be out in the open, but I'm glad everyone knows. Maybe now everyone can start to move forward. This episode was very emotional and very heavy so maybe next week will be a little lighter. And I hope we get to see Maggie and Rome have that lunch they talked about.
What did you think of "Save The Date"? Are you glad everyone knows about Delilah and Eddie?Where do you think the show will go from here?