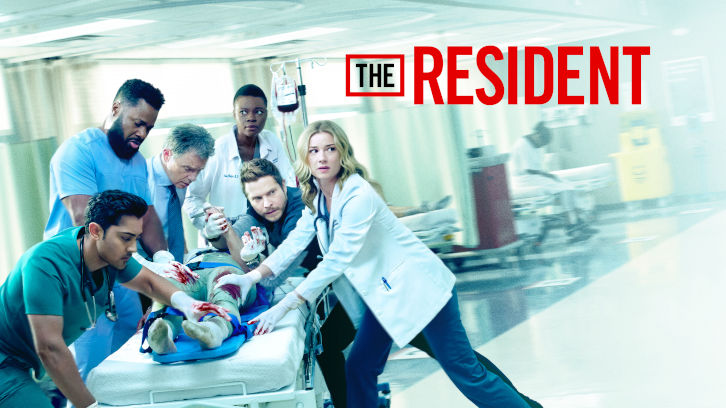 This week is the one of new television, the one where "The Resident" comes back to our screens. It's been a while. I have to admit that as the episode started I couldn't fully remember what had happened in last season's finale that would carry over onto this season. There was no particular cliff hanger to revolve. As "00:42:30" progressed, I started to wonder if "The Resident" had lost its edge. I felt like it didn't quite focus on the character intricacies as well as they did in the past, I'm sure they'll find their way back in the next episode. "00:42:30" was a good episode, quite enjoyable, but it didn't feel like an intense season premier. I'm giving them the benefit of the doubt, but I thought this episode focused too much on the medical and too little on the people.

It's hard to say how much time has passed between the first season's finale and the second season's premier, but it has to be at least a couple of months. Lane's trial has already started. The dust from this has settled at Chastain, and no one overtly talks about it. We only get glimpses on Bell's TV. They balanced it out quite nicely, by not turning the page on this story completely. Lane will surely still have an impact on the characters in the season to come.


"Not on my watch princess." -AJ
The episode was fast paced, with a big storm and no power, the Chastain medical team needed to find ways to save lives. It wasn't anything we haven't seen on television before, but still it had its own twist, and it stayed true to its first season's premise to "fight the power." Mina and The Raptor are operating on a newborn with a heart defect when the power gets cut. The Raptor continues to be a badass mentor to Okafor, and they both tell it as it is, which is what I appreciate the most about them both. They're a great pair. They take the decision to forgo normal procedure and save Mabel's life by continuing the operation. The entirety of the OR staff stay knowing that if something went wrong, Bell would come for their jobs.
It almost seemed like Dr. Bell had turned over a new leaf with the beginning of this season, almost. When the hospital's power fails, he seems overwhelmed at first. It was a great contrast to have Nic immediately take charge of the nurses, while Bell seemed to stumble at first. Then, something in him snapped and he takes charge. Bell decides that the hospital will continue to be operational and mayhem ensues. A young boy is brought to the non-operational ER with a bullet wound to the abdomen. If transported to another hospital, he has no chance of survival. Conrad thus takes the decision to make room for one more in the ER. He continues being the same Conrad he was last season, reckless, but well-meaning. No one who's watched the first season can be surprised when he takes the scalpel and cuts into the boy in the corridor of the emergency room.
"Don't risk it." -Nurse
Nolan arrives to take over Conrad's work, but without a functioning OR, there is not much to be done. It's not a "cut and run" situation, so Conrad builds him an OR. It was pretty good scene, with some great music. Bell comes in, huffing and puffing, but then asks if he can help. He doesn't seem as self centered, as money oriented as last season. Sure, he isn't mother Theresa, but he listens within reason. He even accepts evacuation of the hospital, thus losing money. I love how hard he is to read here. He feels like a much more well-rounded character than in the previous season, multi-faceted, and I really enjoyed his character this episode, I hope he continues on like this. By the end of the episode, though, we can see he still has it out for Conrad when he asks the Trauma surgeon who cut first, him or Hawkins.
During the second half of the episode, it was uncovered that the power loss had been caused by a someone inside the hospital who was demanding a ransom. And, because nurse practitioner isn't her only occupation, Detective Nic soon discovered the culprit's identity. Her young patient was easily convinced to do the right thing. Then Bell, was just as easily convinced not to press charges.
Everything is well that ends well, even though it's easy to see something is brewing, which I am excited about, what I loved about the show's first season was that despite the "case of the week" aspect to the show, there was also general storyline. I really hope they get back to something similar.
I would give the episode a solid 6.5/10.
Am I the only one that was slightly let down by the episode?