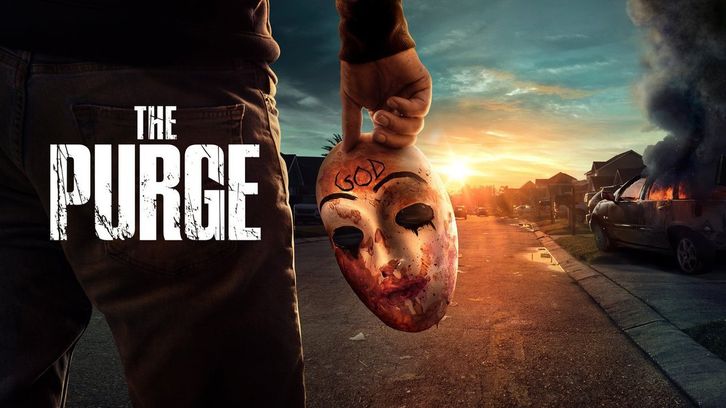 WARNING: THIS PREVIEW MAY CONTAIN SPOILERS FROM THE PREVIOUS EPISODES.

Next time on The Purge, one character receives a bombshell that may fundamentally alter their entire life, a deal is made where the signature on the dotted line may involve more blood than ink, and someone unexpected succumbs to their urge to purge.


Last week's episode was certainly more action packed than the pilot episode and the next episode moves steadily forward but gives viewers somewhat of a chance to breathe. It definitely feels like the show is biding its time over the first part of the season and I'm guessing it will pay off in a crazy, action-packed, and supremely violent final act.
In episode three, Miguel and Penelope are the episode's flashback focus. The parallels between their purge nights are intriguing in their distinctive opposition. Miguel is fighting to survive while it seems like Penelope is doing everything she can to die with her immersion in the cult only deepening every episode. I realized Miguel is the only character whose storyline is not centered around one central location. Most of our characters are anchored, (so far anyways, I have a feeling that will change as the show progresses) but Miguel has been on the move since the very beginning. Penelope has been on traveling too but in contrast to her brother, her travels have still been localized to the ominous cult-mobile bus.
Last episode we saw Pete and Miguel butting heads and the ex-cop refusing to help our wayward traveler but this episode might the two finally find common ground? Will Penelope's suggested unease with some of the brutal deaths she's seen remind her what fate awaits her should she remain with the cult? Or is she as eager as ever to remain with the group and see it through to the end? These are some of the pivotal questions featured in this episode as Jane's storyline takes a backseat.
Checking in with our picturesque couple, Jenna and Rick, things may be getting tricky. We only see a little bit of Lila this week but remember her and Jenna's steamy make-out session? I'm assuming we haven't seen or heard the last of those two together. And someone we
do
learn more about? The eponymous Albert Stanton, the man behind the curtain so to speak, the owner of the fancy house party they're attending and the man Rick and Jenna are desperate to impress.
The end of episode three provides just enough of a stinger to keep you hooked and eager to see episode four.
STRAY THOUGHTS
- Any chance the costuming department on this show is borrowing some of their purger's costumes from the
American Horror Story
set? The outfits adorned by many of the purgers contribute heavily to the shows horror factor.
DIALOGUE TEASES

"If I had a heart it'd be bleeding for you right now."

"We focus on the parts of the city that no one else even thinks to touch."

"I'm just kidding. I don't pay taxes."
"Tonight we give so that tomorrow will be a better place."

"You Europeans think you're better than us because you don't have the Purge?"

"She's all I got left in the world."

"I knew something like this could happen but it's so much worse than I thought."

"So do you notify HR about my promotion or is that on me?"

"We're all your sisters and brothers."
"Shut the fuck up."
THIS EPISODE
of
THE PURGE
will premiere
TUESDAY
,
SEPTEMBER 18TH
at
10 PM EST
on
USA NETWORK
.