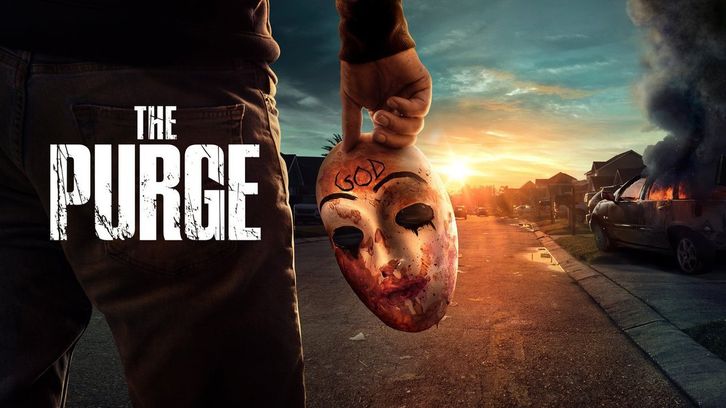 WARNING: THE FOLLOWING PREVIEW MAY CONTAIN SPOILERS FOR PREVIOUS EPISODES.


To recap last week's episode: A dangerous love triangle reared its ugly head between Jenna, Rick, and Lila. Jenna received a warning. Jane had doubts about her decision to have her boss purged and recklessly went into the city to stop it. She crossed paths with a violent man intent on violating her, but was rescued by a group of brave women who call themselves the Matron Saints. Miguel found himself a new ally to find his sister, only to discover his new pal had a few dark secrets of his own. Penelope wound up in a demented auction in the middle of a twisted "Carnival of Flesh".


Well we've made it halfway through the season and things are starting to come to a head in multiple storylines. If this were a regular television show and not marketed as a limited series, I'm guessing it would be the midseason finale but
The Purge
will continue on full-steam ahead after this week's episode. (Thank god, because the ending of this one is quite the cliffhanger).
The flashbacks this week surround a teenage version of Miguel and Penelope. They were much needed assets to both characters' journeys, particularly Penelope, as we finally learn how she landed in rehab and what drove her towards the cult. This is the first episode we get to understand more about her personality and characterization beyond her strange unwavering loyalty to Tavis and the cult.
If you recall, the strange man that showed up to buy Penelope at the auction last week, Henry, he also gets a part in the flashback to help us understand who he is as he plays a big part in this episode. Jessica Garza gets some great material this week. She's a lovely actress. Yet again, things aren't looking good for her or Miguel, but honestly, when are they ever?
Speaking of Miguel, we learn the lengths he will go to protect his only remaining family. You can't help but root for this guy, even in the bleakest of situations he's looking out for people, although his true loyalty is to Penelope and anyone who tries to stand in the way of that has a big storm coming.
Jane continues her mission from last episode. This woman is clearly in over her head, you can't help but feel sorry for her even if it was her own choices that lead her to this moment. We do get to see more of the Matron Saints in action too. Kick ass, ladies!
The very final scene is yet another stinger about the mysterious masked man, but still not many answers as to who he is or what his goal is.
DIALOGUE TEASES
"Maybe the rules need breaking."
"I missed you. Did you miss me?"
Character #1: "Go to hell."
Character #2: "Look around. This is hell."
"We're all survivors here, including you. Don't forget that."
"Do not ever turn on someone who just saved your ass."
"The Purge is not the law, it's the absence of law."
"You can't break me because I am stronger than you are."
"We're soldiers. We don't hurt civilians."
"Sometimes revolution is the only way to make the world a better place."
"Become the person tonight, that you want to be tomorrow."
THIS EPISODE OF THE PURGE PREMIERES TUESDAY, OCTOBER 2ND @ 10 PM EST ON USA NETWORK.